Come the first of December each year, our family calendar changes from a responsible and somewhat sickly matron into a party animal. There are get-togethers and game nights and recitals and celebrations, and we love winding down (up?) the year in the company of our friends and neighbors. Plus, holiday food here makes the herald angels sing. 
The holidays can be a mixed bag of emotions though (as everyone everywhere in the world knows from experience), and one particular source of mixed emotion for me is the fact that I'm so far from my own relatives and culture during a season devoted to both. December doesn't so much pull me out of my element as remind me that I've been living out of it the past seven and a half years.
And I'm glad it does. The experience I have had and continue to have as a foreigner has changed me for the better, shifting my field of vision and even teaching me to read the Bible like a proper Gentile (that basically means Muggle in ancient Jewish context). More about this, including a vocabulary tip you can use to scandalize your Italian friends, over at A Deeper Story today:
~~~
I suspect that the only difference between an expat and an immigrant is the amount of money a person brings with her into her adopted country… and I'm not entirely sure which one this makes me.
In 2007, my husband and I moved to Italy for work, but not for lack of opportunities back in the US. Admittedly, my English degree is in far greater demand overseas, but Dan turned down several good engineering jobs so that we could follow the invisible strings tugging our hearts across the Atlantic. This is where folks tend to look at us with envy (if they're American) or with incredulity (if they're Italian). Everyone, regardless of nationality, thinks we're at least 65% nuts. Invisible strings? Riiiiight…
The truth is that Dan and I are weird hybrids of travel enthusiast and missionary, and if you'll pardon a quick detour into Christianese, we feel called to this life. We find ourselves rooted to Italian soil by something so strong and so inclusive of who we are that it covers a multitude of bureaucratic headaches. Daily life is daily life pretty much anywhere on the planet, but when we stop to absorb what we're doing on a deeper level, we're overcome by gratitude that we get to raise our girls in the culture that brought us both the Sistine Chapel and the double espresso. We love this place we've chosen to call home.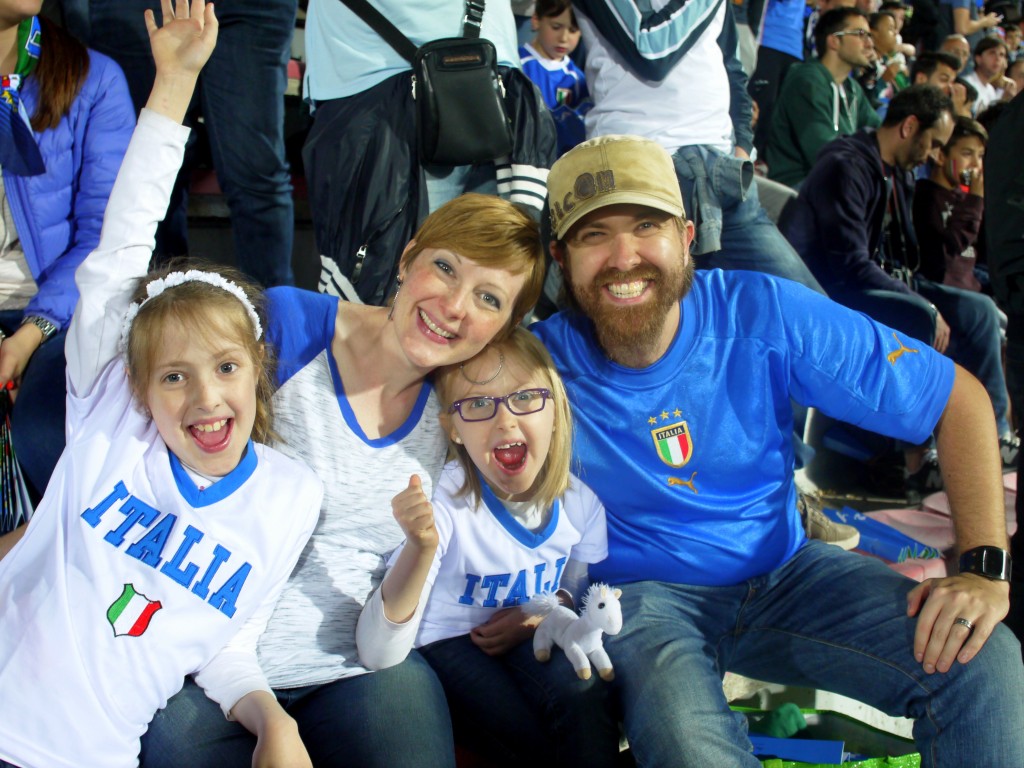 That said, these last seven years here have stretched us. (That's missionary code for "This shizzle is HARD.") The fascist dictator Mussolini is quoted as having said, "Governing Italians is not impossible, merely useless," and I'm convinced that he must have said that after going to his local DMV and seeing what passed for a line. Those bureaucratic headaches I mentioned earlier are no joke, not only because the odds of receiving the correct documents in a timely fashion are slightly worse than those of winning the Powerball but because "standing" in "line" is a contact sport here. My Type A soul needs a solid week to recover from each institutional errand.
And then there's the language.
…
{Continue reading over at A Deeper Story}