Come the first of December each year, our family calendar changes from a responsible and somewhat sickly matron into a party animal. There are get-togethers and game nights and recitals and celebrations, and we love winding down (up?) the year in the company of our friends and neighbors. Plus, holiday food here makes the herald angels sing. 
The holidays can be a mixed bag of emotions though (as everyone everywhere in the world knows from experience), and one particular source of mixed emotion for me is the fact that I'm so far from my own relatives and culture during a season devoted to both. December doesn't so much pull me out of my element as remind me that I've been living out of it the past seven and a half years.
And I'm glad it does. The experience I have had and continue to have as a foreigner has changed me for the better, shifting my field of vision and even teaching me to read the Bible like a proper Gentile (that basically means Muggle in ancient Jewish context). More about this, including a vocabulary tip you can use to scandalize your Italian friends, over at A Deeper Story today:
[Ed: Now that Deeper Story has closed its doors, the post is here in its entirety:] 
~~~
I suspect that the only difference between an expat and an immigrant is the amount of money a person brings with her into her adopted country… and I'm not entirely sure which one this makes me.
In 2007, my husband and I moved to Italy for work, but not for lack of opportunities back in the US. Admittedly, my English degree is in far greater demand overseas, but Dan turned down several good engineering jobs so that we could follow the invisible strings tugging our hearts across the Atlantic. This is where folks tend to look at us with envy (if they're American) or with incredulity (if they're Italian). Everyone, regardless of nationality, thinks we're at least 65% nuts. Invisible strings? Riiiiight…
The truth is that Dan and I are weird hybrids of travel enthusiast and missionary, and if you'll pardon a quick detour into Christianese, we feel called to this life. We find ourselves rooted to Italian soil by something so strong and so inclusive of who we are that it covers a multitude of bureaucratic headaches. Daily life is daily life pretty much anywhere on the planet, but when we stop to absorb what we're doing on a deeper level, we're overcome by gratitude that we get to raise our girls in the culture that brought us both the Sistine Chapel and the double espresso. We love this place we've chosen to call home.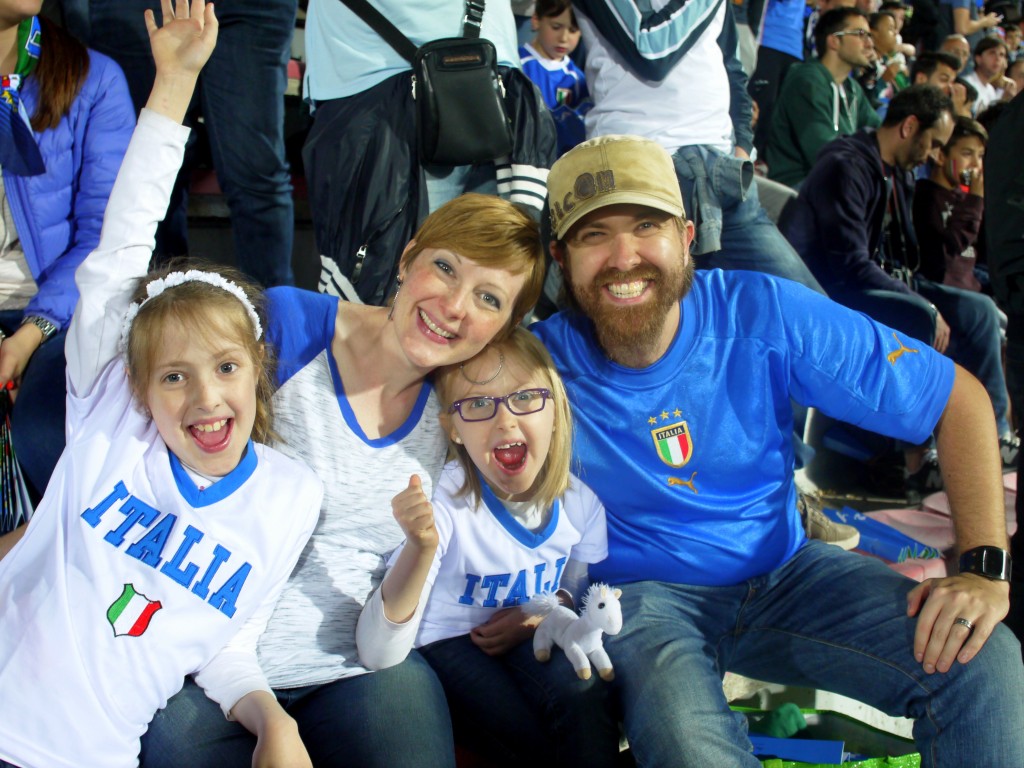 That said, these last seven years here have stretched us. (That's missionary code for "This shizzle is HARD.") The fascist dictator Mussolini is quoted as having said, "Governing Italians is not impossible, merely useless," and I'm convinced that he must have said that after going to his local DMV and seeing what passed for a line. Those bureaucratic headaches I mentioned earlier are no joke, not only because the odds of receiving the correct documents in a timely fashion are slightly worse than those of winning the Powerball but because "standing" in "line" is a contact sport here. My Type A soul needs a solid week to recover from each institutional errand.
And then there's the language. Dan grew up in Italy, but my foreign language skills before moving here were pretty much limited to ordering from a Mexican restaurant. I learned Italian the sink-or-swim way, by diving into the deep end of dinner parties and doctor's appointments and trying to keep my splutters on the dignified side. For an introverted perfectionist whose childhood dream was to blend in, immersion-style language learning was like running an emotional triathlon every time I stepped out of the house. It can still feel like that if I'm tired or in a new environment or if I've recently slipped and said "ano" (anus) instead of "anno" (year) to a new acquaintance. Why yes, my child does have seven anuses! How many does yours have? Goes over great in the pediatrician's waiting room.
One of the hardest aspects of living here, however, has been adjusting to the idea of being a foreigner. We generally refer to ourselves as expats on social media, but it's not the Expat Office we go to when we need to renew our sojourner's permits; it's Immigration. We shuffle along in a crowd of elbows and body odor, men in turbans and women in headscarves vying with us for the chance to hand paperwork over to the dispassionate officials on the other side of a Plexiglas window. We are the "stranieri"—the strangers. The strange.
And we are strange, no doubt about it. Dan and I share a sarcastic sense of humor that is zero percent funny to most Italians. We observe weird customs like fist bumping and putting ice in our water. He and I have the same last name, which confuses everyone and prompts fun getting-to-know-you questions like, "So you're also brother and sister?" We have been known to wear flip-flops outside the home, and once I went out with wet hair to the enduring horror of every single person I encountered. Sometimes I even put butter on my pasta (shhhhhh). We're odd and American, and that's okay.
Foreigner has been a hard label for me to get used to though. It's not that it doesn't fit; it's just that I've always thought of it as belonging to a whole category of "other." Much like when I tried on my wedding dress for the first time, I've had to stare long at my foreigner status to absorb the fact that I am the one draped in it now. I'm the "other" now, the stranger, the splutterer, the one being stretched to fit a new context. If my life these last seven years were a game of Which One Doesn't Belong?, the answer would be me.
Whether I count as an expat or an immigrant, the disconnect can hit close to home sometimes. Italian culture rests on a foundation of family, with people's grandparents and uncles and fifth cousins twice removed usually living in close proximity and woven throughout each other's lives like interlacing doilies. Someone's always around to babysit or cook dinner or help fix what needs fixing. Granted, families themselves are sometimes what need fixing, but in a society built on interconnectedness, our stand-alone status is an additional spotlight on our other-ness.
This sense of cultural loneliness hasn't been easy to bear. I'm grateful for it though because it's shifted my field of view. I have at least a small idea now of what the immigrants I once regarded with indifference must go through in acclimating to a new home—every aspect of life suddenly different and they themselves considered the most different of all.
I've also started reading the New Testament like a proper Gentile. It's not that I'd thought of myself as a Jew before, but I did grow up Southern Baptist, so I found myself identifying with God's Chosen People more often than not. It was easy to imagine that the Bible was written for me, directly to my culture and worldview. Before becoming an outsider myself, I'd never considered what it would be to look in on this big happy religious family with VIP access to God and a stockpile of "Visa Denied" stamps for anyone else trying to get in. I'd never given the Gentile experience a second thought (or a first, for that matter).
I have a slim idea of it now though, which is why I can only read about Jesus's inclusion policy from precarious footing on the brink of tears. When Jesus offers living water to a foreign woman whose culture and lifestyle put her lower than low on the Jewish totem pole, when Peter announces that God's door is open to crowds of outsiders longing to be included, and when Paul writes to a primarily non-Jewish church in Ephesus, "You are no longer foreigners and strangers, but fellow citizens with God's people and also members of his household," God meets me smack-dab in the center of my insecurity and isolation. He reminds me of the very real family that we have here in our church. He exchanges our displacement on the map with a borderless home base. He steps right over definitions like expat and immigrant and alien and poor and stranger and disconnected and "other"… and turns the whole system outside-in.