If you've been following my blog for any time, then you know 1) that I identify as Christian, and 2) that "Christian" means something very different to me today than it did when I was growing up fundamentalist. The Christianity I experienced as a kid was a members-only club with lifestyle requirements and political loyalties, whereas the kind that I'm discovering and embracing in adulthood is more of an open-air party in which the only common denominator is Jesus. I am more grateful than I can say for the freedom to see God differently. Disengaging myself from the mindsets that formed me, though, has been about as easy as performing a total skeletal transplant on myself.
Take gender roles. The Christian subculture in which I grew up basically assigned one of two identities to everyone at birth. The first identity was "Leader" and came with secondary characteristics such as strength, outspokenness, superior reasoning skills, and money-making prowess. The second identity was "Follower" and brought with it expectations of docility, fertility, weakmindedness, and a knack for the domestic arts. The one and only basis for choosing which identity to bestow on a baby was which set of body parts he or she had.
I can't speak much to the experience of growing up male in that system, but I do know what it was like to grow up under the "Follower" heading. Because I had been born female, my calling in life was to act as support staff to the males put in authority over me. Our family wasn't nearly as rigid in this as many other patriarchal families; I was encouraged to get summer jobs and to go to university, experiences that many girls, seen only as homemakers-in-training, are denied. (In fact, one of my favorite posts to write this year was What Our Parents Did Right.)
Still though, I grew up under a list of gender-specific shoulds, some of them directly taught and some of them just implied:
A woman should defer to her father's or husband's judgment in all things as her own way of thinking is flawed.
A woman should always seek to diminish herself; her body, her voice, and her actions should never draw attention.
A woman should work tirelessly and selflessly in her home sphere, managing household tasks and child-raising so expertly that her husband never needs to be burdened with them.
A woman should understand that her purpose in life is to help her man fulfill his.
…for the Bible tells me so.
Actually, the Bible's part in these gender prescriptions was always a little confusing to me. We didn't follow Bible verses saying women needed to avoid jewelry or wear head coverings to pray, but we agreed most adamantly with verses saying women shouldn't teach men (at least not from a pulpit), that they should obey their husbands, and that they should busy themselves at home. Despite the pick-and-choose nature of our theology, the message was the same: Men were God's white-collar workers, and women were his field hands. And this message stuck with me, deeply.
Even after I had moved halfway across the world with a husband who considers me equal and the beginnings of a fulfilling profession, I felt my fundamentalist identity like a choke chain. In my mind, being a woman was so linked to inadequacy that I couldn't look at a single aspect of my life without guilt. I wasn't organized enough, diligent enough, submissive enough, successful enough, conventional enough, reproductive enough, energetic enough, religious enough. Plus, I could only manage something like .003% of what that damn Proverbs 31 woman did on any given day.
And then I read this: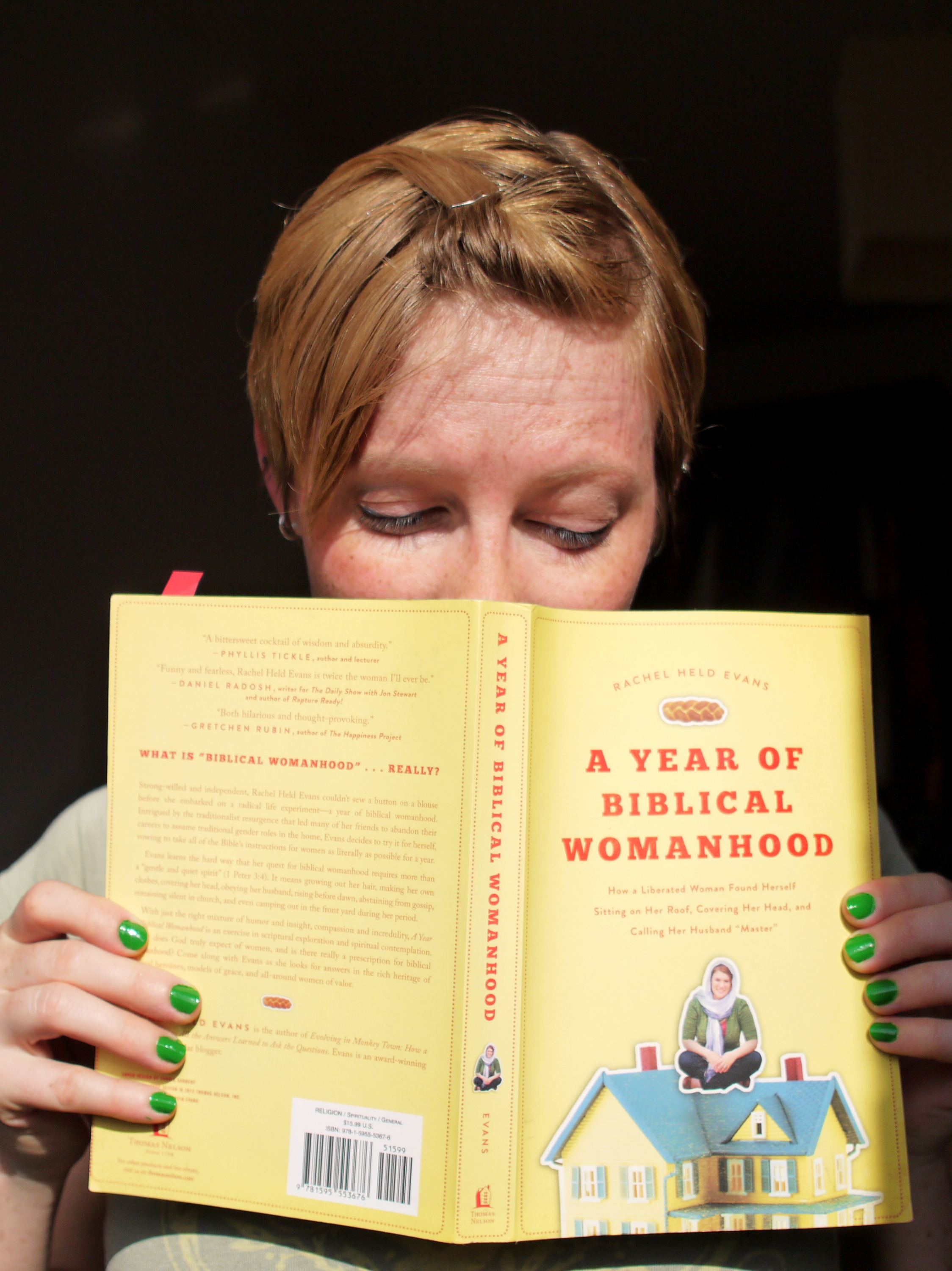 "As I saw how powerful and affirming this ancient blessing could be, I decided it was time for Christian women to take back Proverbs 31. Somewhere along the way… we abandoned the meaning of the poem by focusing on the specifics, and it became just another impossible standard by which to measure our failures. We turned an anthem into an assignment, a poem into a job description." – Rachel Held Evans
I had at least one friend (hi, A!) think that A Year of Biblical Womanhood
 was about how to be more fundamentalist based on its title and, you know, the whole woman-in-a-head-covering-banished-to-her-roof thing. What isn't quite so obvious from the cover is the author's tongue firmly in cheek and heart firmly for women like me caught in the chokehold of "Biblical Womanhood." Really, those two words should always be in ironic quotes because, as Rachel shows in alternately hilarious and touching experiments, there is no such thing.
I read the book about a year and a half ago, and it was like an escape artist had personally come to spring me from the cramped confines of "Follower." I do still struggle with feelings of guilt and not-enoughness; if Dan and I are in such a busy work period that we're having trouble keeping up with household tasks, my first instinct is to berate myself for neglecting my responsibilities, for prioritizing my work over righteously clean floors. Or if I say something at a dinner party and everyone turns to listen, my inclination is to shrink back and turn the conversation over to someone with more a more valid viewpoint. The difference is that I can now recognize these wilting instincts as byproducts of an identity that was never meant to be mine. I can see cultural preference where once I only saw divine prejudice, and I can choose not to be ruled by it.
Rachel even got me to like Proverbs 31, which I consider a feat of staggering proportions. Or should I say… biblical?
"Could an ancient collection of sacred texts, spanning multiple genres and assembled over thousands of years in cultures very different from our own, really offer a single cohesive formula for how to be a woman?" she asks in her introduction. "Do all the women of Scripture fit into this same mold? Must I?" And in her answer
, I found a way to keep both the Bible and myself. Pure gift.
—
In this series, I'm foregoing traditional book reviews and instead sharing Book Stories—why certain books have impacted me, how they've entwined themselves through my life, and what the long-term effects are. After all, what better way to talk about stories than through the medium of story?
(If you have your own close encounter of the literary kind you'd like to share here, just send it on over to hello{at}bethanybassett{dot}com.)