So much is going on in the world right now, so much heaviness, so many strings wrenching our hearts in all directions. Syria, Iraq, Ukraine, Gaza… It's all so much to take in, and I have absolutely nothing constructive to add to the discussions on international policy taking place. I do know depression though, and waking up this morning to news of Robin Williams's death reminded me what an important topic this is… especially from a practical point of view… and especially especially for members of the Christian community. I'm sharing my experience at A Deeper Story and would love if you'd read along:
[Ed: Now that Deeper Story has closed its doors, the post is here in its entirety:] 
~~~
"Waking up feels like getting socked in the gut. I feel instantly strained, smothered, vaguely panicked. I have trouble breathing through the tightness of trying to hold myself together, trying not to cry or yell or fly into a million little pieces. The simplicity of my life seems unbearably complicated, and even the tiniest decisions—which sweater should I wear?—are draining. I blink back tears from an urgent but indefinable sadness. The day feels like a sheer precipice, and I can't see the footholds. I can't see the top. I can't even tell what type of stone is blocking my way. I recognize that I have no reason to feel unhappy, no reason at all, but I stumble through various shades of sadness all the same. I wake up with the wind already knocked out of me, and I choke on the idea that there is no solution."
– From my journal, January 30, 2008
"It's like this," I explained to my husband in halting whispers, engulfed in the dark of another sleepless night. "It's like we're at a party with everyone we know, and there's dancing and food and laughter. Everything would be perfect, except that I suddenly find myself locked in a steel cage in the middle of the room. I didn't see who locked me there. I have no idea where the key might be. All I know is that I'm ashamed to find myself captured, so I try for a while to laugh along with the partygoers, hoping they won't notice the bars.
"Food is pushed under a slat on the floor, but eating alone is not the same as lingering with friends by the buffet. You and the girls come by to talk to me, but it's not the same as hugging each other with unrestrained arms. The music still plays, but my cage is too short for me to dance. I may be in the middle of the room, but I feel as though I'm watching the party from outside.
"My resolve to put on a good face finally breaks down, and I tentatively call to a few loved ones for help. I know they aren't the ones who locked me in the cage, but my hope is that they can search the room for the key since I'm unable. I also wish a few of them would come sit with me, hold my hand through the bars, reassure me that the cage is real and that I didn't put myself there. I call again, hesitatingly, torn between wanting them to see my desperation and not wanting them to think me crazy. 'Hello? I'm a little stuck here…' This time, a couple hear. They stop for a moment, call, 'Yeah, come on out and join us!' and go back to dancing."
"I see strange shadows inside my eyelids these days, as if everything familiar has become frightening. Writing requires me to rip words out of dental cavities, one at a time, and I don't have the pain tolerance to finish what I manage to start. Smiling takes even more effort. I feel horribly alone, but I still crave loneliness. The freedom to hide. Not having to fake sanity for my family's sake or to force insanity so someone will help me. I want a respite from the world's problems, starting with my own brain."
– From my journal, March 3, 2009 
I can't read my journal entries from the fall of 2007 to the spring of 2009 without shaking. The pain of that time was so sharp that it cuts me even through the protective layers of all the years since. When it first started, I thought I was just struggling to adjust to our recent move to Italy. Then, my second daughter was born, and I latched onto postpartum depression as a likely culprit. The months continued though, and the world inside my mind continued growing darker.
I had only the tiniest shred of strength with which to help myself, and I used it primarily on holding my shit together in front of my two little girls. I couldn't think what else to do, how else to fix myself. More than that, I didn't feel worthy of being fixed. I felt like a black hole sucking those I loved down into my emptiness, and more than anything else in the world, I wished for backspace button big enough to delete myself.
Eventually, helped by a kind friend and my husband, I talked to three different doctors, all of whom brushed aside my condition after verifying that my blood results were normal. "You're just having trouble adjusting to life in a new country," my endocrinologist insisted, and I didn't have the heart to argue, just like I didn't have the heart to argue with Christian self-help sites that said I could pray the blackness away. They had no idea how hard I had already tried, how desperately I had prayed, how much it had taken for me to seek their help in the first place.
"I can no longer differentiate between physical and mental symptoms. This is not a development I was expecting, but I understand the progression from panic tickling the back of my neck to instinctive breath-holding to riotous stomach-and-back-and-head-aches. And not just that, but insomnia and desperate confusion. I have spent the entirety of the last two days in bed, somewhere between sleeping and pinching my breath shut, and I can't account for it. 'I don't know,' I respond when Dan asks me what's wrong. How I feel. What that twitchy expression on my lips forebodes. Why I'm suddenly crying over a grapefruit, my only concession to lunch. What he can do for me."
– From my journal, March 22, 2009
Here is what I learned about depression during my year-and-a-half-long battle: It is not a place for self-help.
I could not shoo away the darkness by starting a new workout routine. I could not slip into peace by praying. I could not diagnose myself within the maze of WebMD. I could not summon the energy to pick myself off the bathroom floor some days, much less pick up the phone and ask for help. The few friends I reached out to over the months all answered the same way: "What can I do to help?" And my answer was always, unfailingly, "I don't know."
In the end, I found depression's exit door by accident. One day in early spring, I stumbled across an online forum of women claiming that my brand of birth control pill had caused their depression. I stopped taking it that day, and I was feeling more whole within a week than I had been for the past eighteen months.
I'm not going to pretend the answer is that simple for everyone though. Whatever the individual causes, depression is a real illness, as debilitating and painful as physical ones can be. It's also a highly stigmatized one, particularly within Christian circles. I was reminded of that the moment I turned on my computer this morning and saw the tragic news of Robin Williams's death—a rumored suicide—after his years' long battle with depression.
Social media was full of beautiful tributes to the actor, but I also saw plenty of remarks to the effect that his depression would have been healed if only he had known the Lord. I recognized that the people making these remarks were grieving in their own way, but they were also making two very weighty assumptions:
1. That Robin Williams did not know God. (This, I strongly believe, is not something we have the authority to determine.)
2. That prayer is always enough to cure depression.
Can prayer cure depression? Yes, I believe so. But it doesn't always. This is an important distinction, because until we stop viewing depression as a spiritual deficiency, we can't help those in our communities take those first steps out.
And make no mistake—we are needed. You are needed. If someone you know is drowning inside his or her own head, you are needed to function as lifeguard. You are needed to call her up and tell her you're taking her kids to the park for the day and cooking dinner besides. You are needed to tell him you found a doctor who can help and will be picking him up at 10. You are needed to do the Googling, to pick up the prescription, to find the health food store with the particular supplement, to refuse to give up until a solution is found. You are needed for your perspective and energy and insistence on your loved one's worthiness. Your presence can be vital, sometimes in the most literal sense of the word.
I might have found the cure to my brand of depression on my own, but friends and family are the reason I made it that far. A year and a half is a long time to be treading water in the dark, and I don't think I could have done it alone. Even when loved ones didn't know how to help me, their encouragement and nearness propped me up a little more, gave me just enough of a respite that I could keep on going.
"Carry each other's burdens," wrote Paul in his letter to the Galatians, "and in this way you will fulfill the law of Christ."
Having been for so many months in the position of the one who was carried, I couldn't agree more.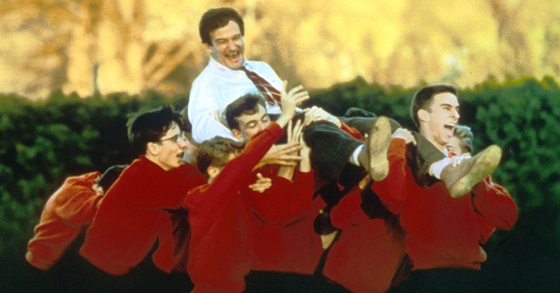 Rest in peace.