Homer: "Marge, can you cut back on your makeup budget?"
Marge: "But I already use crayons for lipstick and fireplace soot for eyeliner…."
Homer: "So THAT'S where my soot went!"
(The Simpsons will forever have a place in my heart.)
Over the last few months, I've been researching ways to save money, and I always end up arguing at the internet thusly:
But we already line-dry our clothes!
But we don't even have an air conditioner!
But we already eat seasonally!
But we're already a one-car family!
Pet hair sweaters? Are you kidding?
I've felt for a long time that there's not much we can do to lessen our day-to-day expenses, and I've avoided updating our budget spreadsheet for weeks because of the helplessness I feel in the face of so many numbers. Today, though, a particular category made me pause.
We spend—::cough:: I don't even want to say how much—a month on hygiene, beauty, and cleaning products which I've always considered a necessary evil because, well, wallowing in filth just isn't our style. Of the 7 products I use in the shower, the 5 in my daily facial routine, the 3 for hairstyling, the 4 for laundry, the 8 for housecleaning, the 4 for dishwashing, and the myriad lotions and soaps and cosmetics and perfumes and gels and sprays that we cycle through, there are maybe two I feel I could do without. Let's face it—I'm just not that crunchy.
However, I'm noticing downsides to our current modus operandi in addition to the cost. For example, I won't let the girls help me clean the house (despite all of our wishes) because I don't want them coming in contact with all those chemicals and fumes. For another thing, I have to bring an entire backpack worth of toiletries on vacation, and my face-washing regimen looks pretty ridiculous lined up in a campground washroom. I hate feeling enslaved to certain aisles of the supermarket, forced to choose between cleanliness and my better judgment. (€5 for the cheapest bottle of lotion? Really???) I hate feeling powerless to change.
So this morning, I dove into some online research on homemade, frugal, eco-conscious solutions, and I emerged from Google two hours later with glassy eyes and a dizzy brain. The quantity of information out there is simply overwhelming, and I have no idea whether the kiwi-cider toilet scrub recipe or the wasabi-Borax one is more effective (my guess is neither, and anyway, I can't find Borax here). The familiar helplessness started sinking back in, but then I had a revolutionary, completely original idea that I will now share with you at no cost just because I like you so much: Try one thing at a time. (Novel, non?)
Here's how I imagine it working: As I run out of a product, I try to find a more sustainable and inexpensive substitute. If I find something that works, I rejoice and my husband gets to make fun of me (you're welcome, dear). If not, no big deal, nothing changes, and I pretend I wasn't trying to unclog the drains with salad dressing. Also, I get a guilt-free pass from all the following:
Using fruit for anything but eating (There's no way I'm going to shell out big bucks for a tub of strawberries and then smear them on my face. Unless by "on my face" you mean "inside my mouth," in which case, yes please.)
Using rocks as deodorant (I have previous experience with this one, and it resulted in a friend kindly donating me her father's used Speed Stick. True story.)
Giving up makeup (I'm sure that beet juice lip gloss and olive oil mascara bring out one's natural beauty, but… no. Just no.)
My natural inclination is to give up before I even start. Too much information, too many opinions, too much focus on weighty issues like ethics or politics when I'm just trying to save money and live a little simpler… but I like meeting challenges, I'm grateful to find my own strength in overcoming obstacles, and I'm even rather fond of my inaugural attempt: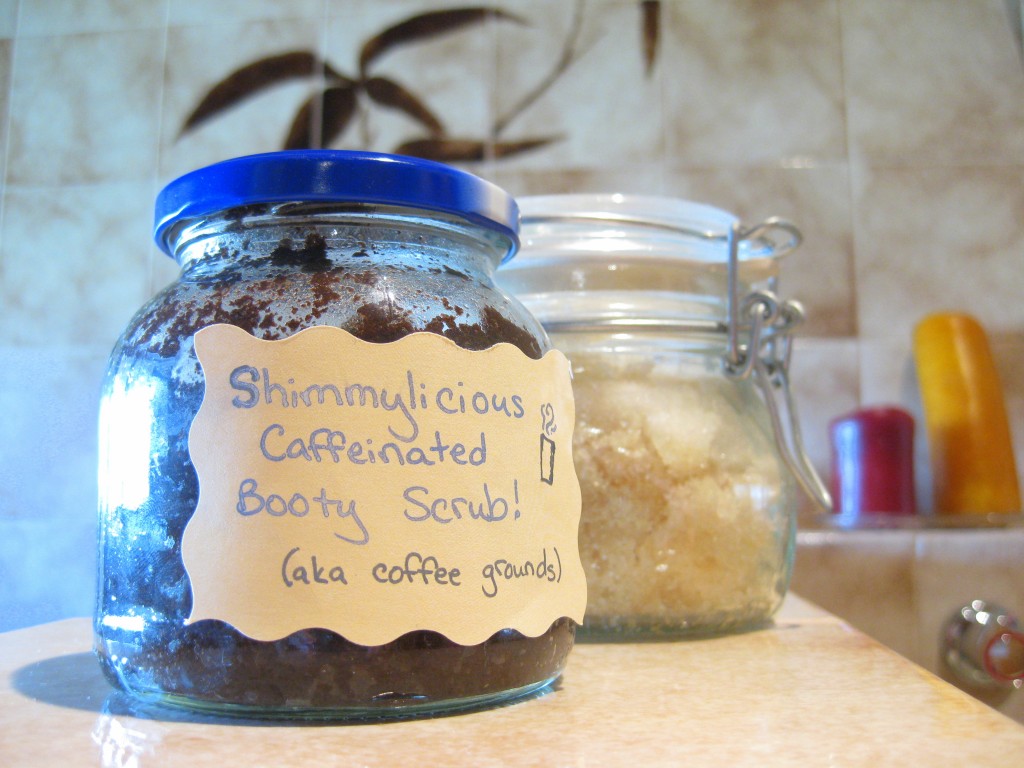 Do tell: Are there any budget- and eco-friendly products you can vouch for? Or am I headed down a vinegar-scented slope to utter wackedness?