One sleepy Sunday morning two summers ago, we were driving through central Italy with friends when one of them asked to stop by a pharmacy. We pulled into the nearest town, though we weren't sure if we would find any pharmacies open on a Sunday. What we certainly didn't expect to find were barricades across every road leading to the town center. Our curiosity up, we parked on the outskirts and walked the five minutes to the city center (this is central Italy, after all) where we found an open pharmacy after all, plus seven hundred more barricades and a chatty barista who filled us in on what was happening.
We learned that we'd just happened to pull into Bettolle ("Bay-TOLL-ay") on the one day each year when they commemorate the burning of their castle by a rival town and their subsequent reconstruction in the 16th century. Following lunch, the town would be gathering in the main square for a medieval parade, after which teams from the five town districts would compete in a Race of Revenge. In this race, teams of two must run laps around the historic town center balancing huge wooden urns on stretchers. Then, competitors dressed in man-tights must race to climb greased 5-meter-high poles and put out the fires burning on top.
We didn't stick around for the festivities, but I later read the day's results in a local magazine:
"There was a winner. Maybe two. In fact there are some who say there were three winning districts. Others say nobody won. Others, instead, insist that to be beaten is now a dried-up technicality of the rules which are too intricate and groundless and which don't take into account the possible uncertain results that are inevitable in such a complicated race."
A more Italian summary there never was.
Our region of Umbria is full of ancient hillside towns that celebrate their heritage with similar events, and the four of us finally got to attend one this last weekend. Friends from the nearby town of Gualdo invited us to their Giochi de le Porte on the condition that we cheer for their district and that Dan wear tights for the opening parade. (Sadly, I could not be there on Friday to see this magnificence.)
As charmed and delighted as I am by the idea of these events, I was wary going into the weekend. You may recall from previous stories such as that time the number machine at the health center broke and that time the national soccer team played in our neighborhood that crowd mentality in Italy causes a particular strain of strain for me. I am an introvert and an American; my personal space bubble is dear to me. I wasn't particularly looking forward to spending my Saturday and Sunday getting up close and personal with strangers' elbows, and had I known that a passerby would additionally lock me in a full-on boob grab, I might not have had the will to show up. (I'm still shuddering.) However, if I hadn't braved the crowds, then I would have missed out on one of the most colorful and captivating experiences of our eight years in Italy.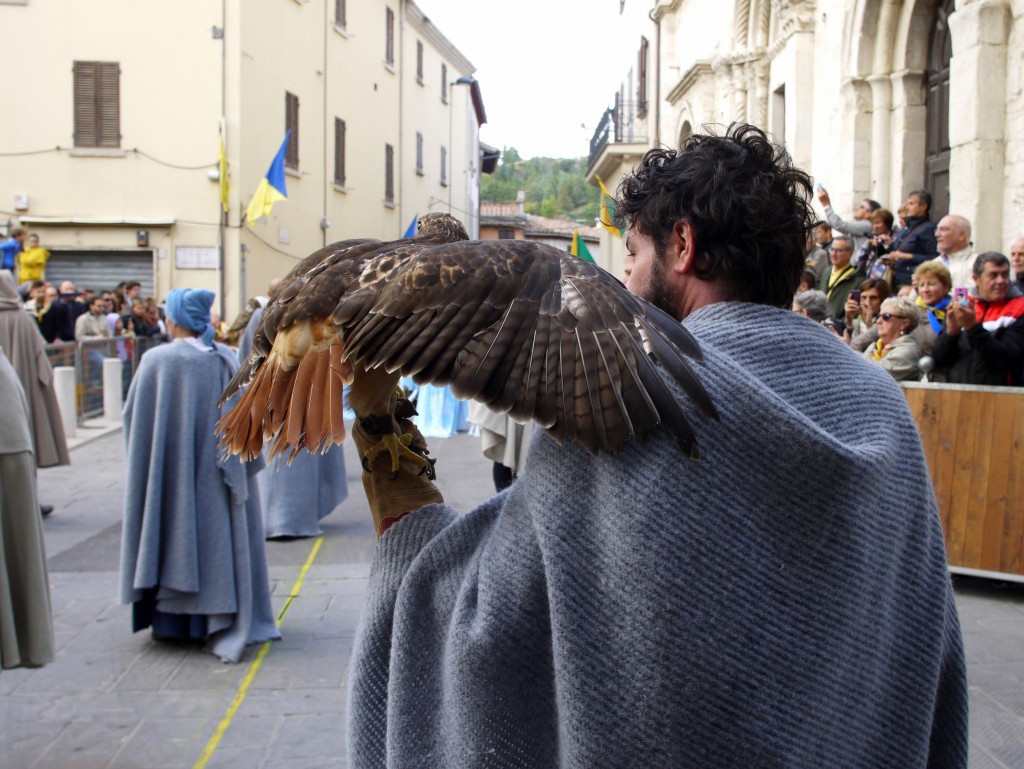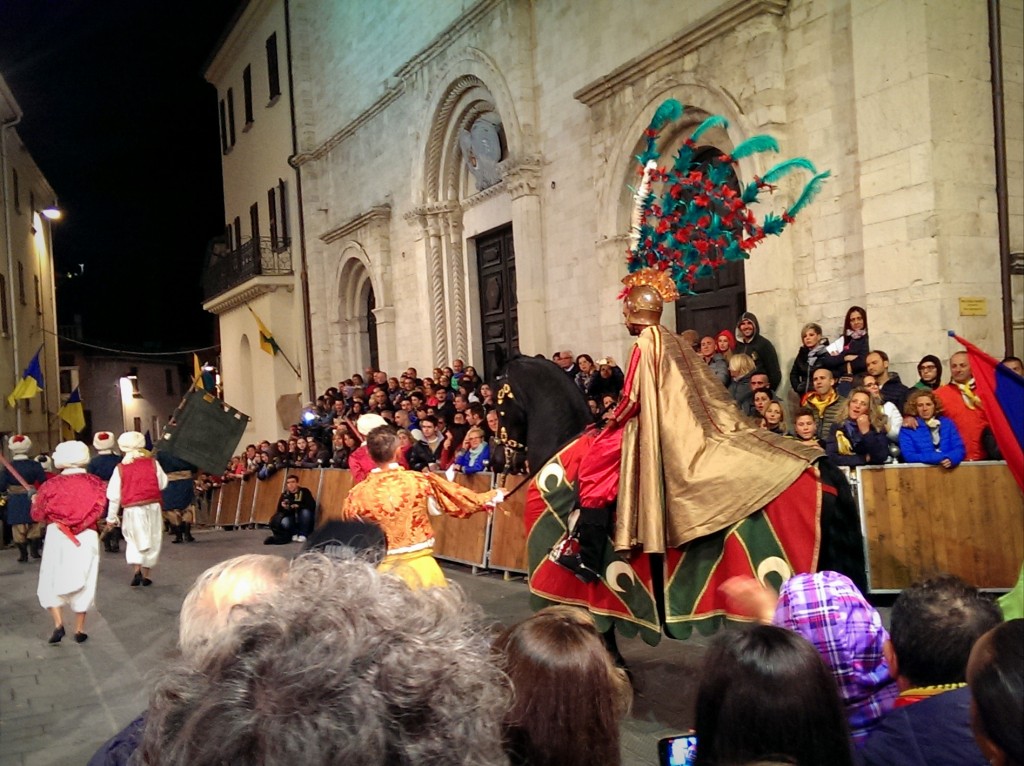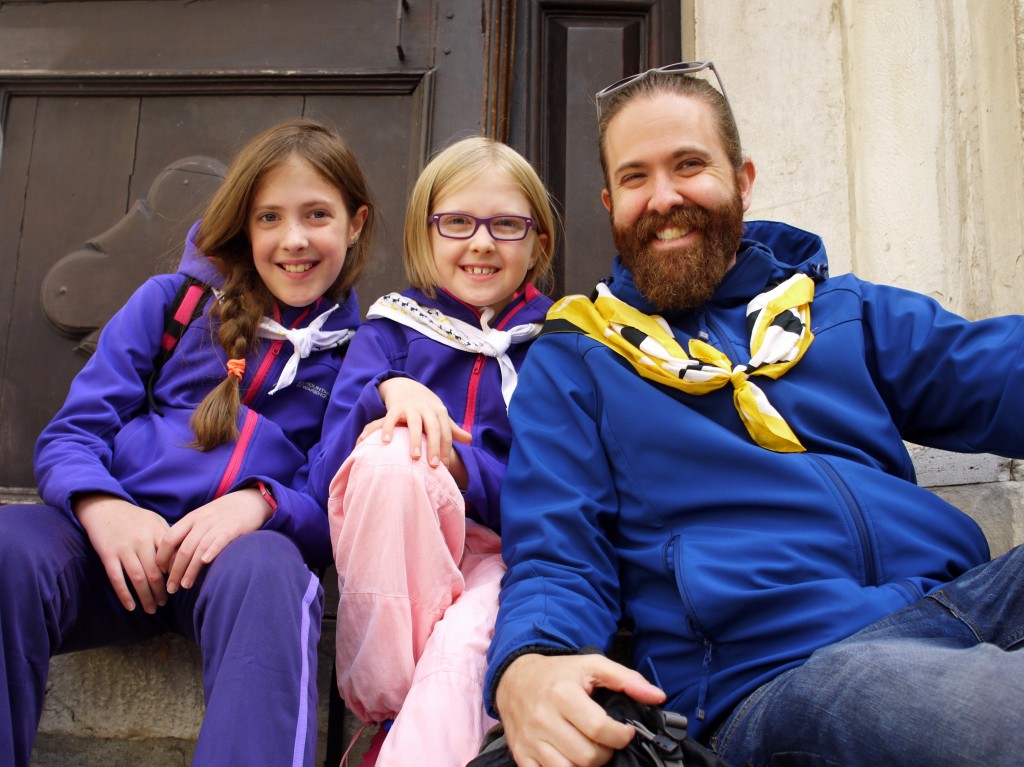 Sporting our adopted team's colors. Forza San Donato!
Gualdo's "Games of the Gates" are a three-day festival in which the four city districts open temporary taverns, put on drum, flag, and crossbow exhibitions, and compete for best themes and costumes in an hours-long medieval procession. And that's before the actual games begin. When the girls and I joined Dan on Saturday, the city was in a collective daze after hanging out all together until the not-so-wee hours of the morning. Fortunately, you can get a freshly ground espresso every hundred feet if you so desire (because, Italy), and the main square was once again full of waving bandanas and spontaneous cheering by evening.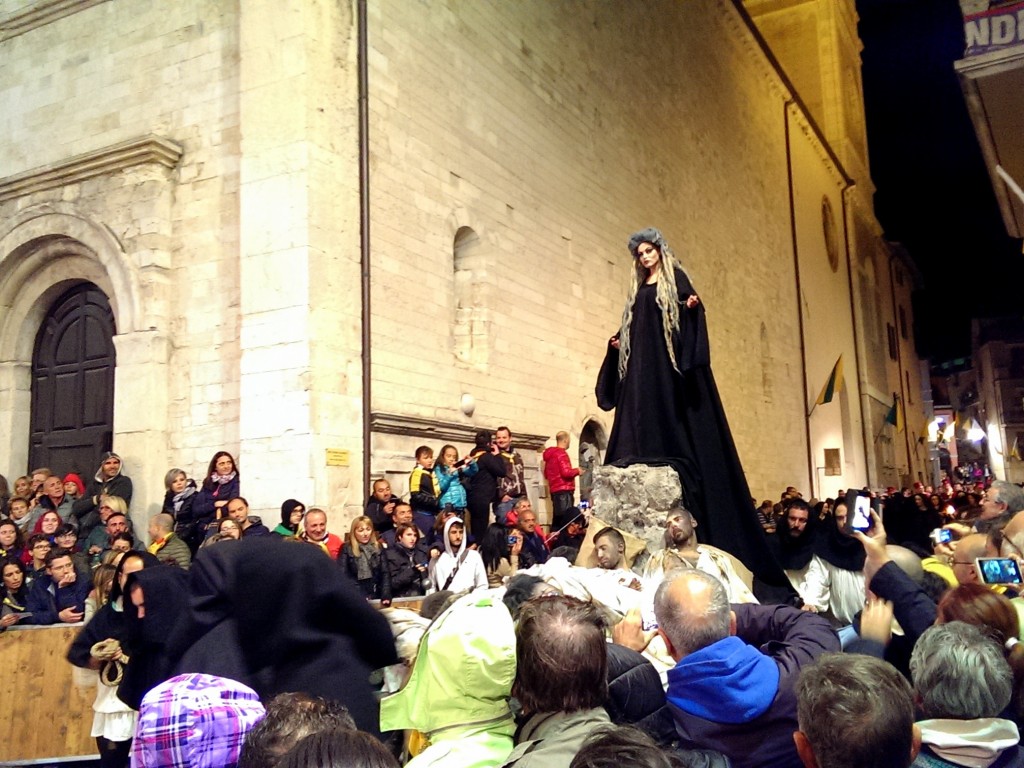 Bastola, the witch who burned Gualdo to the ground in 1237 AD, was kind enough to put in an appearance atop a pile of her victims. The winning team each year gets the pleasure of burning her in effigy. But first, creepy pale-eyed glares for all!
The games themselves began on Sunday afternoon. After a priest blessed the whole endeavor, each team harnessed their champion donkey to a wooden chariot and proceeded to race around the city center. To everyone's simultaneous relief and disappointment, this is done by time trials rather than a Ben Hur-style free-for-all. We could only see a portion of the road from where we were standing, so we had to content ourselves with commentary like, "Go, Alberto! [Alberto being the donkey.] He's running uphill now, he's running, he's running—oh dear, Alberto has wandered onto the sidewalk." All chariot races forever should be conducted via donkey.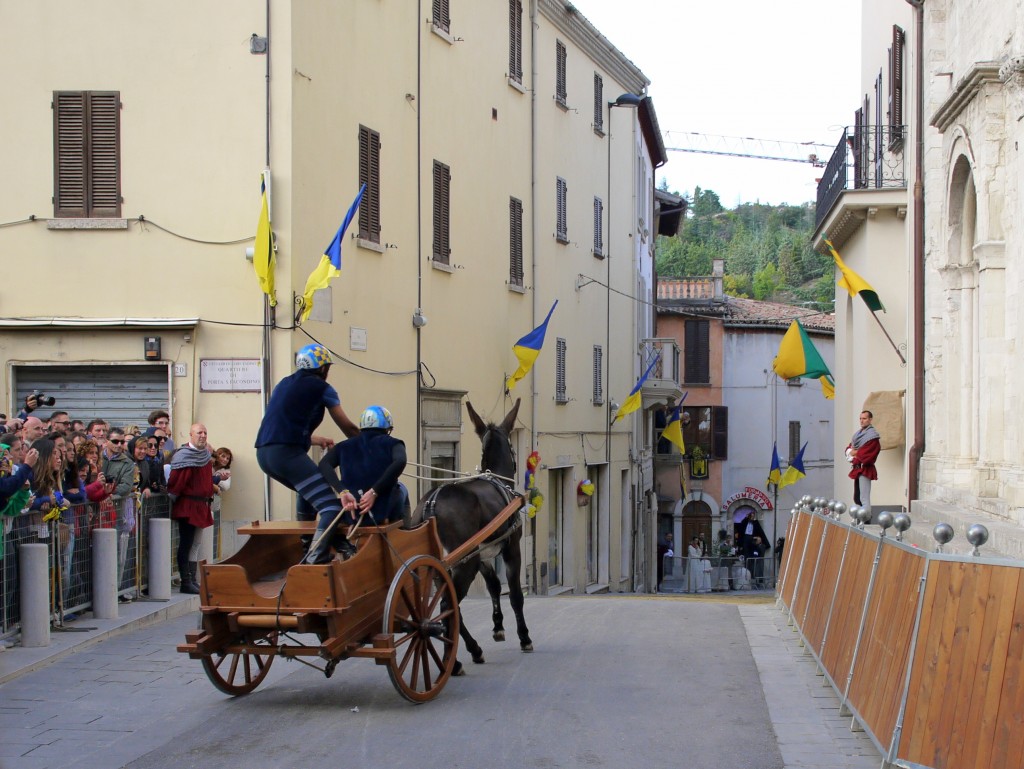 Next, a large target was set up in the square. Each team's slingshot champion was given five marbles to launch twenty meters toward small plates depicting Bastola's heart. Much cheering ensued each time a plate shattered.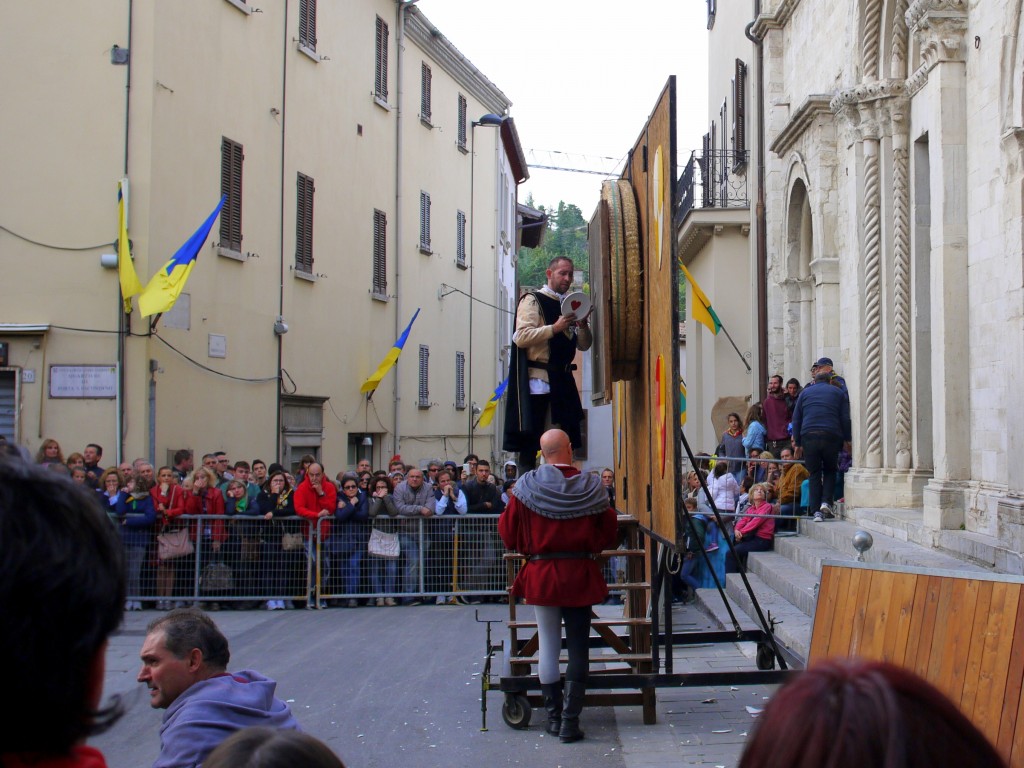 Following this was the archery competition, refereed by no fewer than twenty town officials in 13th century garb.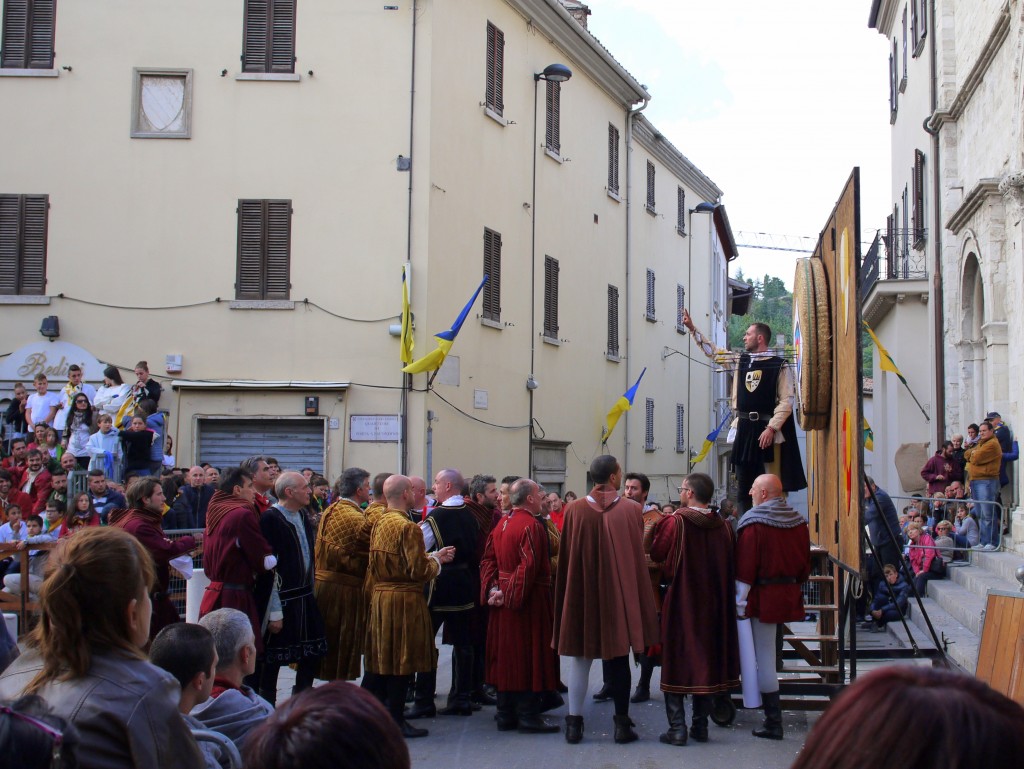 The last and shortest component of the games was a bareback race around the city center on—what else?—donkeys. In this photo, zero donkeys are obeying their riders, and five referees are arguing about whether or not all the donkeys are within the starting zone. At some point, a consensus was reached, the starting bell rang, and four jockeys had to jump suddenly onto their intractable steeds (and in some cases induce them to turn around) and start gallopping. All bareback races forever should be conducted via donkey.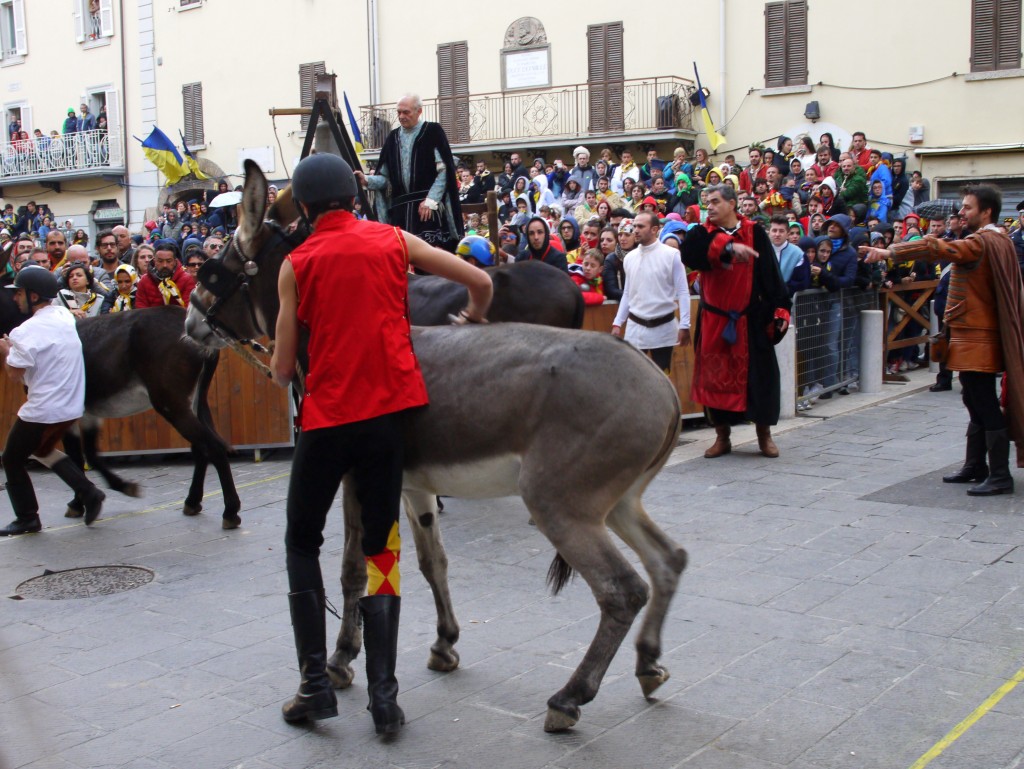 Our team won the tournament, much to our delight. Even if they hadn't, though, it would have been hard not to get swept up in the celebratory atmosphere. Speeches were made through tears of joy while drums played and the crowd danced. Bastola's effigy was duly burned, and the winning team smeared her ashes on their faces for luck. People sang, hugged, whooped, and hollered. "We're not going to bed tonight!" announced the commentator into his microphone, and all Gualdo's people said amen.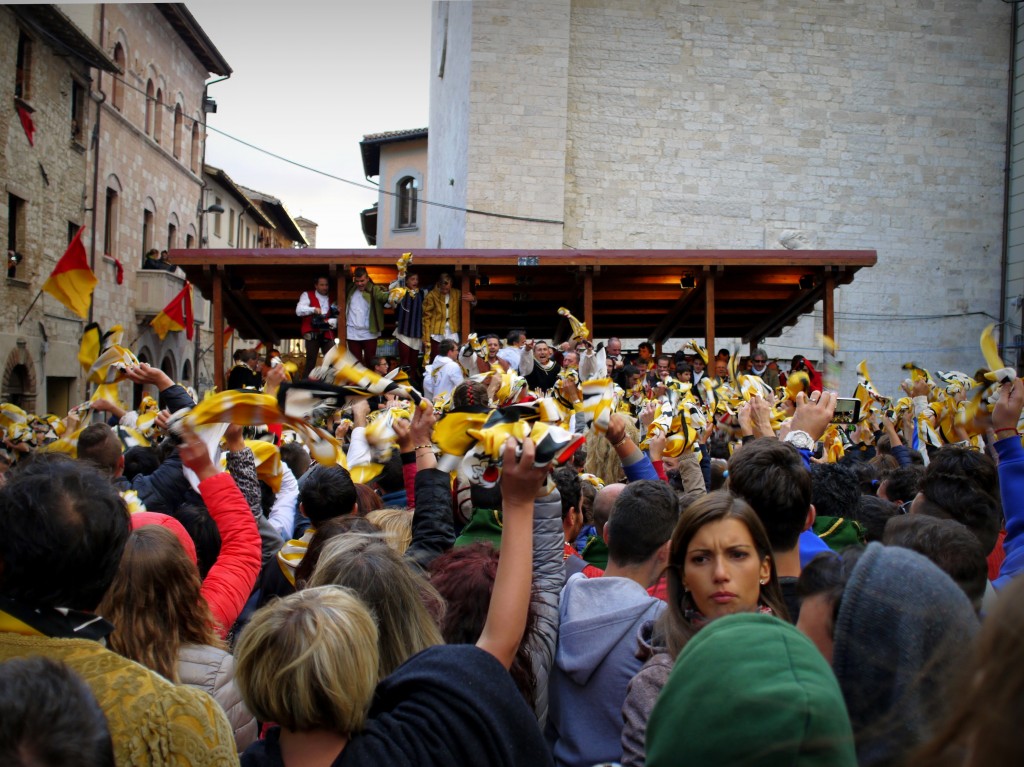 As little as I liked having my personal space bubble burst (not to mention crushed, trod upon, and boob-grabbed), our weekend was full of reminders that Italian culture really is a treasure. Perhaps the aspect that stood out the most immediately was the artistry of the costumes, props, parade floats, and food carts that imbued every detail of the games with geeky medieval awesomeness. I have it on good authority that the thousands of costumes we saw were hand-stitched for authenticity. (The mind, it boggles.) There's a reason that Italian craftsmanship is recognized around the world; this country's appreciation of and talent for beauty are unparalleled.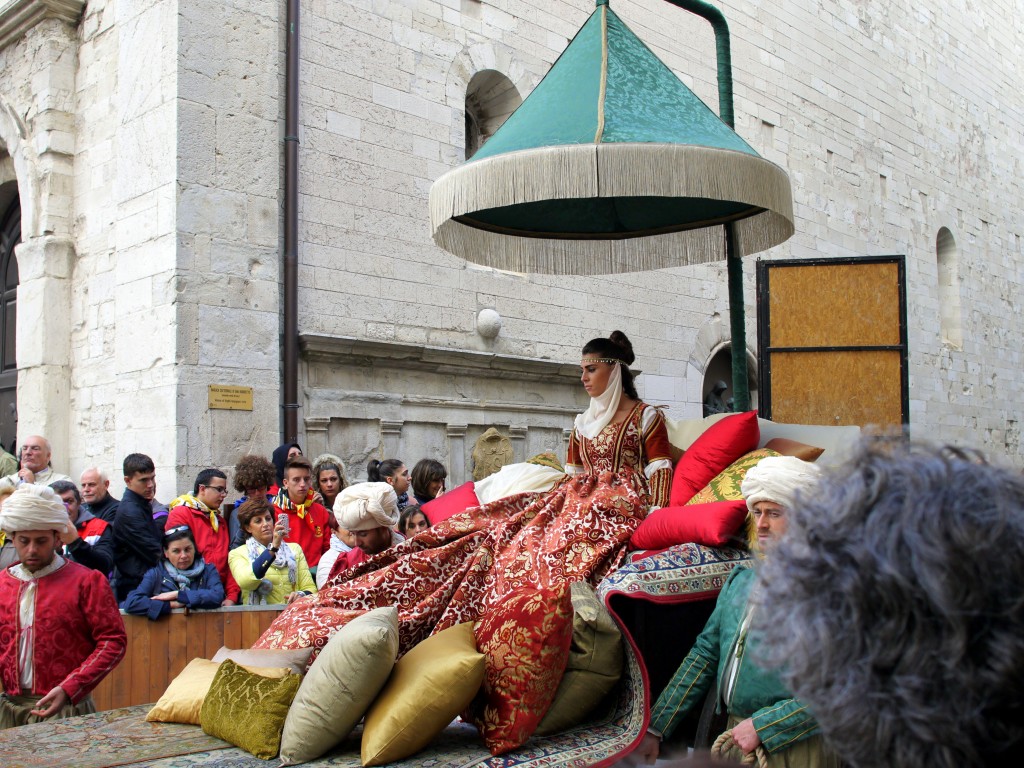 I mean…
I was struck even more, however, by the citywide camaraderie into which we were welcomed for the weekend. Despite the competition going down, members of the different districts continued to interact like extended family who just happened to be rooting for different sides of a football match. People set up grills on the sidewalks and passed out bruschetta. (This saved Dan from decapitation by his hangry wife on Sunday morning when we found all the shops cleaned out of pastries.) Policemen posted at bars to make sure no one got liquor in his coffee until after the games joked around with old friends in hand-stitched tights. The horse trainer for a rival team let the girls admire his horses and ask questions for twenty minutes without his showing the least impatience. Everywhere we walked, we ran into smiles.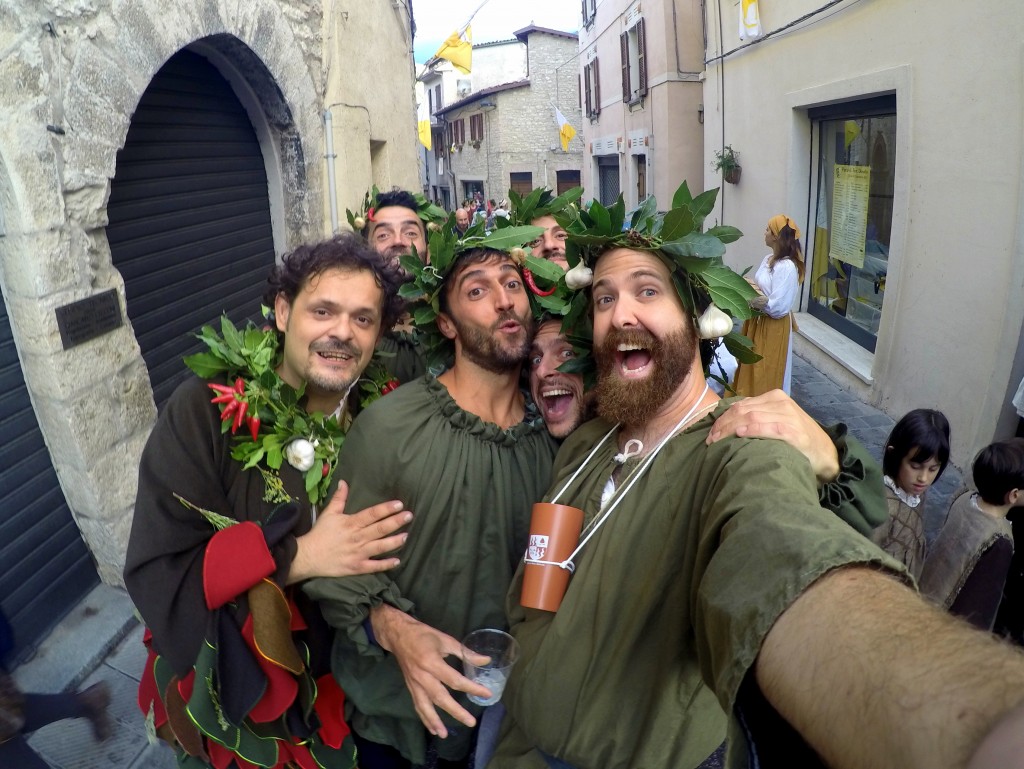 Medieval selfie by Dan
(Not pictured: tights)
The longer I live here, the more I understand why an Italian's hometown is such an important part of his or her identity. We watched toddlers in the parade last Saturday, each of them decked out in tiny cloaks and wimples, holding the hands of parents who have also participated in these games since childhood, and it was a very visual example of how locals preserve their connection with the history and the future of their birthplace. Gualdo and Bettolle hold these annual festivals to celebrate the dauntlessness that brought them back from ruin all those years ago. It's clear that a communal identity based on this courage—plus warmth, artistry, and donkeys—creates a bond that can never be weakened by distance.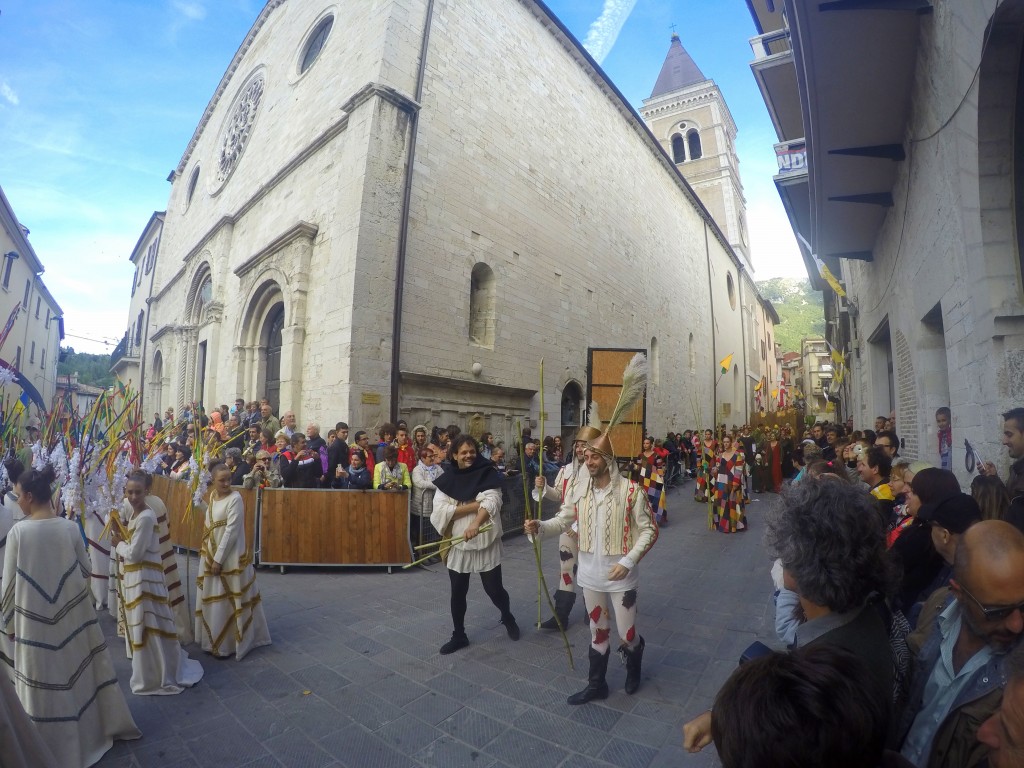 (Photo courtesy of Dan's GoPro)
As an expat with chronic wanderlust, this idea of rootedness makes me wistful. At the same time, my portability is why I was able to be at the Giochi de le Porte in the first place. What I'm ultimately taking away from our experience then is a renewed affection for this country that's adopted us—not its crowds perhaps (or at all) but the amazing blend of traits that can make a celebration of their own local history into an event worth sharing with the world.