Admittedly, our weekend in Rome wasn't the most harebrained idea I've ever jumped on, but it clearly was not the work of a sound mind. One daughter was vomiting, you see. The other was dealing with a bout of "poop juice" (what her term lacks in delicacy it more than makes up for in originality), and I was feverish from a mild case of food poisoning. However, one's husband only runs his first marathon once, and I couldn't pass up the opportunity to cheer him on. Besides, it was Rome. Cobblestone streets, gold-plated basilicas, Colosseums, Rome. We were all going.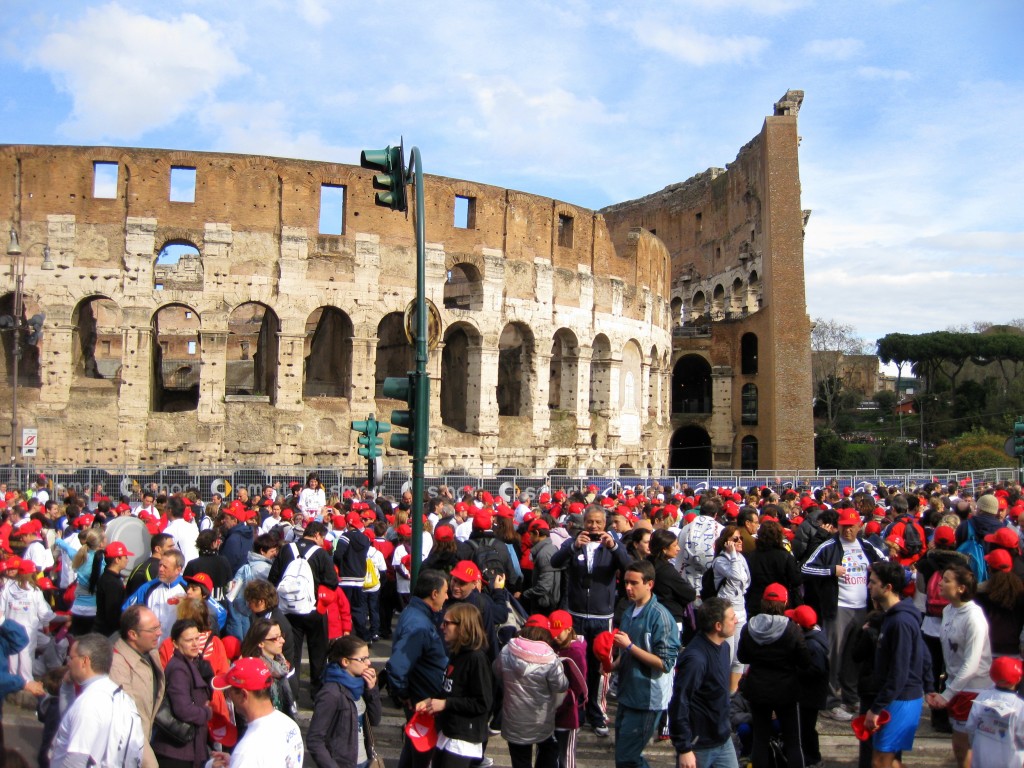 The decision was at least 30% mistake. The family and friends of 14,000 racers seeped along the streets carrying curious tourists along, and a sickly mama with a preschooler attached to each arm was no match for the full-bodied tide. We never made it within 300 meters of the starting line, and we were somehow less successful at finding the finish.  As for my vision of popping up around the city like moles with Metro passes, arriving at famous monuments with impeccable timing to whistle and snap artsy photos as Dan ran past… well, we were actually more like earthworms, inching from the underground stops in pale discombobulation and completely missing our first pre-planned photo opportunity because we were lying belly-up in the sun.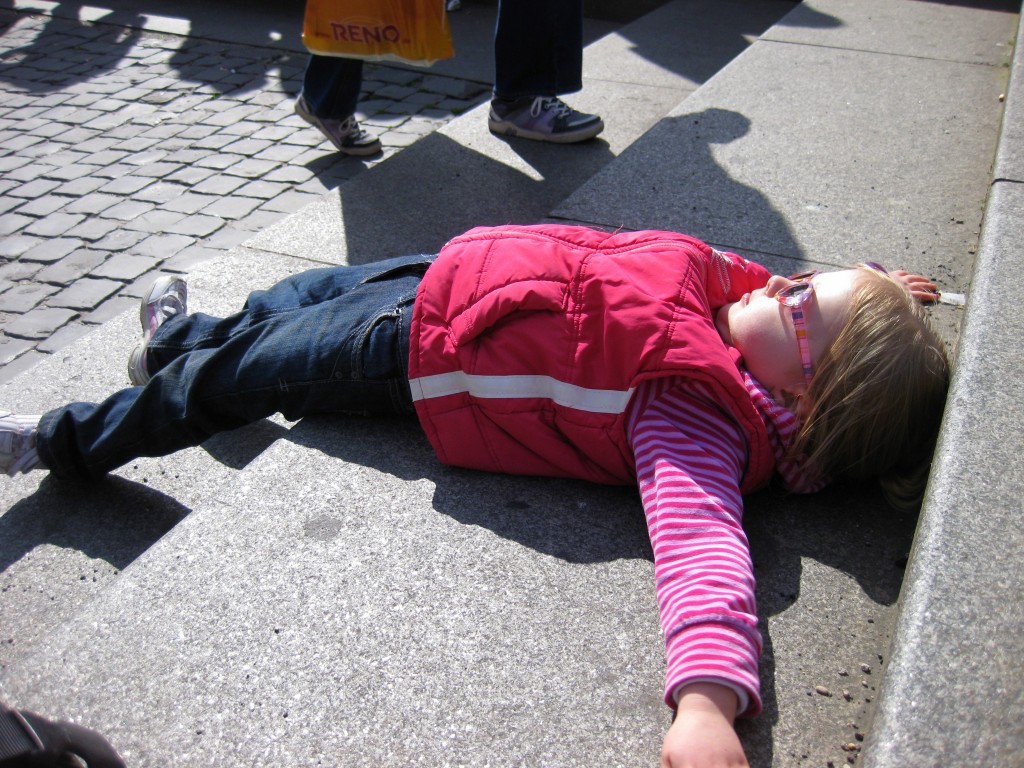 However, for all its faults, the experience was one I'm glad I took life up on. Had the girls and I stayed curled under familiar blankets, we wouldn't have gotten to watch spring wake fresh-faced from her beauty sleep and beam into the niches of the Eternal City. It was a rare kind of pleasure to sit on a marble bench in the Piazza del Popolo with the sun freckling my nose and the girls napping on my lap while we waited for Dan to sweep by on the stream of marathon runners. For that hour, we had no obligation to tour or snap photos or do anything; it was a golden opportunity to just be, and the unplanned respite could not have been more perfect. While tourists milled around surreptitiously snapping photos of us ("I've never seen such a sight in all of Rome," grinned the man who offered to take a shot on my camera), I soaked up spring and the precious nearness of my still-little girls.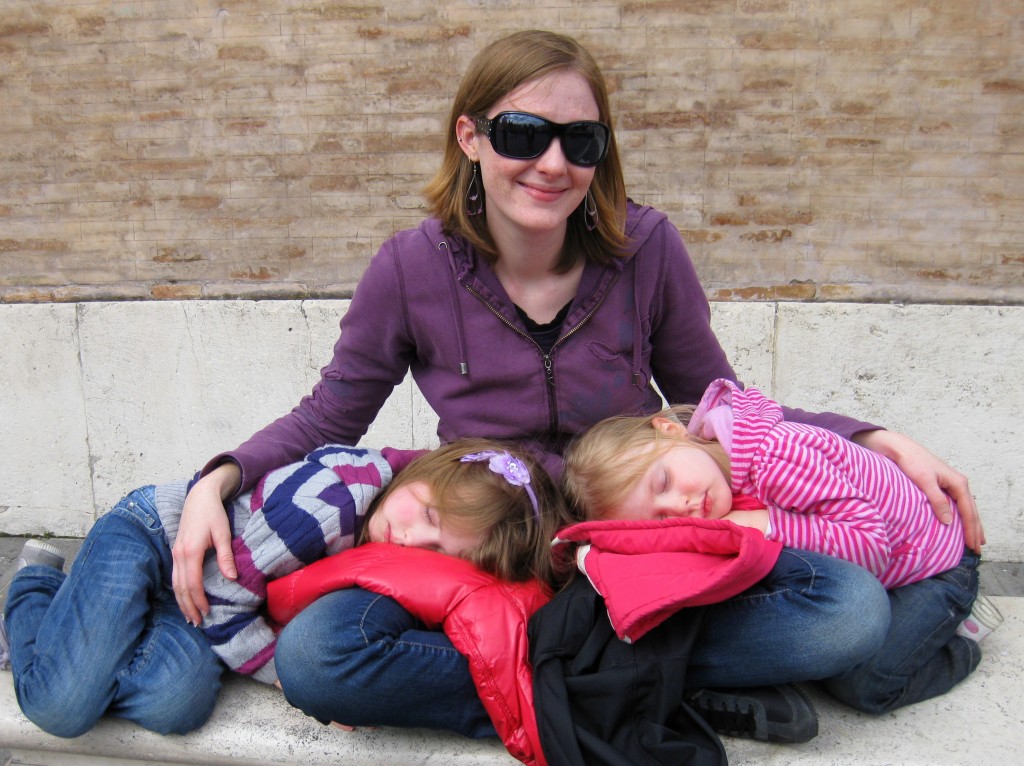 And then my husband ran past—kilometer 37 of 42.2—and it was incredible to see his hard work and dedication in every footstep planted on centuries'-old pavement.   We smiled at each other like married people do, one in sickness, one in health, both calculating the experiences of our life together and coming up rich. Then he turned the corner, the girls and I collected our jackets and sickness bags, and all four of us headed on jellied legs toward the finish.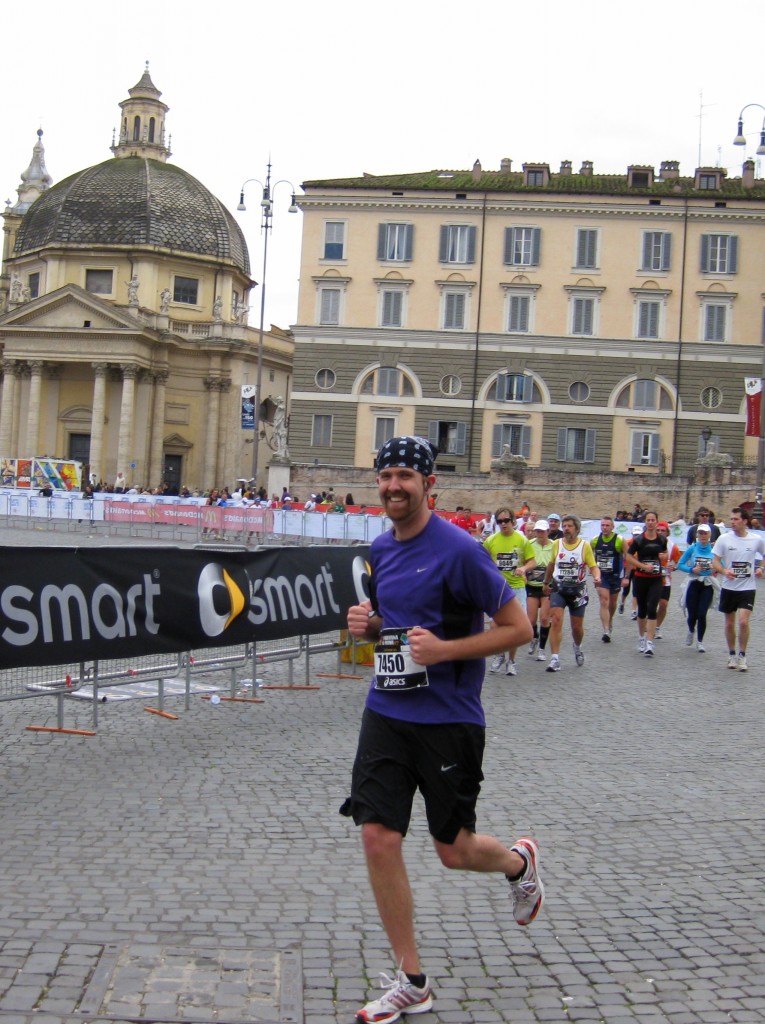 That was about the time the girls and I got lost and Dan ended up dehydrated and we realized it was three in the afternoon and some of us hadn't eaten in 24 hours and our parking meter ran out and the glamor of our adventure was trampled under tired feet and I decided that next year I'm limiting my spring-welcoming activities to opening windows and potting flowers. Still, even our least sane ideas lead to experiences that we cherish as our family's most valuable keepsakes, and there's no doubt in my feverish, harebrained mind that we left Rome richer than we came.