(Parts 1, 2, 3, 4, 5, 6, 7, 8, 9, 10, & 11)
In some ways, we were more than ready to hit the road. We were beginning to miss the familiarity of our home routines, my kitchen gadgetry, your Lego collection, PIZZA. However, the novelty of Scotland still glittered through its cloud cover, and we left the best way one can leave a place—full of hope to return. Of course, we might not have been so cheery had we realized that nine (9) hours of the UK's thickest traffic stood between us and our campsite near Dover. You girls did amazingly well—a few pillows, some dry-erase markers, and plenty of loud music, and you're model travelers—but my goodness… By our third full decade spent inching around the London Orbital, I had to choose between weeping and using the English language in exciting and colorful ways. Thank goodness for the aforementioned loud music.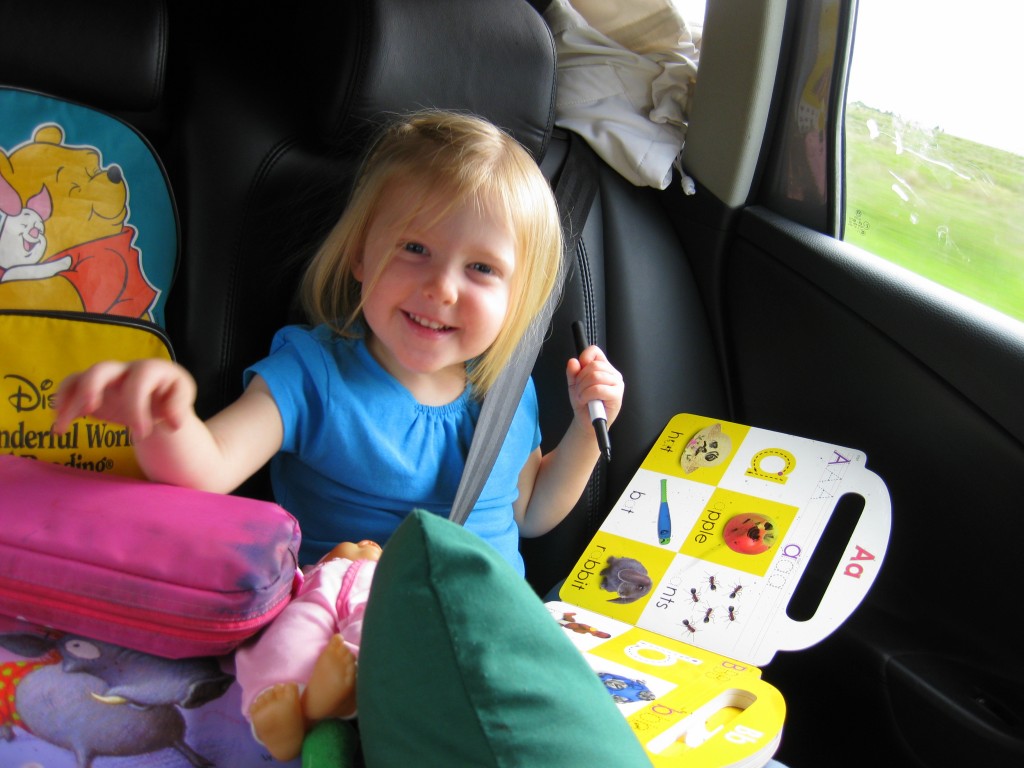 Happily oblivious to the pressures of driving on blanky-blankish roads among blankety percent of the blanking world's blanker-blanked vehicle population, most of which was blankly blanketing at a blank of 0.blank miles per blankety blank.
By the time we arrived in Folkestone, we barely had enough energy to set up our tent, eat fish 'n' chips, and get in several pointless arguments before crashing for the night. (The last argument or two took some real effort, but I'm proud of us for being able to fit in those extra misunderstandings and irritations, especially after such a long day.) The next morning dawned beautifully though. We made it onto our ferry with three minutes to spare, you girls immediately took up residence in the play room, and all was well with our souls once again. Well, mostly. We still had to drive across the flat expanse of flatness that is Belgium, but through a herculean effort, your dad managed not to fall asleep at the wheel, and we were soon rolling through Luxembourg's blessedly varied terrain.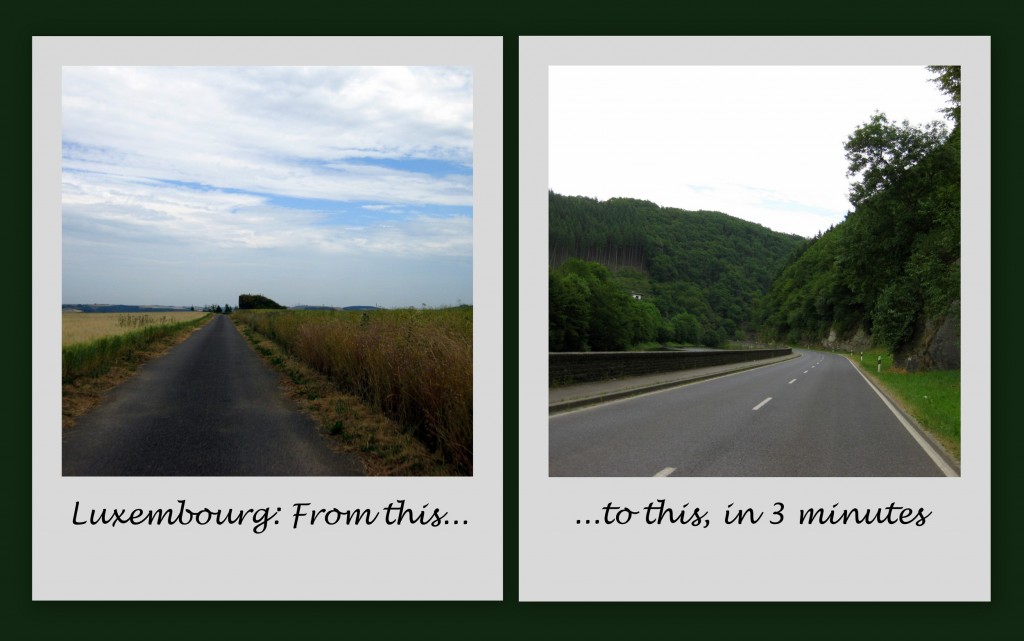 Are you taking notes, Belgium?
Our destination for the night was the fairy tale town of Vianden nestled in a forest along the sleepy River Our. We quickly discovered that unlike the larger, more touristy Luxembourg City, Vianden's locals were merely trilingual, and as your dad and I speak a combined total of six words in French and German and a combined total of zero in Luxembourgish, communication proved amusing. (For the most part, that is. Trying to explain to the campground manager that we wanted an electric hook-up? Definitely. Enduring frigid, cobwebby showers before realizing there was an entirely separate shower complex? A little less so.) Also, it was a shock to our senses emerging from the UK's overarching coolness into the muggy, sweltering underbelly of summer in mainland Europe. The first thing you girls did at the campground was ride the playground chicken back to Scotland where it was not 1,000,000°C.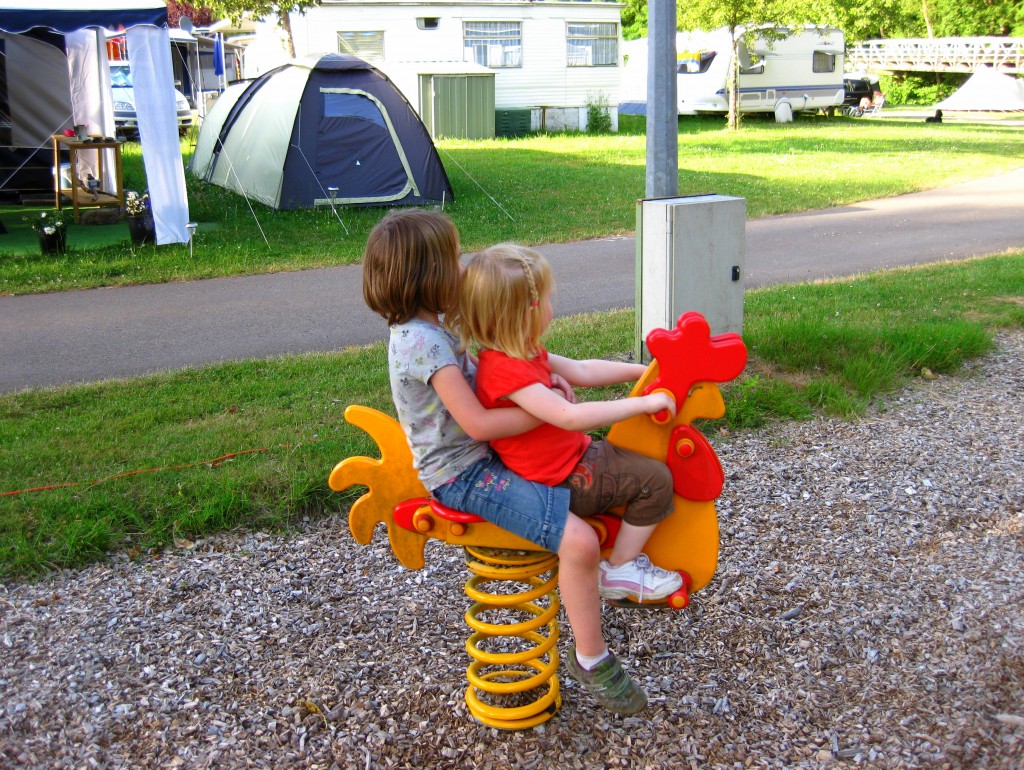 "Hey girls, what is your chicken named?"
"It's not a chicken! It's a rooster!"
"Okay, so what is your rooster named?"
"Chicken."
However, we managed not only to survive our stay but to be utterly charmed. Vianden's main attraction is a beautiful little castle perched halfway up the mountainside, accessible by foot or chair lift. In deference to short legs, we chose the latter. (You're welcome!) Your dad used his superpowers to convince the lift attendant that they understood each other, and we soon found ourselves being whisked up and away over the town rooftops, the gentle turns of the river, and the breathtaking Château de Vianden over which you girls immediately claimed jurisdiction. None of us had gotten enough of hiking yet (right? right?), so we naturally opted to walk down the mountain rather than take the return lift… which led to us opting to spend the castle entrance fee on ice cream. Naturally.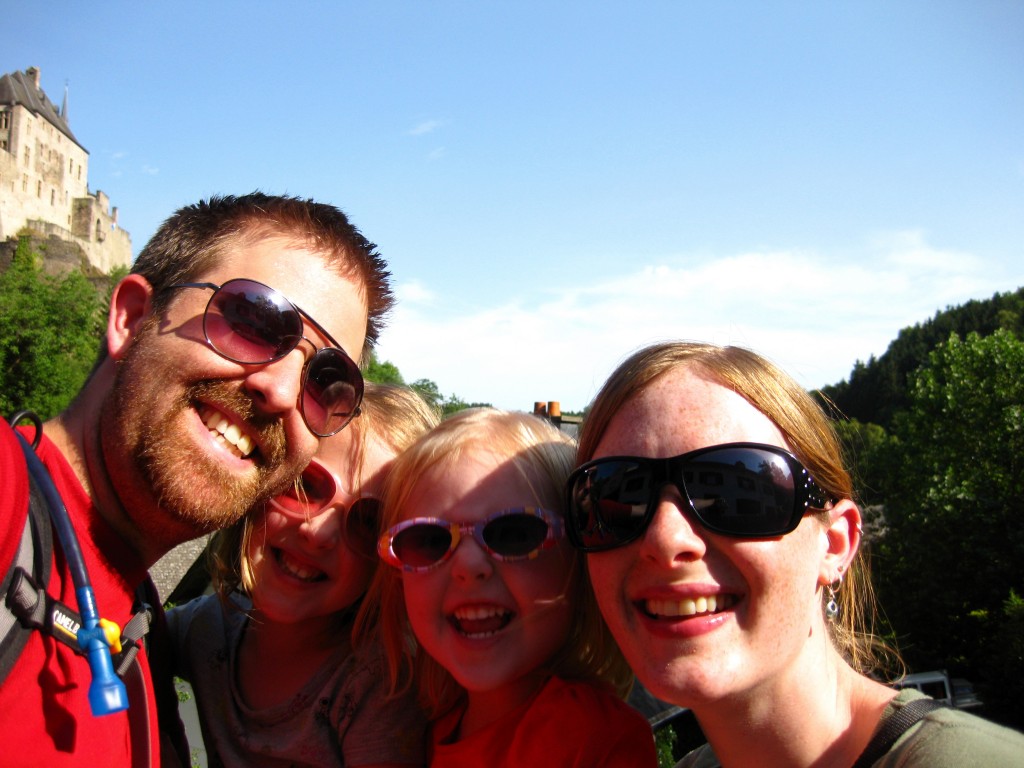 You girls were mightily in favor of the ice cream part of our decision.
Unfortunately for your future prospects, we didn't move into the castle. I can't say I would have minded the view; Vianden's patch of buildings was an extension of the lush countryside, and daydreams practically spun themselves out of the tranquil hum of its summer air. However, driving around for an hour trying to find the town's one ATM and taking that cold shower (did I mention the cold shower? and its exceeding coldness? Had it not been the hottest day of the year, I would still be frozen to the tile floor) made me pine rather sharply for home. Plus, and I hate to admit this, but the enchantment of tent life was starting to wear thin. The ground was seeming harder, the rooms smaller, and the bathrooms farther away. Conveniently for our collective sanity's sake, we had only one stop left on our adventure.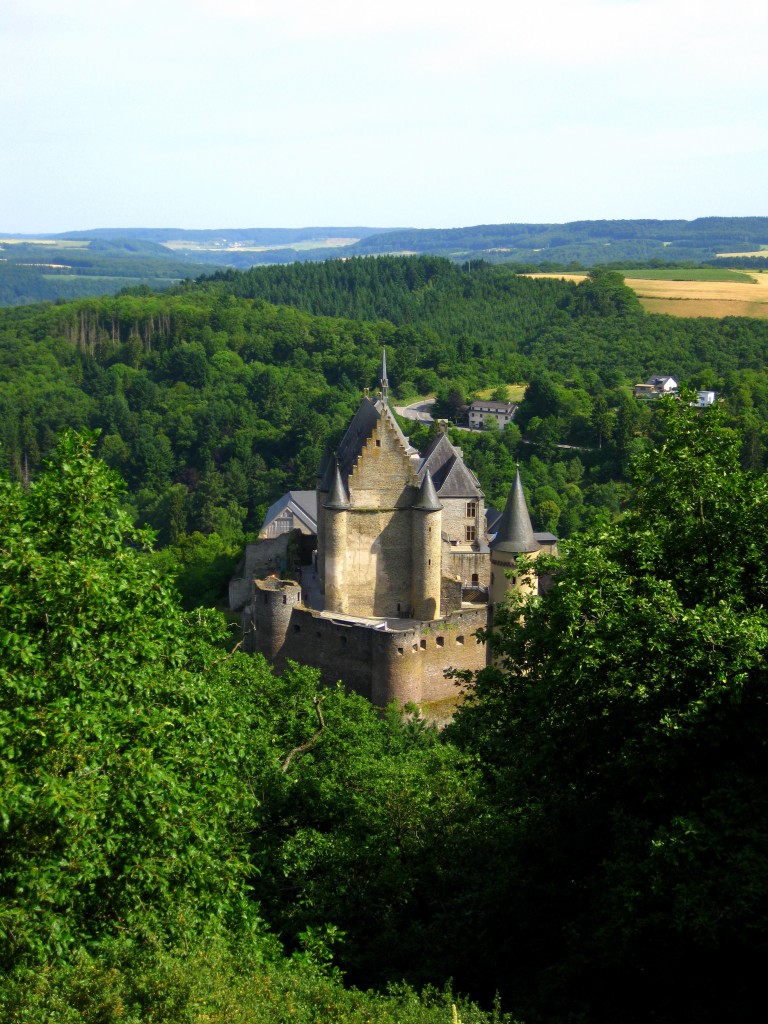 Adieu, Château. (Two of the six words.)
~~~