The next morning dawned sunny and clear, and nary a midge lodged itself between our teeth at breakfast. It was the day we had been looking forward to the most since the trip was just a twinkle in our eyes—the day we would finally enter the Highlands!—and it could not have started more beautifully. We donned our short sleeves and sunglasses and stopped by the Scottish Wool Centre on our way out to pay our respects to the sheep. As it turned out, the sheep were far more interested in A) trying to nurse each other and B) trying to headbutt each other (as one particular gender of sheep is likely to do upon being "nursed") than in hanging out with us. However, the miniature horses were much more agreeable, especially when we offered carrot sticks. I tried to cleverly maneuver the conversation toward the amazingly awesome yumminess of carrots and/or vegetables in general, but you, Sophie, saw right through my tactics like any self-respecting two-year-old. At least the horses won't be coming down with scurvy.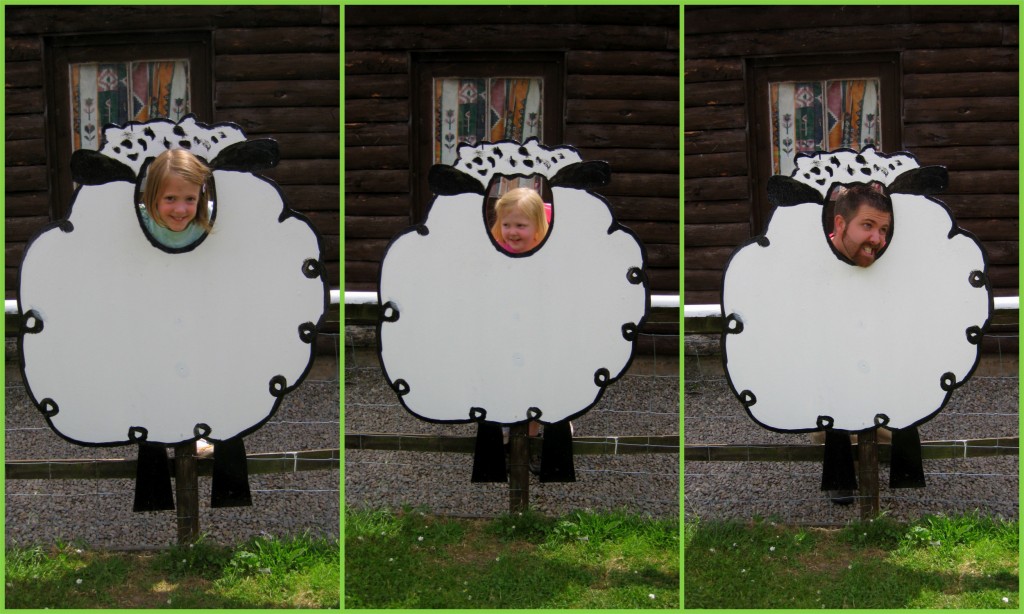 Whaddya know, we stumbled on some social sheep after all.
By lunchtime (carrots), we were headed north. I remember the precise moment when the landscape changed from forests to something you might find on the green side of the moon, and there they were—the Highlands, in all their scandalous beauty. At this point, we began to make decidedly worse time, partly because the road broke out in acne, and partly because I had to get out of the car every half mile to snap another photo. The sun had stayed back in Stirlingshire, but clouds simply added to the mystique of untamed hills, chaotic and purposeful all at once. It was easy to understand why people in movies always run through the Highlands, because how could they not?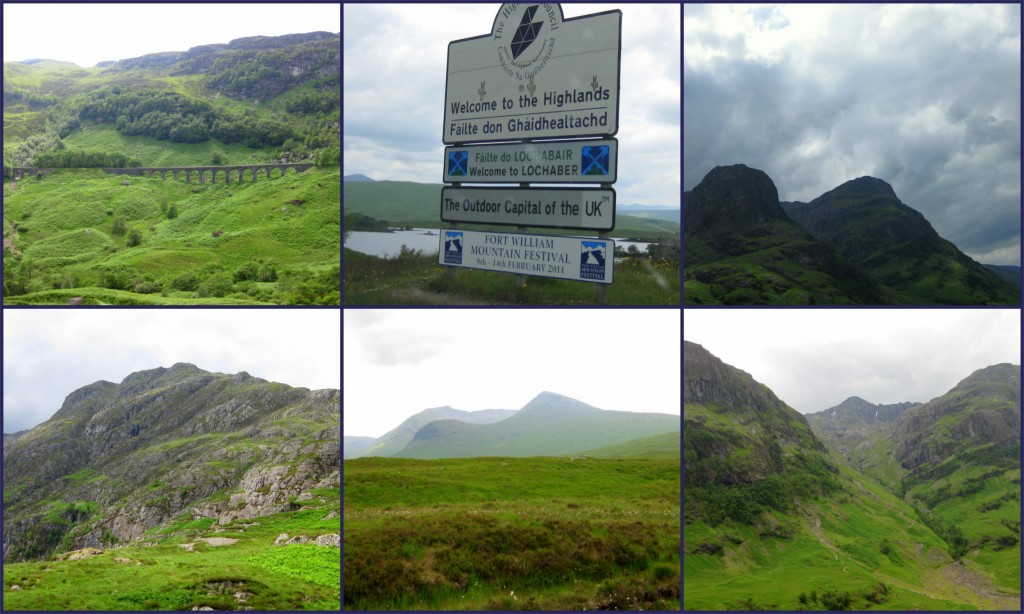 One almost expected Liam Neeson to dash by in a kilt.
The farther north we traveled, the wilder the terrain grew. By the time we crossed onto the Isle of Skye, we were beginning to feel like extraterrestrials. The road had narrowed to little more than a jogging path with "passing places" marked every so often; besides that, there were few other signs of human involvement. We were alone in our car with craggy green-dusted mountains on all sides punctuated by snaking waterfalls and a rollicking armada of a sky. The wind didn't whip or gust so much as it simply was—a powerful constant, a ruling presence whose ghost-hide we penetrated with each turn of the wheels. It felt lonely, exhilarating, and a little terrifying to find ourselves on nature's turf. At least we had our car and our sense of adventure, and after approximately a million hours of twisting away from civilization, we arrived at Glenbrittle Beach, our getaway for the next few days.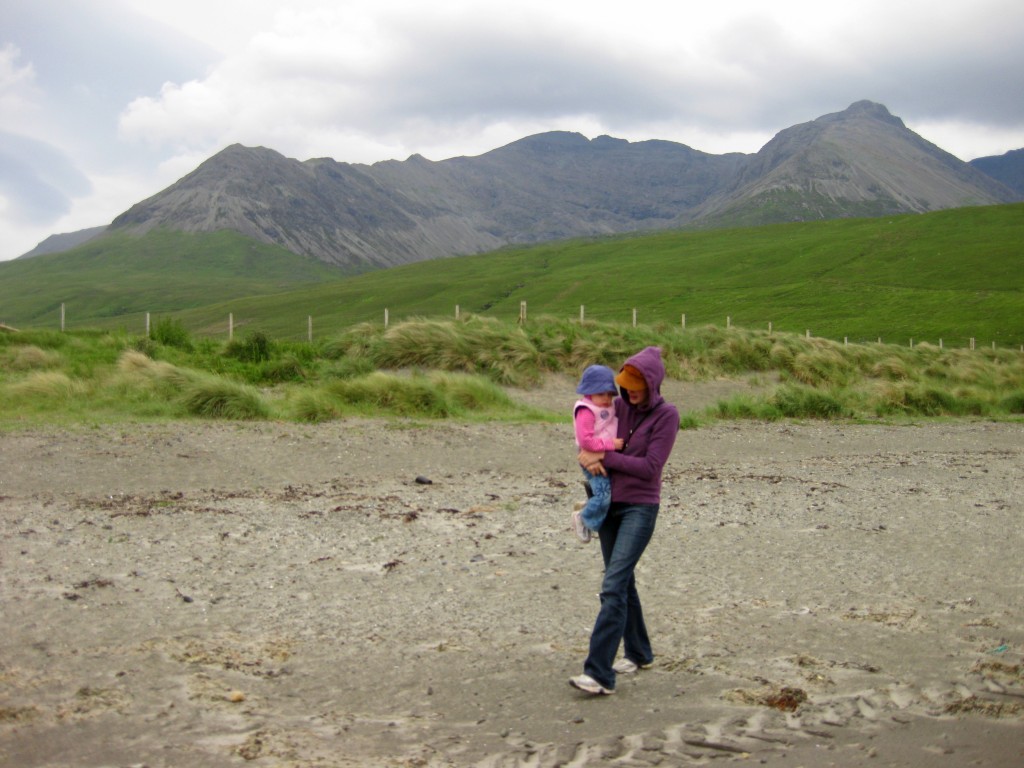 Guess which member of the family said "Nah, I won't need a coat; it's summer!" and subsequently rued her optimism?
Once we set up camp, there was absolutely nothing to do except take a walk. Fortunately, taking walks happens to be one of our favorite family activities and was our only agenda for Glenbrittle. We planned to tackle a mountain the next day, but a simple stroll along the beach seemed like the perfect way to unwind after a long day in the car. The sand was packed with rivulets and pebbles like the sea's personal Zen garden. Wind rushed headlong through our ears, and it was impossible not to get caught up in the wildness of it all. You girls climbed on driftwood, filled your pockets with purple seashells, and waved across the Atlantic at your grandparents. We all raced together along the waterline and even defied all beach logic by managing to get livestock charging at us again.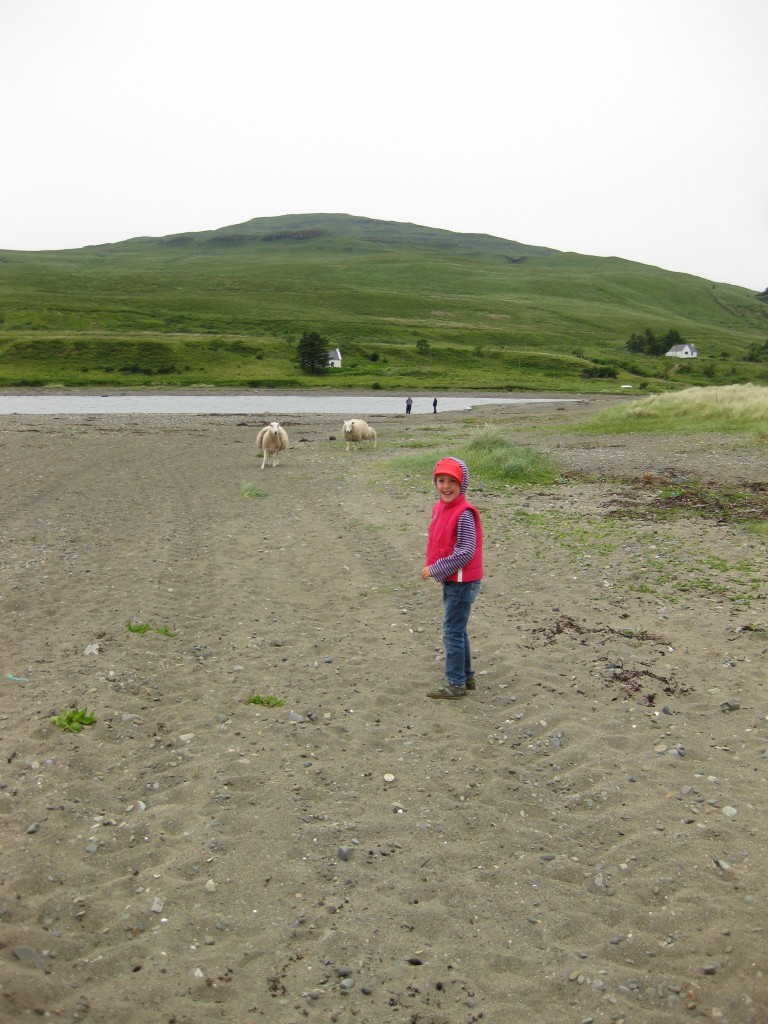 At least these sheep didn't look particularly hungry.
Once the coatless member of our family was sufficiently frozen to death, we headed back in for hot pasta (we're the only family we know who counts a colander among their camping gear) and bundled up for a blustery night, secure in the knowledge that our tent could withstand whatever the Isle of Skye brought its way. <insert pause for dramatic effect> Oh we of little faith. We should never have doubted the wind's ability to flatten resistance… quite literally. We woke up the next morning to our tent roof pressed against our noses while outside, our anchors flew wildly in an authentic island tempest. And with that, our three nights' stay turned into one.
This is the sole picture we managed to take before our tent began digesting us whole and photography dropped abruptly off our priority list.
~~~