Of course, our version of relaxing might look a little different than some others'. Since we were still supposed to be on the Isle of Skye, we considered the whole next day an impromptu detour and spent it hiking through Glen Affric. This is the part where I'm tempted to toss out this letter format and just pelt you with pictures, so photogenic was our day. However, the pictures don't show how you, Natalie, skipped at my side singing a superspeed version of "You Are My Sunshine" on repeat… or how you, Sophie, reached up periodically to ask, "Would you holg me, Mommy?"… or how we tickled tadpoles in the "whisky-coloured water" (Scottish information pamphlets make my heart sing) and I failed to adequately correlate tadpoles with frogs in your minds… or how, with three photographers among us and a stunning display of nature on the other side of our lenses, it's a wonder we managed to get anywhere.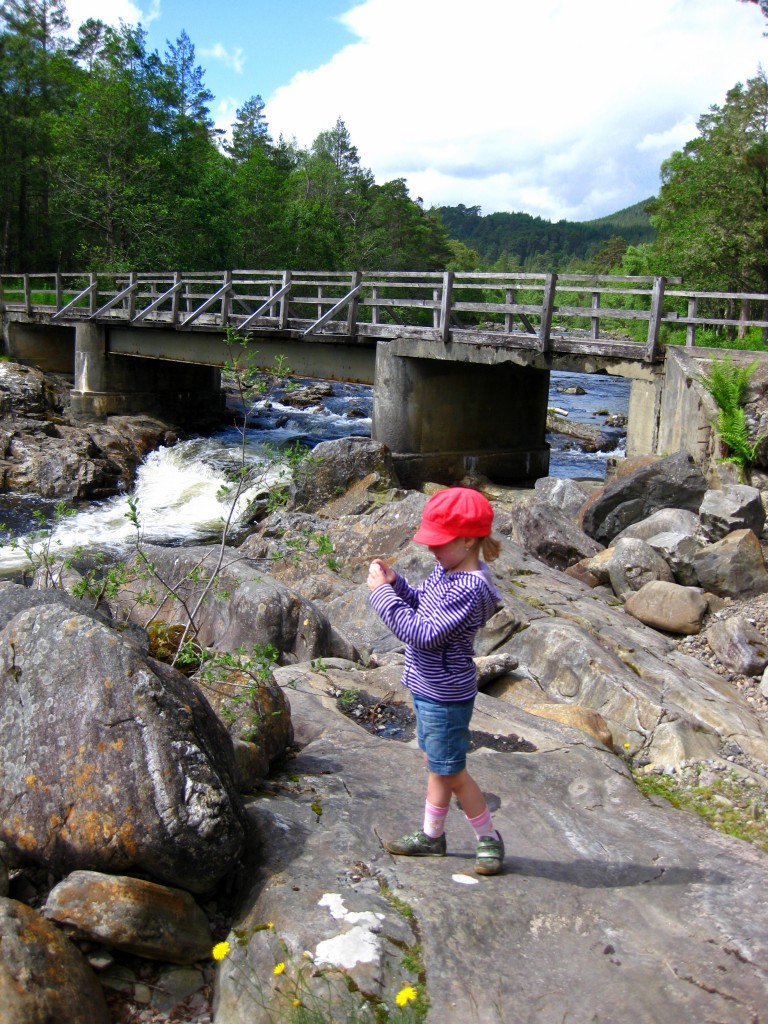 Actually, we do have photographic evidence of that last one.
Despite our best efforts, get somewhere we did. We hiked over boulders, past waterfalls, across bridges, through fern glades, and finally up a hill that was approximately twenty times as high as it looked to arrive at a perfect picnic rock overlooking Coire Loch (pronounced "Corry Law[the sound of phlegm dislodging from your throat]"). The scenery was gorgeous—sapphire-toned water set in a lush forest that extended as far as we could see—and we were exhilarated to be at the top. Or rather, your dad and I were. You two had depleted the last of your energy asking "Are we there yet? Are we there yet? How about now? Now?……….Now?" on our way up the hill, and you were tired. Just how tired, I didn't realize until you put yourselves down for a refreshing afternoon nap. On a log.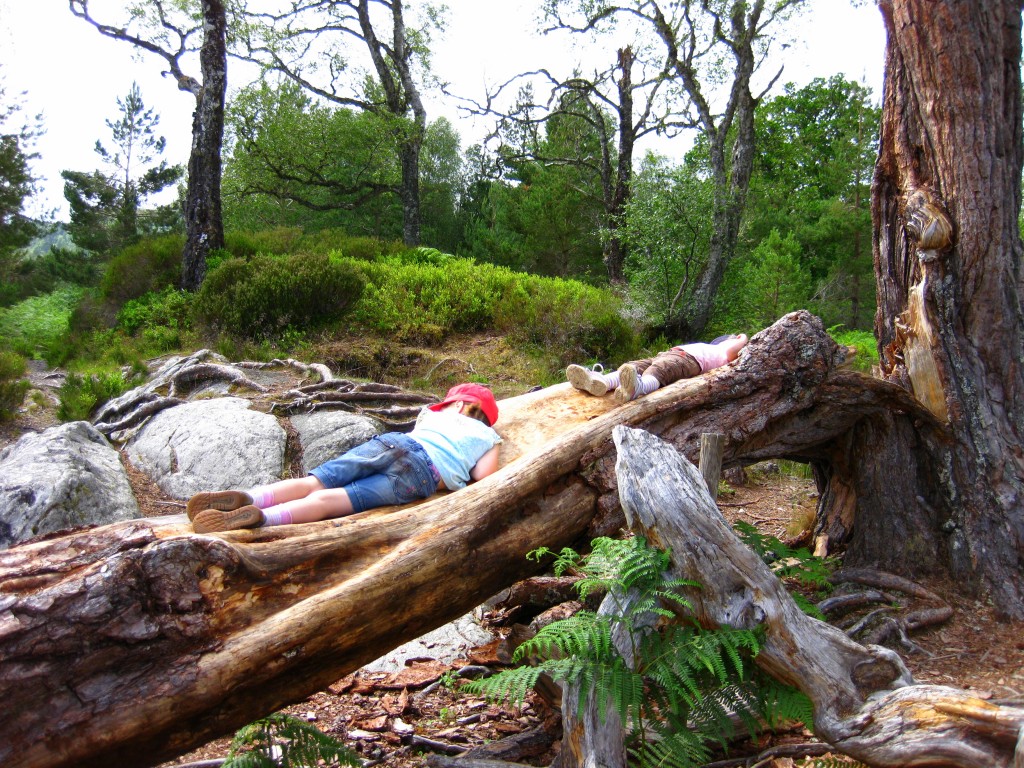 Just to clarify, your dad and I had nothing to do with this.
As comfortable as the tree bark looked, we opted to let you crash in your own sleeping bags that night, and can I just say how glad I am that we live in a day and age where "roughing it" involves you sleeping in pink feather piles in your own private room? Sure, we lack all wilderness survival cred, but it's so nice having the resources to enjoy sleeping on the ground. Our nighttime routine at campgrounds is hardly different from the one at home. You get your pajamas on, then we snuggle up to read a story or two while you interject frequent questions about the characters' personal lives, their bathroom habits, and the likelihood of ice cream in our near future. We hug and kiss and sing a song that may or may not be embellished with scatological humor. ("Twinkle, twinkle little fart," anyone?) Your dad and I tuck you girls in and pray with you. We say goodnight. We zip up the door. We unzip the door and show you that your water bottles are, in fact, in the same spot they are every night. We zip up the door. We unzip the door and wipe noses. We zip up the door. I unzip the door and remind you, "Girls, you're supposed to be going to sleep; now be quiet." One of you leans over to whisper to the other one, and I bark, "Sophie! What did I just say?" I can sense your exasperation even through the darkness: "Mommy, I was not talking to you…"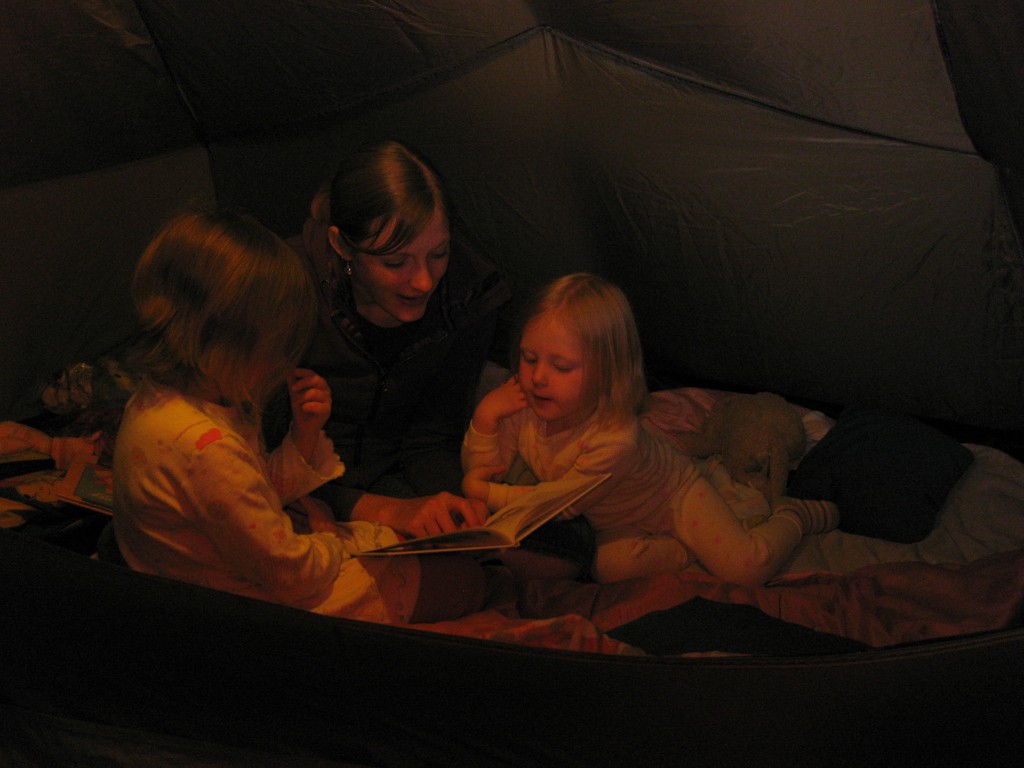 Must be all those subversive bedtime stories…
~~~