You girls really had been troopers (ha) considering all the hiking we had subjected you to, and your dad and I wanted to surprise you with a trip to an indoor water park in Inverness. Our intentions were noble and all, but we had completely forgotten to take into account how worn out you would be from said hiking. By the time we pulled into the parking lot, you were miles away in Dreamland, so we just kept driving… and an unexpectedly delightful afternoon was born. Overhead, cloudpuffs tumbled over each other like puppies in a vast field of blue while wildflowers dripping with color rushed past our windows. You girls slept, steeping in loveliness, as we rattled down country roads and I snapped illicit photos of Cawdor Castle.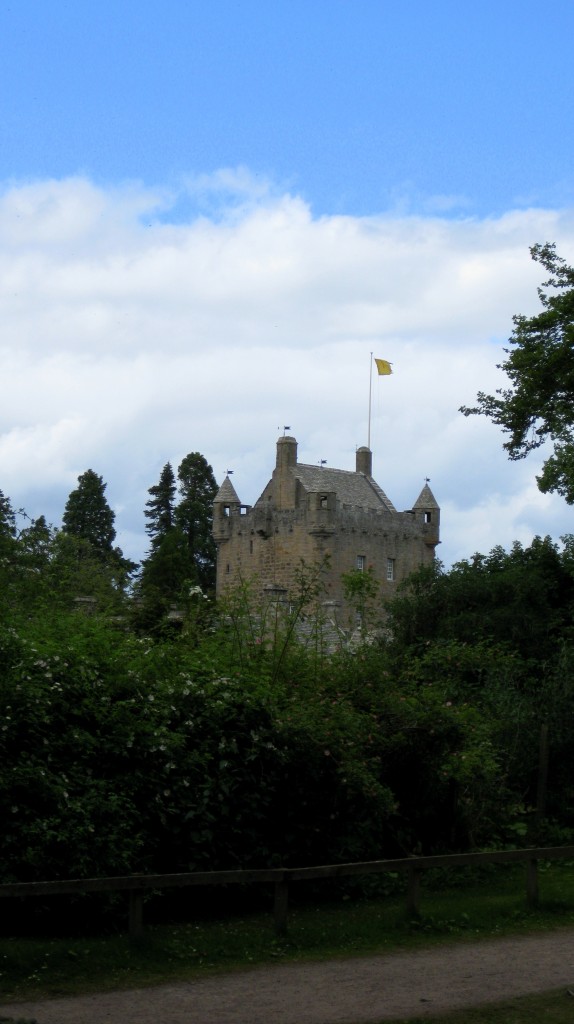 I had to hop a fence to get this shot, but I figure Shakespeare, not to mention Lady Macbeth, would approve.
You woke up about the time we hit Nairn, so we followed signs for its main beach and pretended it had been our plan all along. It should have been our plan all along. Turquoise highlights sparkled in the Moray Firth around splashing beachgoers while moms in sundresses hosed down sandy babies and chatted. Children dashed around the pirate-themed playground in their flip-flops sliding, swinging, and dripping strawberry ice cream. It was the perfect summer holiday. Never mind that the sparkling water was two degrees removed from an iceberg and that the sundresses were dancing in a ferocious sub-Arctic wind. Just that morning, we had met a family from the Orkney Islands who couldn't bear to travel any farther south because of the heat. Meanwhile, we—acclimated as we were to sunny southern Europe—were quickly becoming popsicles.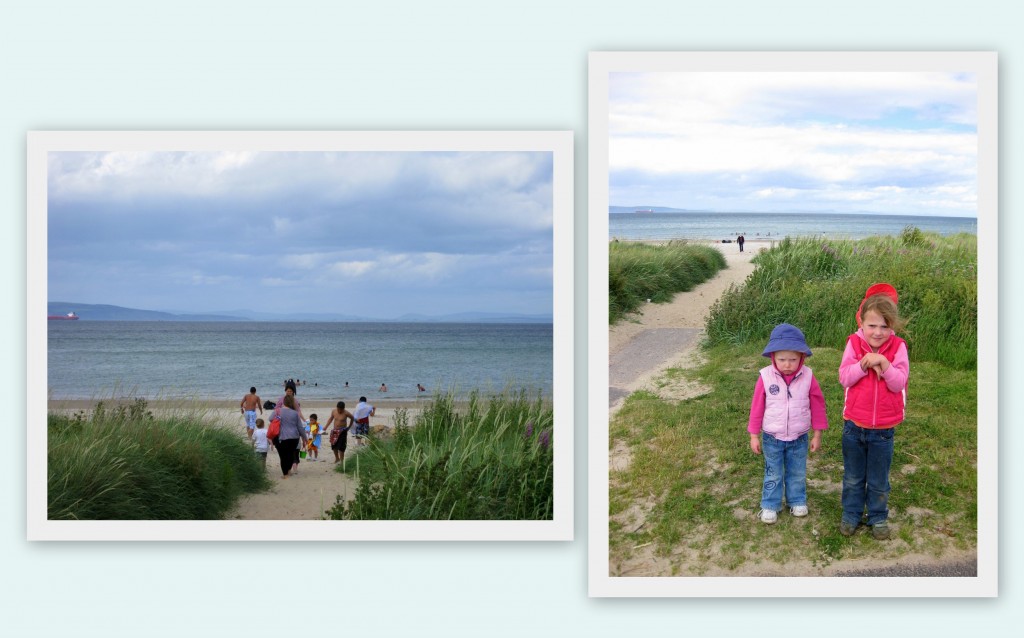 This is what we call a juxtaposition.
However, we weren't going to let a little thing like potential frostbite stop us from enjoying ourselves. If we could survive a hurricane on the Isle of Skye, by golly, we could survive a beautiful summer afternoon at the playground… with the help of extra undershirts and some hot drinks scored from the ice cream shop. (Bear Grylls would be so proud!) Sophie, you parked yourself in a swing and then graciously offered to let us push you for the next infinity. Natalie, you put the fabulous beach slide to good use, commandeered the pirate ship, and tried more than once to speak Italian to children whose accents you couldn't understand. (You get that from your mother who has to turn on subtitles for British films and would like to take this opportunity to apologize.) We gave the kites some air time (ha) and then ran pell-mell down the grassy dunes together shrieking with laughter.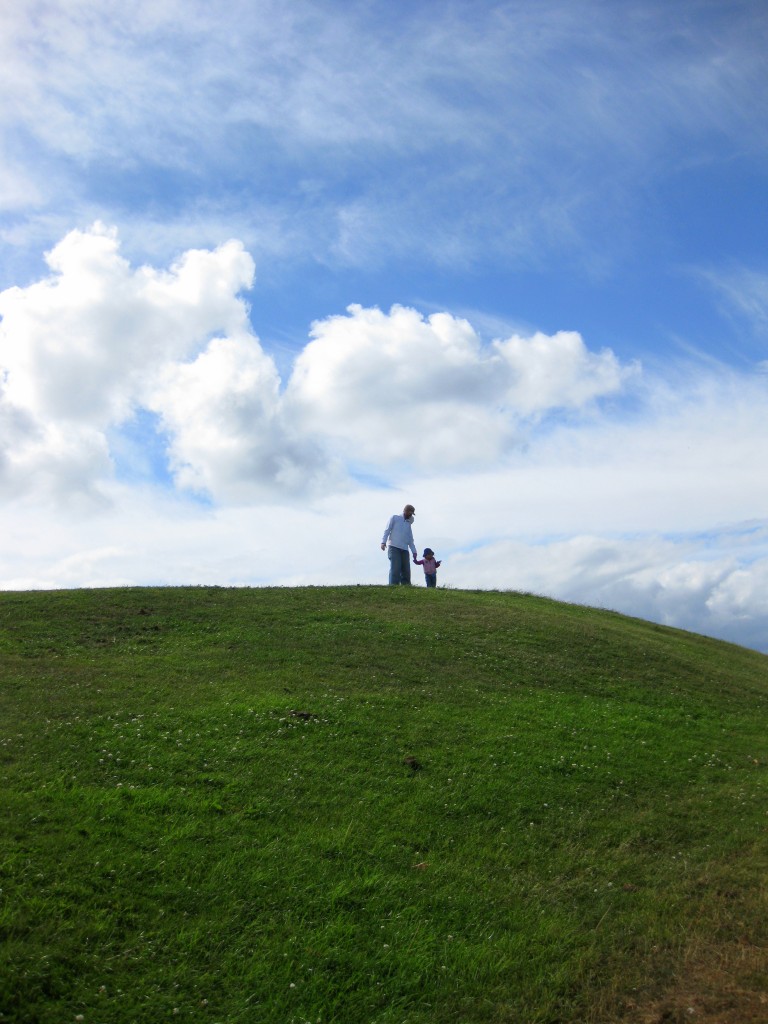 We do not hold ourselves responsible for damage incurred on anyone's eardrums as a result.
Back at the campground, we watched the World Cup with a Dutch man whose wooden shoes enthralled you, especially when they were running circles in celebration of a goal. We washed the dishes alongside a nice Polish lady, and you socialized at the playground with the Orkney kids who had finally donned long-sleeves over their tank tops. We met an American family in the laundry room, and the owners of the campground offered you some Beatrix Potter books to read before bed. Despite being so far from home, we were part of a little international insta-community, and it was lovely having friends to say goodnight to… even if we couldn't always understand their replies.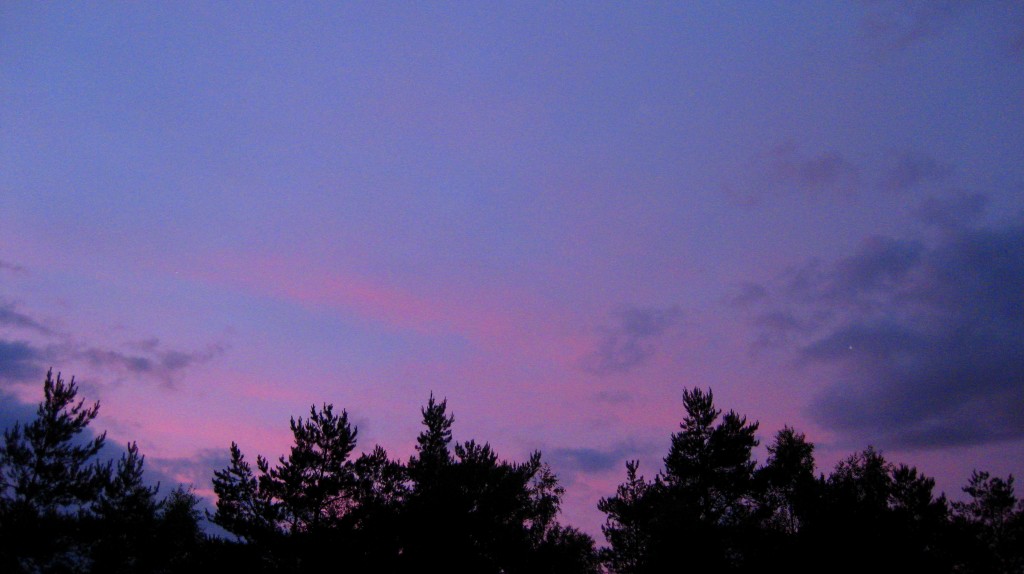 Irrelevant anecdote: As you girls were getting ready for bed that night, your dad and I tried to settle a dispute from the previous night in which he had insisted that malted milk tastes like bread (and not in the positive way that Guinness does), while I had maintained that malted milk is reminiscent of Whoppers and thus wonderful. You, Natalie, were the objective arbitrator. I gave you a warm mug of malted milk which you promptly gulped down. Sensing victory, I exclaimed, "Wow, you must really like that!" You wrinkled your nose and replied, "Not really. It just tastes a bit like… hay." Cue your dad cracking up.
~~~