(Parts 1, 2, 3, 4, 5, 6, 7, & 8)
It was even nice having people to bid goodbye to the next morning, though we were all a little disappointed to be leaving the Highlands. It felt like we had just arrived in Scotland, yet our trip was already more than halfway over. Loch Ness was appropriately moody for the occasion, and petulant clouds spit at our car as we drove away. We only knew of one surefire cure for that kind of slump: 1) Turn up the Fratellis, 2) headbang in four-part harmony, and 3) get ourselves to the water park stat! Dinosaur water slides were clearly called for, and Edinburgh wouldn't be going anywhere yet. Over the next two hours, we discovered that you girls are decidedly not fans of wave pools and that Italian swimsuits look out of place in the UK. (Oops.)  However, that did nothing to dampen (ha) your enthusiasm for splashing around. I was especially impressed when you, Natalie, voluntarily went down the Three Story Tunnel Slide of Dizziness and Possible Death… and immediately did it again. My adventurous streak didn't strike until I was old enough to guzzle coffee, and I'm thrilled that you found yours early on and without the need for recreational caffeine.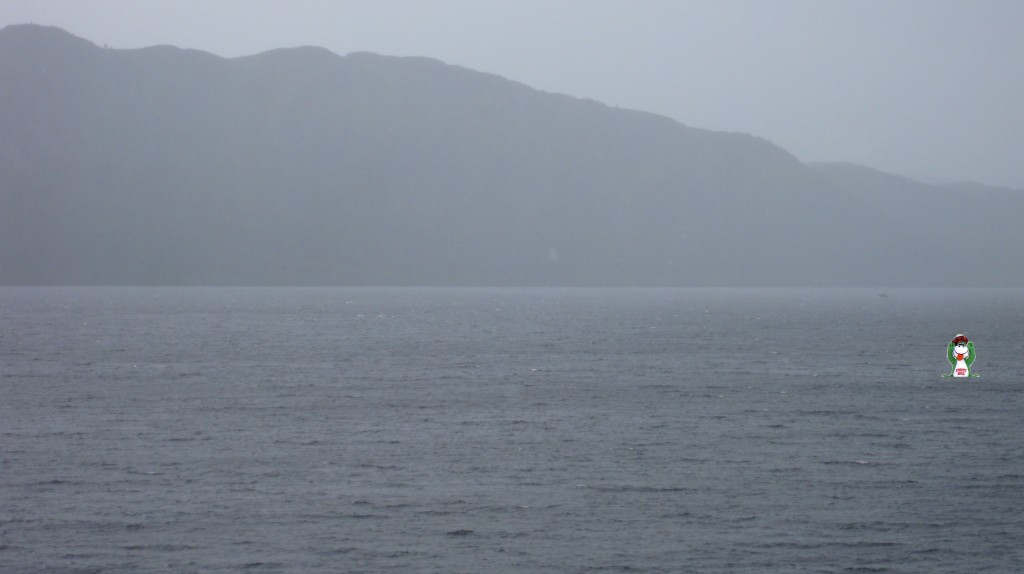 On our way out, we caught a rare glimpse of the Loch Ness monster looking *remarkably* like your souvenir doll, Sophie, and sporting what you, Natalie, referred to as "an awful hat." The legend lives on!
By the time we arrived in Edinburgh that evening, you had finally gotten over the injustice of not being allowed to spend the rest of your lives at the water park. The sobbing had stopped at any rate. However, you both refused to try the fried chicken at supper, and your dad and I had a sobering moment of realization that you are growing up without KFC. On the bright side, though, you also get to grow up away from the fashion atrocities we witnessed there. Keep in mind that Edinburgh is not the warmest place on Earth; in July, its temperature is equivalent to that of a February night in Texas… inside a meat packing plant. However, the local women seemed not to notice. Not one but two of the other restaurant patrons were wearing only shirts and shoes. Oh yes, and thongs. One green and one blue. In between exclaiming to your dad, "Did you see that? Wait, don't look, don't look!" and wrapping napkins around me for warmth, I admired both their stylistic bravery and their imperviousness to cold while fervently hoping you girls never acquire either.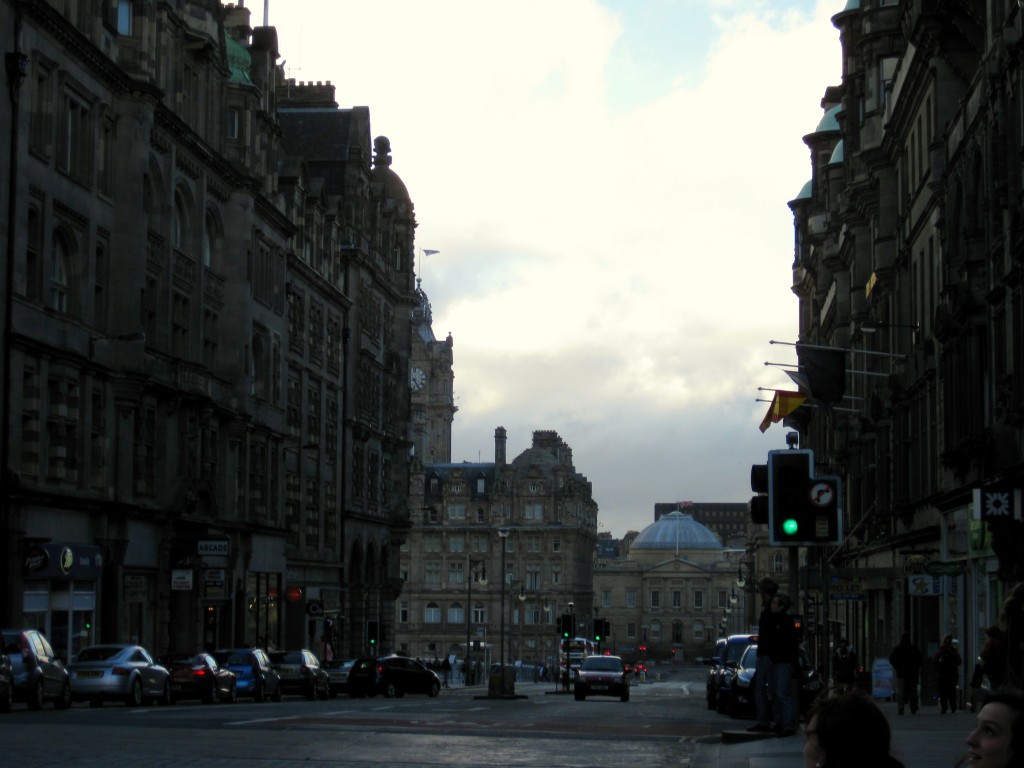 On second thought, a meat packing plant might be warmer.
The reason we had come to Scotland in the first place was for your dad to attend a conference there in Edinburgh. The downside was that he couldn't spend much time with us over the next few days, but we did get to trade in the tent for an apartment, and you girls got to brush up on British cartoons (which seem to revolve around poo more often than not). I also sucked up my fear of driving on the wrong left side of the road and shuttled you to various playgrounds and bookstores. Oh, the bookstores! Towers of Roald Dahl and buffets of Enid Blyton garnished with tales of Terabithia and Narnia and presented with a smile by pretty shopkeepers who grew up loving "Ballet Shoes" as much as I did. I still haven't gotten over the injustice of not being allowed to spend the rest of my life there. You girls appreciated the parks much more, though, and I can't say I blame you. The one closest to our apartment was actually several playgrounds in one sprawling complex of fun. There were zip-lines and bulldozers and rock walls and bicycle-go-rounds and tire swings and fire poles and a hundred other colorful, creative ways to injure yourself. While I navigated the delicate balance between smothering you with attentiveness and letting you break your own necks, you had the time of your lives.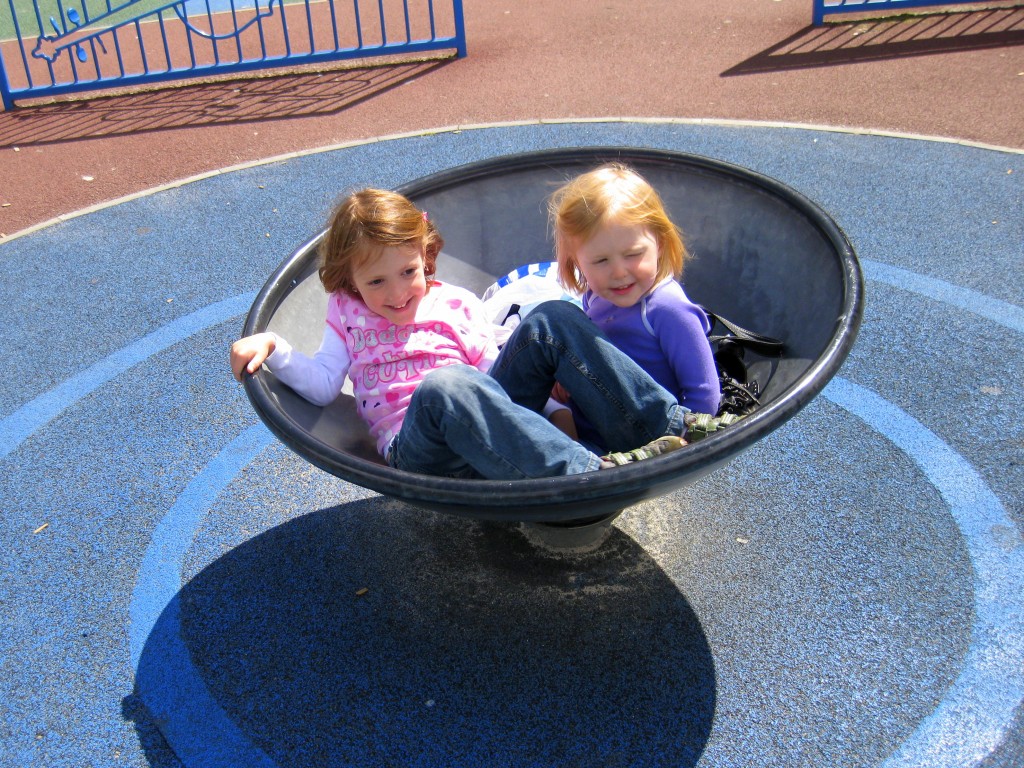 The only shot I managed to take before you ran off in search of something more dangerous.
You also loved our stop at Gorgie City Farm which, true to its name, was a farm nestled in the heart of the city. I thought the appeal of wildlife might have worn off by then, but you were thrilled to hand-deliver snacks to the goats. Of course, half an hour later, we got a stern lecture on how goats should never, ever be fed such a horrible thing as grass and how we were basically the worst people in the world for inflicting it on them. And here I thought goats would eat pretty much anything occupying physical space. Ah well; live and learn. You girls remained unfazed and ran around the vegetable garden pretending to be fairies while the farm lecturer kept a wary eye. (Maybe she was worried you would cast a blight on the tomatoes? I guess we are the worst people in the world and all…) We tried our hand at tractor-driving, paid our respects to the other animals (the turkeys were your favorite, Soph), and survived an attempted mugging by a wily pony named Red. Yes, that makes three attacks by partially domesticated animals in one vacation. Perhaps the universe is trying to tell us something about our future in agriculture?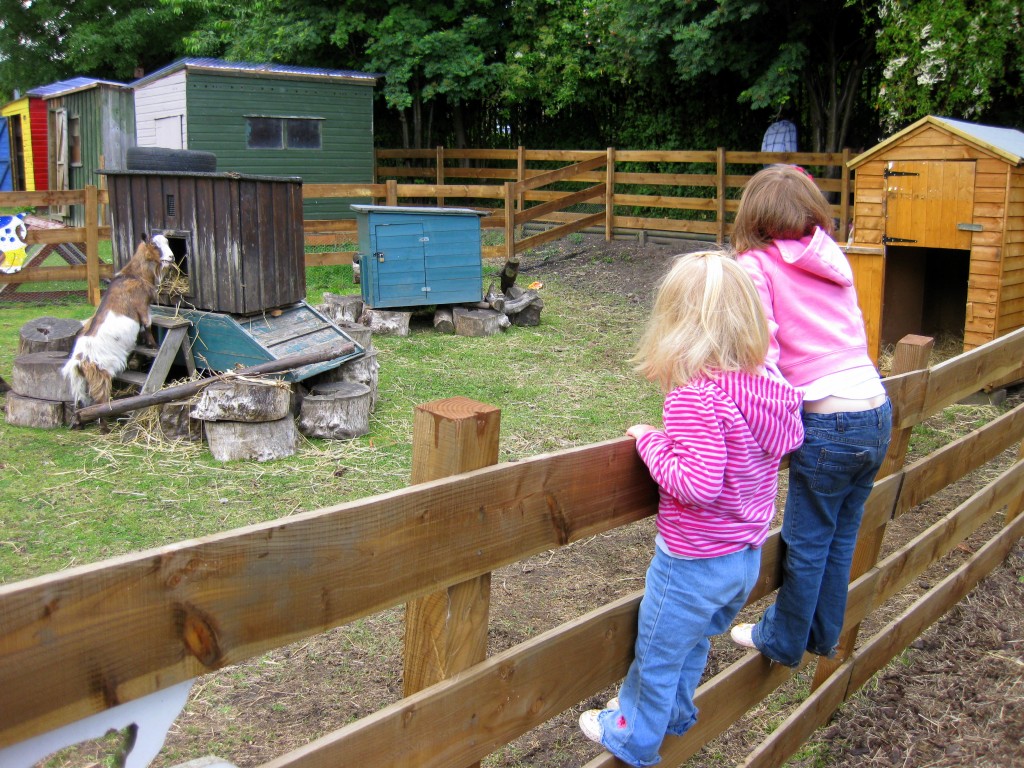 Interrupting the goat's lunch and tempting fate.
~~~