It's been my recurring fear since the first day we dropped our girls off at school. Bullies, I could handle. Learning disabilities, I'd take in stride. But an infestation of tiny wiggling brown things feeding off our scalps? Ohmygoodnessno. When it comes to insects, I'm not known for my soundness of mind. I fear creepy crawlies the way some people fear the zombie apocalypse, and this school year has been especially agonizing with two different classfuls of children passing around lice like trading cards. A new notice is posted every few weeks, and I rifle through my girls' hair as if it were a matter of life or death. Because it is.
Mercifully, we've always escaped the nitmare. Always, that is, until yesterday morning. With Dan out of town on business, I was doing my epileptic octopus routine trying to get both girls ready for school at once, and it wasn't until halfway through my final pigtail that I noticed the wings. Or at least, they looked like wings. (Whatever you do, never ever ever search for close-up images of lice to determine whether or not they have wings. Ignorance, in this case, equals the bliss of keeping your breakfast down.)
I called our pediatrician in my most nonchalant and responsible grown-up voice to let her know hello, good morning, and I just saw a louse in my daughter's hair. In the following second of silence, something of my mental state must have transmitted through the phone line because the doctor's next words were "IT'S OKAY."
Now consider my viewpoint: A second brownie after dinner is okay. Whipped cream on my latte is okay. Flesh-eating parasites laying their eggs in my baby's hair is not even in the same space-time dimension as okay. However, when you're the parent on duty, no one else can challenge the forces of hell for you. It has to be you, and well… I guess it just has to be okay.
That is the only plausible explanation for how I was able to massage pharmaceutical mousse into a nest of nits and then pick them out with my own fingers. (So much shuddering in my soul at this moment, I tell you.) It's how I could pile all the linens from the house into the laundry equivalent of Mt. Doom and not faint at the sight. It's how I could clean for eleven hours straight, tuck two little girls who had been shampooed and combed within an inch of their lives into sleeping bags, and get back to cleaning. Had my husband been home, I probably would have spent the day relocating to Antarctica, but since our lives scalps were depending on me, I somehow tapped into new reservoirs of strength.
And good thing too, because this morning started well before dawn with a little girl wailing for me from a sleeping bag full of vomit. Pre-Infestation Me would have freaked out because I only have two hands whereas ten or eleven were clearly called for, and our washing machine isn't big enough to fit a sleeping bag, and my brain doesn't do problem-solving before noon, and do you know how many hours I spent cleaning that particular child yesterday? New me, though—strong, capable, nit-picking me—smiled gratefully at the vomit because it wasn't alive and told herself, If I can survive my child bringing home head lice, I can survive anything. And I realized that the doctor might have been on to something because even as the mess and the need and the undignified demands of parenting grew around me, everything was really, truly okay.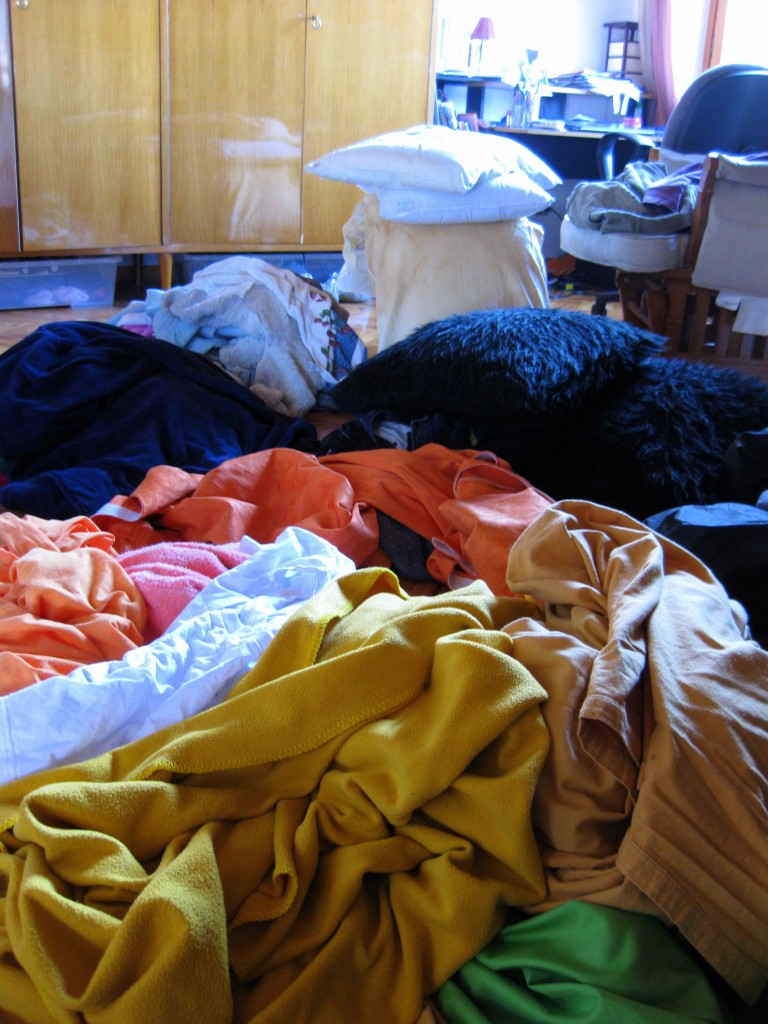 Expected completion date: March 2015
~~~
Please consider this a golden opportunity to share your own personal horror stories. They will be salve to my soul which, while it is fundamentally okay, can never unsee those search results.