We've had an odd schedule lately. Italy celebrated a national holiday on Thursday last week and another one two days ago, and it seems like weekends keep popping their heads into our lives and then backing out again, mumbling apologies. We've spent more time with friends over the last week than we have in months, and it's felt like coming back to ourselves even as work piled up around our ears, even as the haphazard routines in our life gave up altogether and ditched us to go out for commiserative drinks.
This is an odd season of life, actually. We're never quite sure if we're on the verge of change or if we're putting down roots into our version of normal. Those things that make us feel most alive—traveling, spending quality time with friends, writing (for me), playing music (for him)—have taken a back seat to the sheer madness of trying to establish ourselves as self-employed. We know the work we're doing is valuable, but we don't know when we should stop, what shape the big picture is taking, whether we're in a sprint or a marathon.
One day, I'm sure I'll look back on these in-between years and see every pattern and nuance through the clear vision of hindsight. I may even develop nostalgia for this time when our lives revolve around possibility (nostalgia-speak for "How the hell are we going to make it??"). For now, though, I'm trying to focus on one bite-sized day at a time and on the snippets of loveliness that carry me through the crazy:
* The drone of lawnmowers all across the city on Sunday afternoons. Even though I know that the tiny wild daisies that I love are being cut along with the wild allergy grass that I don't love, lawnmowers sing the surest tribute to sunshine I can imagine.
* The quaint ruckus of Umbrian architecture, pink limestone houses and terraces and arches piled up on top of each other like a Medieval slumber party. We've lived here almost six years, and I still can't get over the layers of our landscape: the base of silver-dusted olive trees posed like elderly modern dance troupes, the jumble of sun-warmed stone climbing out, and the Mediterranean sky pooled above. I still can't stop pulling out my camera, a tourist in my own home.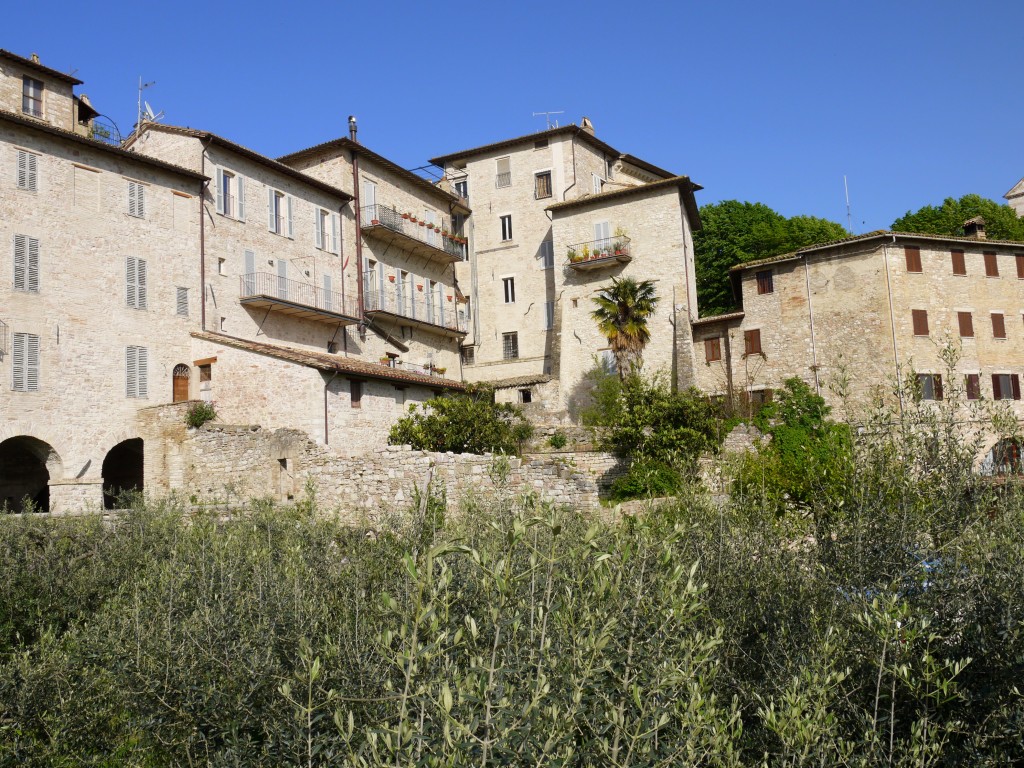 * Coffee, in the social sense. I'm always amazed at the kind of long, easy conversation that can be carried by something as small as an espresso. Don't try to tell me there's no magic in that dark liquid.
* Re-falling-in-love songs:
* Handwritten letters addressed to me.
* Baby apricots, cherries, and figs in the backyard we share with our landlord's family. (We live on the top floor of a "family condo," which is a vastly more common living arrangement than standalone homes are here. I adore how this setup allows me to have fruit trees without my having to do any work whatsoever to maintain them.) Seedlings, snapdragons, and an explosion of strawberry buds in our balcony garden. Flowers on the kitchen table again. Little growing things, life all around.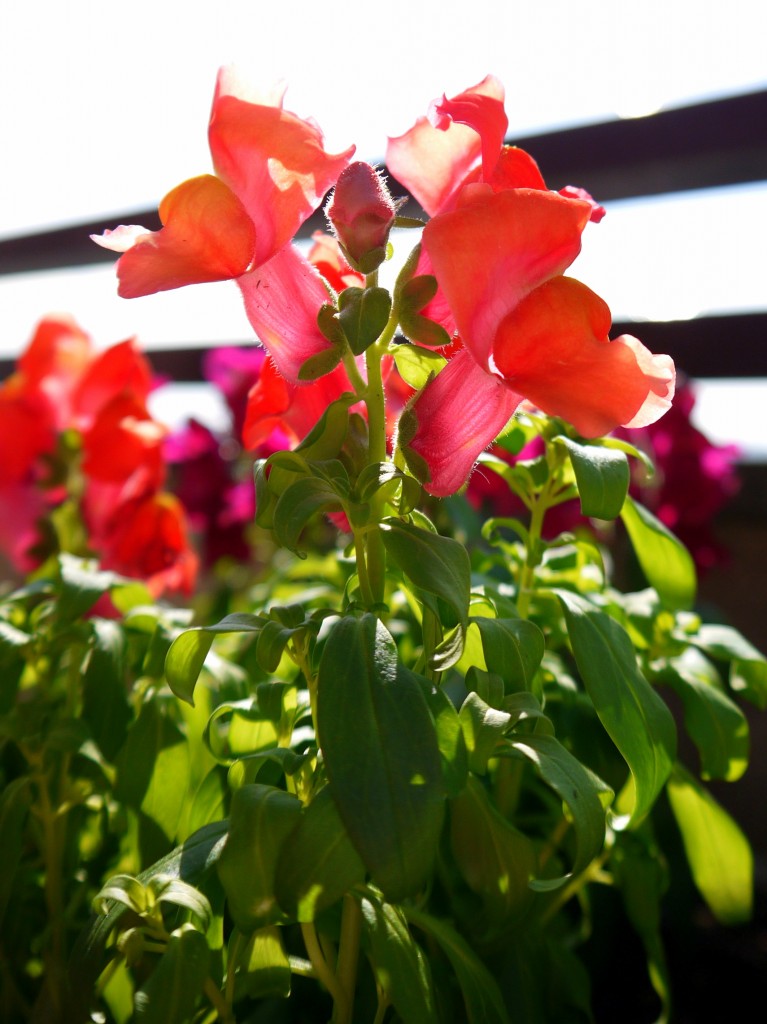 * Sleeping on freshly washed sheets that have spent the afternoon cavorting outside with the breeze. I remember the luminous Mollie Greene commenting once on Instagram that washing your sheets "makes all the difference in everything," and I'm inclined to agree.
* Tolkien with the girls before bed. After enduring series like The Faraway Tree, which the girls enjoyed but which made me want to stick forks into my own eyeballs, I'm thrilled to be reading good literature as a family. Also, I'd forgotten how funny The Hobbit is. (And what a bad-ass that Gandalf is!)
* Chocolate-covered grins.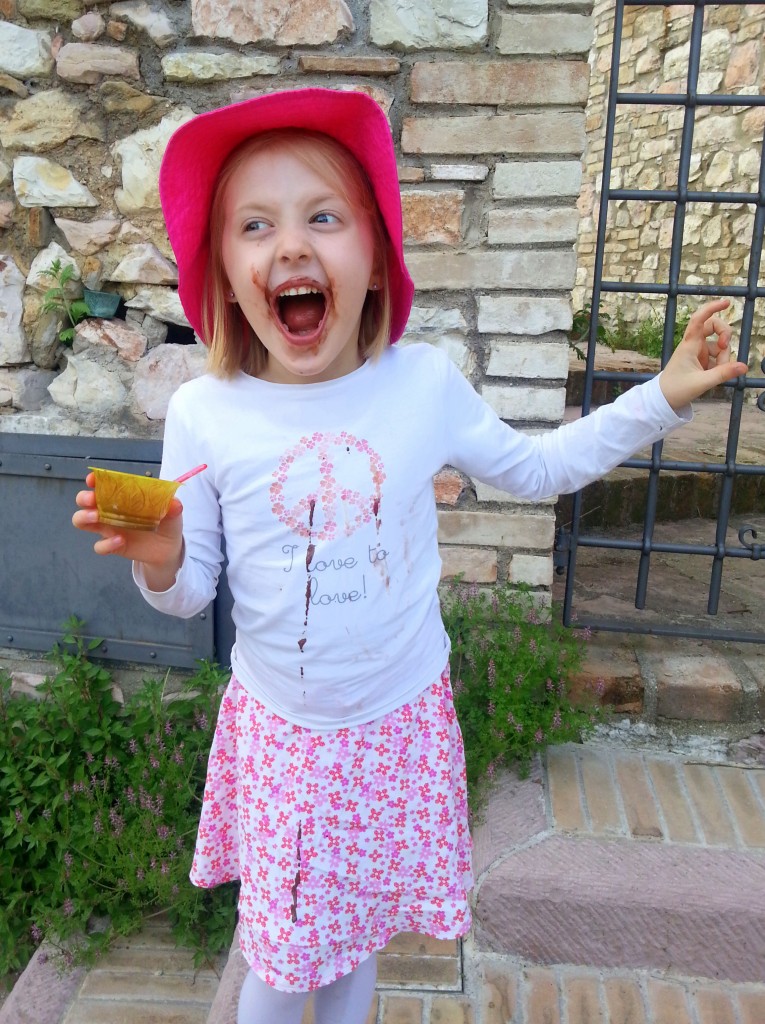 (Picture by Dan, outfit by Sophie, decoration by gelato)
~~~
Tell me about the snippets of loveliness carrying you right now. Ready, set, go!