New days don't feel quite so new when I wake up muffled in allergies, my head packed with fiberglass wool. This blog entry probably couldn't get any further from profound, but life right now involves gouging my eyes out on an hourly basis, and one of my aims for this year is to present myself as accurately as possible, so here you go: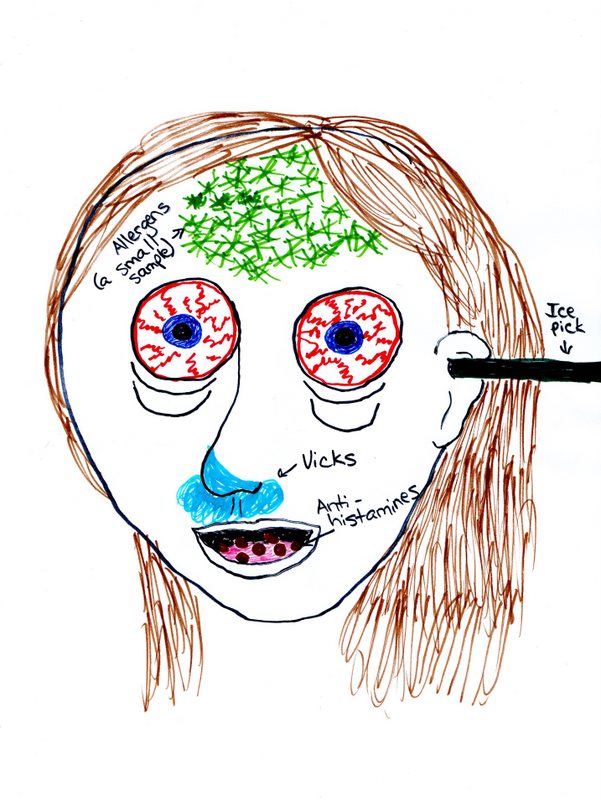 You're welcome.
In fact, I sounded like nothing so much as a hyperventilating goose last night on the phone with Rain, but that's the thing about soul sisters—they don't care if you sound (or look!) like a barnyard death scene or if your thoughts trip at the back of your throat and send your conversation skittering in a thousand directions. When you speak the same heart-language, conventional ones aren't really all that essential… and this is how I see God the most clearly.
Have you heard of the 5 Love Languages theory which suggests that each person senses love primarily through one of five ways: affirming words, quality time, gifts, service, or touch? I can easily pinpoint the love-receptors of many of my friends and family, but my own falls outside the standard categories. I feel the most loved when I'm the most understood, when others can see my heart between the lines or untangle my intentions from their emotional trappings. I realize that this is a tall order for my dear ones, impossibly tall, because what I'm really asking for is intuition, and how can a kinship of heartbeats and brainwaves be engineered?
Yet impossibility has a way of coaxing miracles into the open, and the sweetest mystery of my life is that I do know love. I am heard and understood and loved dizzy by precious people all over the world, and it's why I continue to write, to reach for the goodness that you all see in me. It's also what stirs the embers of my relationship with the divine. I can't attribute this meeting of souls to coincidence, and I can't compartmentalize the life that flows between these other growing, glowing beings and myself. My heart has always recognized its kin.
So to each and every one of you who sees through the itching insulation, who hears through the honking, who understands through the far-strewn words, thank you. You are my own personal proof of light and Life, and it's not just the spiky green pollen leaving me dizzy this morning; it's realizing that you'll read this and know exactly what I mean.