My Top 5 Expat Blunders (because everyone loves an embarrassing story… or five):
5) Shortly after we moved to Italy, I was trying to get to know some of the women around my age at church despite my struggles with the language. I tried breaking the ice one Sunday morning by complimenting two of them on their retro jewelry. "In fact," I continued, "when I was young—" Immediately, they doubled over laughing. I later learned that the word "young" in Italian applies to people from ages 14 to 40, and I might as well have started the sentence, "When I was middle-aged." Oy.
4) In the early days of life here, even simple trips to the grocery store were daunting. I had to memorize vocabulary lists just to make sure I ended up with toothpaste instead of antifungal cream, and it took me a couple of weeks before I worked up enough courage to order from the deli counter. I had taken careful mental notes when shopping with Dan though, and I knew how to specify whether I wanted mild cheese or sharp, aged or soft, sliced or in a wedge. I also knew I should ask to taste a sample before ordering, so I cleared the trepidation from my throat and ventured, "Can I taste, please?" The counter attendant raised one eyebrow and asked, "Come again?" "Um, can I please taste?" The attendant shook her head in confusion. I tried another approach: "Can I taste a piece?" Nothing. I pointed at the cheese we were discussing and enunciated carefully, "I want to taste this cheese please." Now both her eyebrows were raising and lowering in quick succession. I finally gave up, ordered the cheese unsampled as it was, and hurried home where I discovered that I had gotten the word for "taste" confused with the similar-sounding one for "dry." Why yes, I had just spent several minutes trying to convince the deli attendant to let me dry her cheese. On the upside, I haven't gotten the two words confused since.
3) Once upon a time, we took a stroller, my pregnant belly, and a week's worth of grocery purchases on a bus. You can read all the painful details here.
2) Two winters ago, we went with a large group of friends on a settimana bianca—a week in the mountains at a ski resort. The lodge we were all staying in provided meals in a giant mess hall, so I didn't have to worry about packing anything more than my snowboarding gear. As it turns out, I should have worried about packing more than my snowboarding gear. I realized within minutes of arriving that my fleece hoodies and wool sweaters would stifle me to death in the lodge's near-tropical heat, and that left me with only my undershirts as viable tops. And within seconds of arriving at supper that first night, sweating in my jeans, snow boots, and thermals, I realized that meals on a settimana bianca are formal affairs. Our friends were utterly elegant in their high heels and ties, and I looked like Frosty the Snowslob in the middle of a meltdown. It was a long week.
1) Today was dedicated to the girls; I took them to a special kids' event at a local restaurant this morning, and then we had fun getting together their costumes for this evening's school play. The theme for the play was "A world without borders," and Natalie got to don my sparkly pink cowgirl hat to portray an "americana" while Sophie was transformed into history's cutest wolf with furry ears, a homemade tail, and lovingly hand-drawn whiskers. Most of the children in their class were assigned the same costume—"jeans + lupetto bianco"—but I didn't have a chance to see the other wolf costumes until Dan and I were settled in our seats and the curtains rose. There on stage was a choir of preschool angels, adorable in matching white shirts and golden halos… plus one set of shaggy lupine appendages. Sophie was the only wolf. The horrible suspicion that dawned on me was easily confirmed: "lupetto" also means turtleneck. We dashed out as soon as the play ended, but I still have to show my face at the girls' school tomorrow. I could use a stiff shot of tequi morale right about now.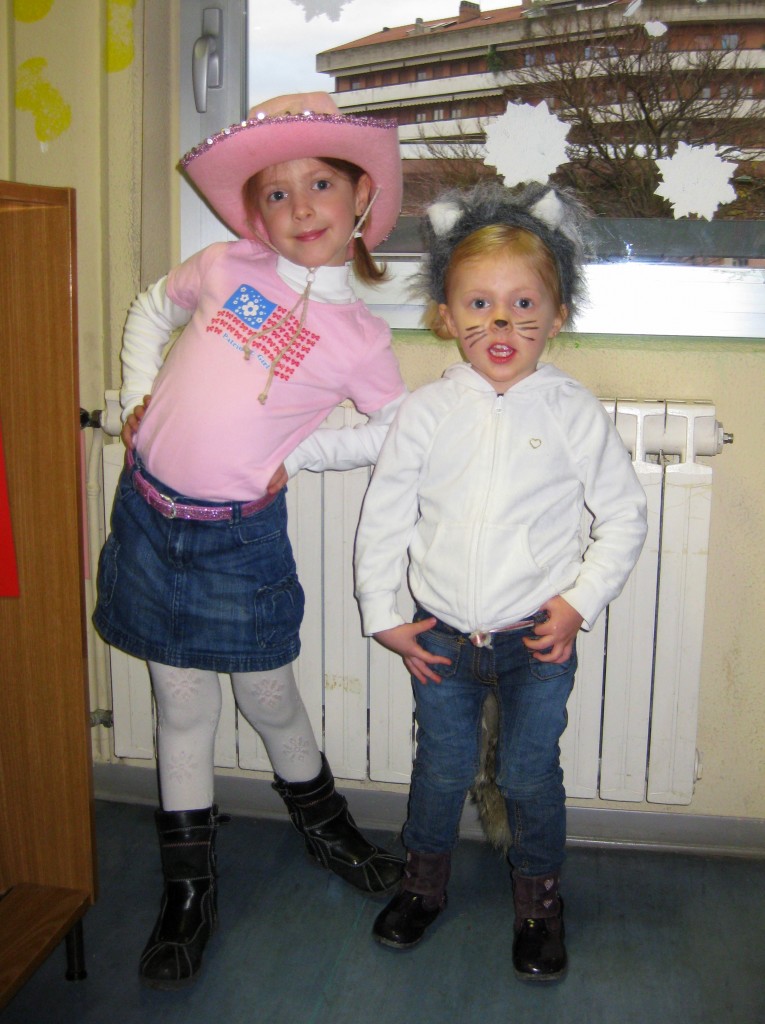 Friends, this is your time to shine. If you value my dignity more than I do at the moment, share your own embarrassing moments and spare me the necessity of running off to ­­­Greenland and having to start this whole expat process again.