My husband and I come from very different backgrounds, so it has always amazed me how perfectly most of our opinions align. Early on, we discovered our matching views on money, church,  life purpose, Star Wars, education, making out, and how many children we wanted to have. We knew a lot of couples who disagreed or vacillated on family size, but we were united in our hope for two. Two children with whom to travel the world, play board games, and scream ourselves silly on rollercoasters (okay, that one might be just me), two children to be automatic friends to each other while providing space for other relationships, two children into whom we could invest time, attention, and personalized love while still pursuing our own careers and social lives. We both adored kids, but the prospect of a large family didn't resonate with either of us. We had our magic number.
That's why I was so surprised to find myself, shortly after Sophie's birth, flushed with baby fever. Not just surprised, but alarmed. I was deep in the clutches of postpartum depression, and the demands of my two sweet girls were often more than my filigreed emotions could handle. Another pregnancy would literally have endangered our lives. Yet every time one of the girls snuggled up against me or I peeked in on a sisterly giggling fit, I was overwhelmed with the wish for more.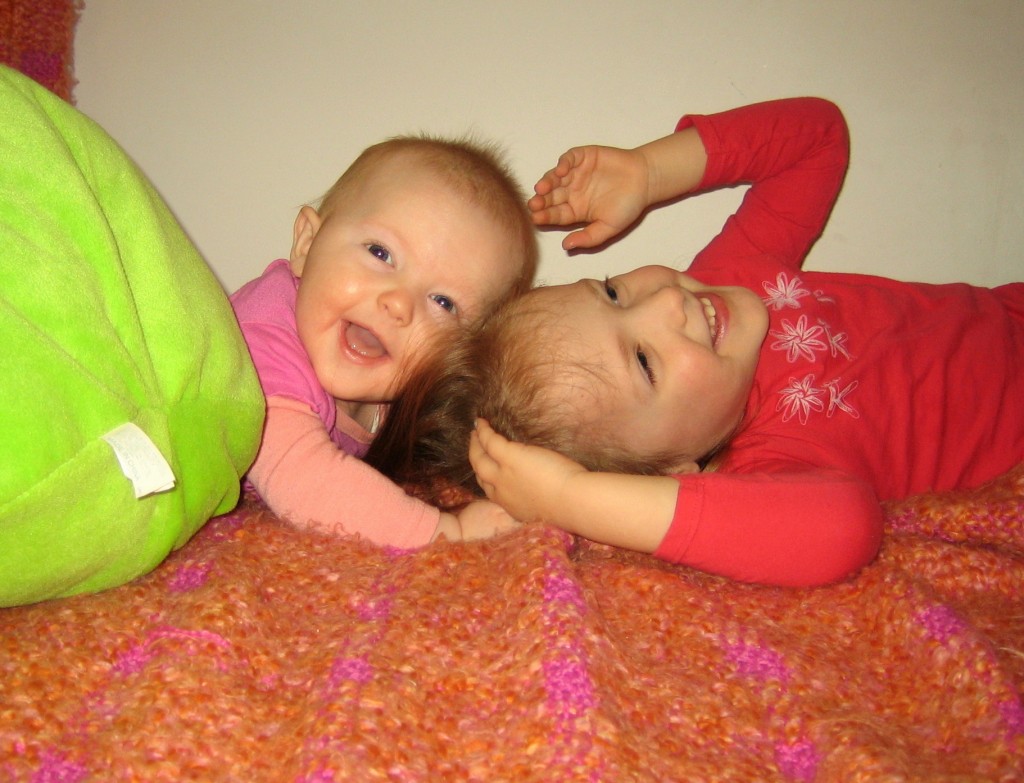 (Just look what I was up against!)
Eventually, the craze subsided. My mind climbed back into the light, I began to enjoy parenting again, and I was able to recognize that my motherly instinct—that mysterious part of some women's brains that makes us sniff newborns' heads and coo over diaper commercials—did not need to override my logic. I loved my Natalie and my Sophie, and I knew that in order to keep loving them well, I couldn't lose myself to another baby. It wouldn't be fair to them or to Dan, who was just starting to get his wife back. Our magic number hadn't changed; we gave away the baby clothes and began living out the future we had hoped for…
…Which brings us to this year, behind a locked door where I clutched a pregnancy test wondering how in the world I was going to explain things to my husband. I didn't even know how I felt, or rather, I couldn't narrow down which of my conflicting emotions was predominant. One part of me was already picking out names and anticipating the exquisite joy of welcoming a new little one into the family. The other part of me was dreading the exhaustion, the C-section recovery, the financial strain, the enormous time taken away from the girls, and the million necessary adjustments to our life. I felt selfish for both my reluctance and my excitement, and confusion swirled my insides until I thought I might puke. Of course, I would be doing plenty of puking in the weeks to come; might as well get used to it.
Except that I wasn't pregnant. Against all expectations, the test turned out negative. A test the next week was negative too, and at last, my body finally confirmed what they were saying. There would not be any morning sickness, hospital stays, baby blues, pumping paraphernalia, or minivan shopping. I would not have to explain to a single concerned Italian grandma that yes, I know how this happens. I would not risk hurting my friends whose hearts are being dragged through the devastating cycle of infertility. Our family would remain just as we'd hoped it would be. Yet a peculiar ache settled in the empty space between my arms like a phantom limb. I was relieved not to be pregnant, incredibly so, but was also caught off balance by how strongly I could miss someone who never existed.
I don't know how to uncomplicated a non-event any more than this:
For three weeks, I was mama to a baby-who-wasn't.
Today was our due date.