I was sludging through the dishes tonight when a game show, "Ciao Darwin: The Missing Link," came on. And even though I so wanted to finish the dishes, I just couldn't pass up the opportunity to live-blog a real Italian game show for you. It is an experience not to be missed. [Warning: If you are offended by cleavage, bothered by cleavage, insecure in your own cleavage, or adverse in any way to the topic of cleavage, you might want to stop here.]
So. By way of comparison, Italian game shows are very similar to nothing else on earth. Okay, maybe a violent sneeze draped in wet paint superimposed over a train wreck of french-fried cleavage.
Tonight's theme was Micro vs. Macro. Contestants were chosen from a group of short/small people and a group with larger features—height, width, and in one man's case, a Santa Clause handlebar beard stretching like whiskery wings past his shoulders. When I started watching, the Micro contestant was a mid-pubescent boy and his rival was a woman whose chestal region provided her Macro status.
Ready?
Fabulous!
—
10:16p – The contestants are led to a stage full of showgirls dancing in tie-dye bikinis, mini-skirts, bell-bottoms, and leather headbands. Half of the world's total cleavage is present and being zoomed in upon by the cameras. Disco music is blazing, and the contestants must guess the decade being depicted.
Micro: "Uh…" (He may be unclear as to the term "decade," being born in such a recent one.) "60s?"
The host, a boisterous middle-aged man already having a great time: "NO! MACRO!"
Macro: (Adjusting her cleavage) "90s?"
The host: "NO! MICRO!"
Micro: "Uh, 80s?"
The host: "NO!" He is thoroughly enjoying himself. "MACRO!"
Macro: (Giggling) "40s?"
The host: "NO! MICRO!"
Micro: "50s?"
The host: "NO!"
10:17p – Clearly, the contestants are screwed now, as all the possible decades in all the annals of history have already been guessed. The host seems prepared for this possibility and gives them hints until someone finally shouts "70s!!" To celebrate the triumph of reason, showgirls dance.
10:18p – On to the next task! The contestants race to get into a sack with a hippie (get it?) and then bob for apples. Macro's cleavage keeps getting in the way, so she just cheats. Micro wins anyway.
10:19p – The camera zooms in on several prominent instances of cleavage.
10:20p – Now, the contestants must identify the band shown in a black-and-white clip playing "Can't Buy Me Love." Micro guesses "The Rolling Stones." Macro is slightly closer: "The Beachies?"
10:21p – Once they have narrowed the band down to the Beatles, the contestants must list the band members. Oh boy.
Micro: (Voice cracking from excitement) "John Lennon!"
The crowd goes wild, but their enthusiasm is short-lived as both contestants have already given up on the rest.
The host, always helpful: "Paul…"
Macro: "Paul Cruise!"
The host, helpfully cracking up: "Or maybe you've heard of Ringo…"
Macro: "Ringo Rosto!"
The host: "Or what about George…"
Micro: "George… Clooney!"
The host, composing himself: "No, not Clooney, no. Here's a hint: Harrison Ford."
Macro: "OH! George Ford!"
10:22p – Cleavage!
10:23p – They begin to play a hippie hybrid of musical chairs and hot potato: when the music stops, they have to drink a beer that has been shaken with great vigor (and detailed camera angles) by the busty showgirls. Macro steals Micro's beer, but he gets the point anyway.
10:26p – Micro, resplendent in a 4-foot-high afro wig, sings the worst rendeition of "Yesterday" that has ever been butchered by an adolescent male. Half of the audience sustains internal injuries from laughing.
10:27p – A group of cleavage and its owners prance to Macro's version of "Yellow Submarine," which greatly resembles the call of a horny sea lion.
10:29p – The camera zooms up under multiple mini-skirts as the showgirls dance Saturday Night Fever style; for the moment, cleavage is forgotten.
10:30p – That moment is past. Viva la cleavage!
10:31p – The contestants have to bounce across the stage on those giant rubber balls that people occasionally buy when suffering from delusions of fitness. Macro's pops immediately under the weight of her cleavage.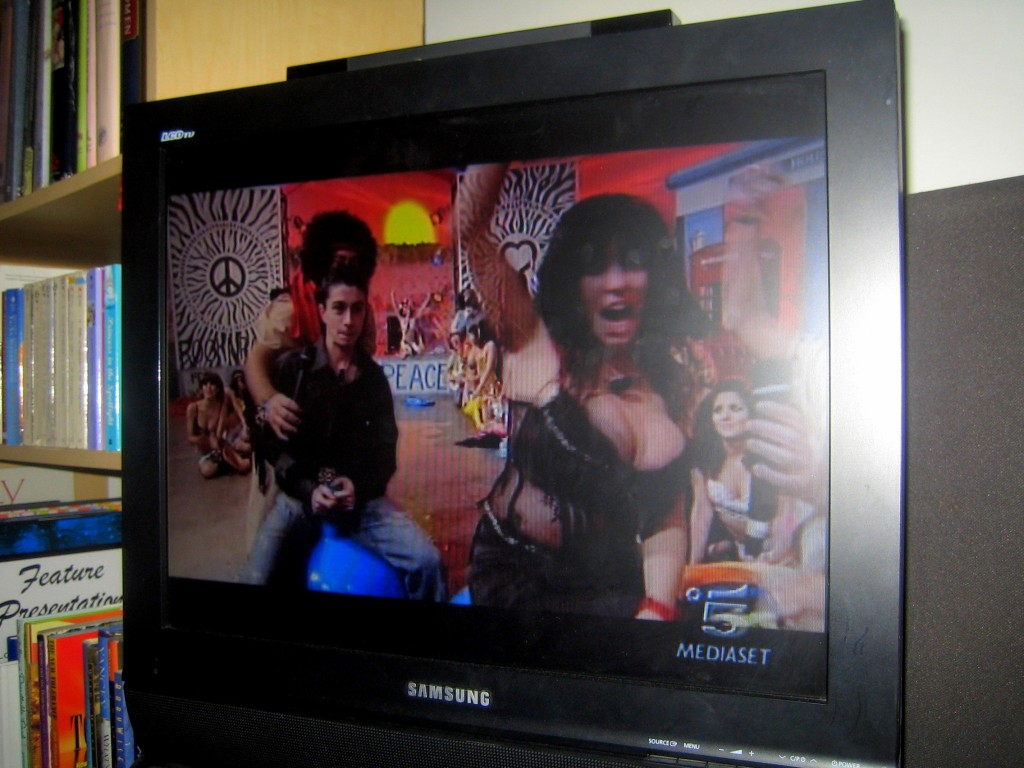 10:32p – Cleavage!
10:33p – Cleavage!
10:33p and 20 seconds – Cleavage!
10:34p – Macro's rubber ball pops. AGAIN. The host remarks, "I wouldn't want to be the guy under you!"
10:35p – The contestants must guess the title of a certain song which goes like this: "Chi sarà? Chi sarà? Chi sarà? Chi sarà?" Micro correctly guesses: "Chi sarà?"
10:36p – The contestants are now racing on razor scooters while holding guitars. Macro's cleavage seems to be steering.
10:37p – The host: "I'm getting really tired; I need someplace to lean." That someplace is Macro's cleavage. Yes, seriously.
10:38p – Commercial! A couple is making out with each other and with jumbo shrimp, which is incidentally also hanging out in the wife's cleavage. Possibly groping. If you learn anything after a year here, it's that Italian food commercials have a lot in common with porn.
10:40p – 12:29a – I start to zone out and only catch bits and pieces of the rest of the show, which involves:
An air band performing Earth, Wind & Fire songs
Showgirls dancing to Earth, Wind & Fire songs in glittery fringed miniskirts
The host showing off his pet snake (I do mean that literally)
Showgirls dancing in lingerie, some of which includes gold sequined nursing pads
Female contestants in their underwear escaping from tanks of hungry eels
A tall/short fashion show. Of underwear.
A man in the audience scoping out the thong action with binoculars
Showgirls dancing in a conga line around the room draped in feathers
A ménage à trois dance routing featuring—what else? cleavage
Contestants locked in giant tanks which fill with water when they answer questions wrong
A thongskirt
Me falling asleep because the show was supposed to end half an hour ago