Reentering the atmosphere after a weekend away can feel like an exercise in crash-and-burn. Everyone is a little off his or her axis. The only thing in the fridge is a jar of pickles, that one duffel bag never manages to get all the way unpacked, and uncertain amounts of homework are due. We all start to run a little hotter than usual, but our unceremonious landing back into the daily grind is especially hard on the girls. Without giving away too many incriminating details, I will say that we had an epic meltdown of the daughter variety today, triggered by the fact that homework exists in this fallen world and will continue to be inflicted on humanity for the foreseeable future.
The sound level in our house during the meltdown was something like you'd expect at a hog stampede. After making sure that the melting child was at least safe in her room, Dan and I slumped against the doorframe and looked at each other with "OMG" eyes. You know the ones. We figured we had about three minutes before our neighbors called the cops on suspicion of manslaughter, and we were really really hoping that the other would telepathically convey the magic parenting solution that would get us out of the mess.
This did not happen. (Though neither, thankfully, did the police intervention.) What did happen is that our worked-up girl raged herself to sleep, and while she napped away the drama, I turned to my Hail Mary: a simple lined notebook in which she and I exchange letters when other forms of communication fail.
I wasn't sure exactly what to write—how do you reason with a child on fire?—but I wanted first to help her define what was happening in her emotional core (tiredness from our trip, frustration over a difficult homework assignment) and second to encourage her to write back and help me understand her experience. I ended by making sure she knew I loved her, no matter what.
I have no prototype for this parenting strategy, just inspiration gleaned from mamas like Erika Morrison and Meredith Jacobs and the simple fact that I work through emotional turmoil more easily through writing. I realized this about myself in my teenage years when I filled journals to their paper-blade edges with hot black ink. I wish I had started the habit sooner though. I think a lot of my childhood would have been easier to understand and process had I known to write through it, to identify my emotions and their causes, to root myself in perspective.
This is what I'm trying to teach my daughters now. In my letters, I do my best to ask good questions that can act as bridges between our separate viewpoints. I prompt them to venture into the messy territory of their emotions, and I try to keep our notebooks a safe place to be honest with each other in the mad hope that we can continue through their teenage years. Sometimes, the lines on those pages are the only open lines of communication we have, but they never fail to help my girls and I understand each other better.
I know I can't speak for all children here, and maybe not even most children, but my daughters really love this method of working through issues. We don't always limit it to writing; sometimes we draw pictures of how we feel, and we often incorporate some silliness into our letters because that's how we roll. Few parenting experiences are sweeter to me than hearing a notebook slipped under my door and opening it to find my daughter's heart scrawled (or scribbled, or illustrated) on the page. Especially when we're in a rough patch, this practice helps me feel that we're doing okay after all—that I'm not a hopeless failure and the girls aren't wild hogs and we haven't completely botched our chance to build strong communication with each other in the few remaining days before teenage hormones start waging guerilla warfare on our household. (Yes, the girls come by their dramatic flair honestly.)
I'm sure that my daughters won't always confide in me to the extent they do now. I hope, however, that this word-processing skill will stay with them for life and that these early letter exchanges of ours will help them to center themselves when the stakes get higher. I also hope that the better we get at this, the fewer OMG-eyed meltdowns we'll have to weather. A mama can dream, right? (Write?)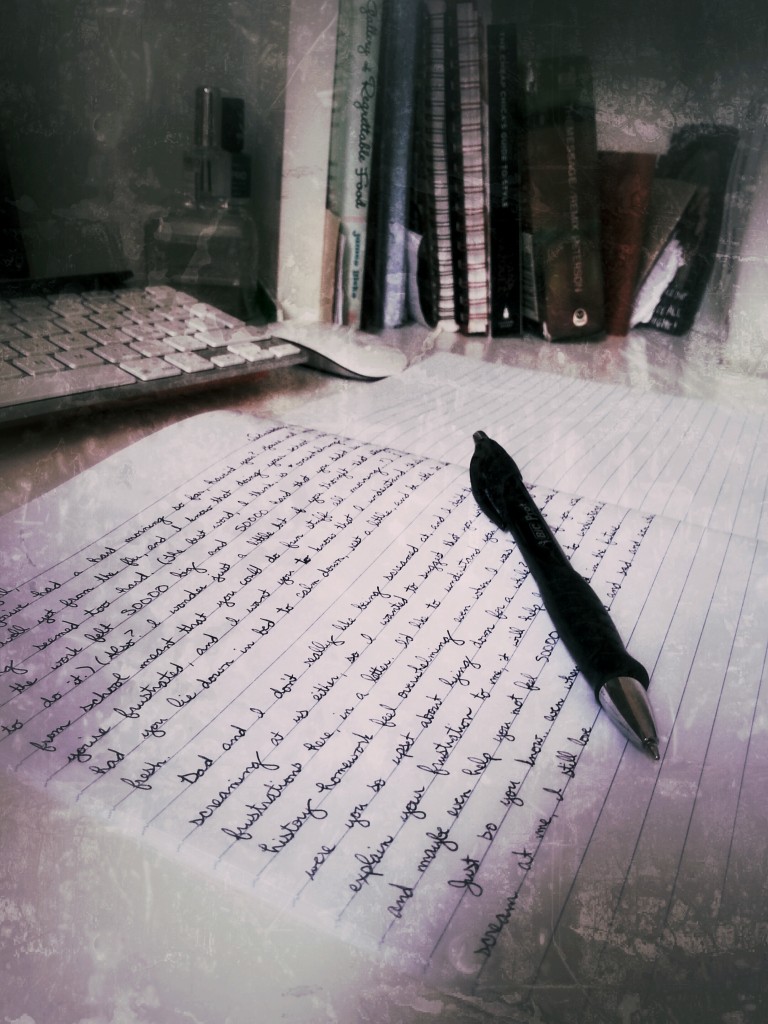 —
Your turn! What parenting strategies have you found effective when life gets too overwhelming for your little ones? For kids with whom writing doesn't jibe (or those who are still too young to write), what are some other ways they can learn to process their hard feelings? The idea behind this Open-Source Parenting series is to share our collective wisdom for the good of all. I've learned more from other parents' stories than I have from expert advice, and I'd wager you have too, so let's continue the conversation in the comments below or over on Facebook. I'm looking forward to hearing your take!