Last weekend, the fog drew around our house like a heavy silver curtain. Sophie was sick and Natalie's school was on strike*, so we had the deep-settling thrill of burrowing into our own little world for a day or two. The girls had been reverberating for weeks with pent-up holiday cheer, and even my no-carols-before-Thanksgiving resolve had crumbled in the home stretch, so it was clear to everyone how our hibernation weekend should be spent.
* Clarification point #1: Kids here typically go to school six mornings a week and get out at lunchtime; it's inconvenient and awesome all at once. Clarification point #2: Schools go on strike in our district about twice a month, each one formally announced ahead of time. Again, inconvenient + awesome.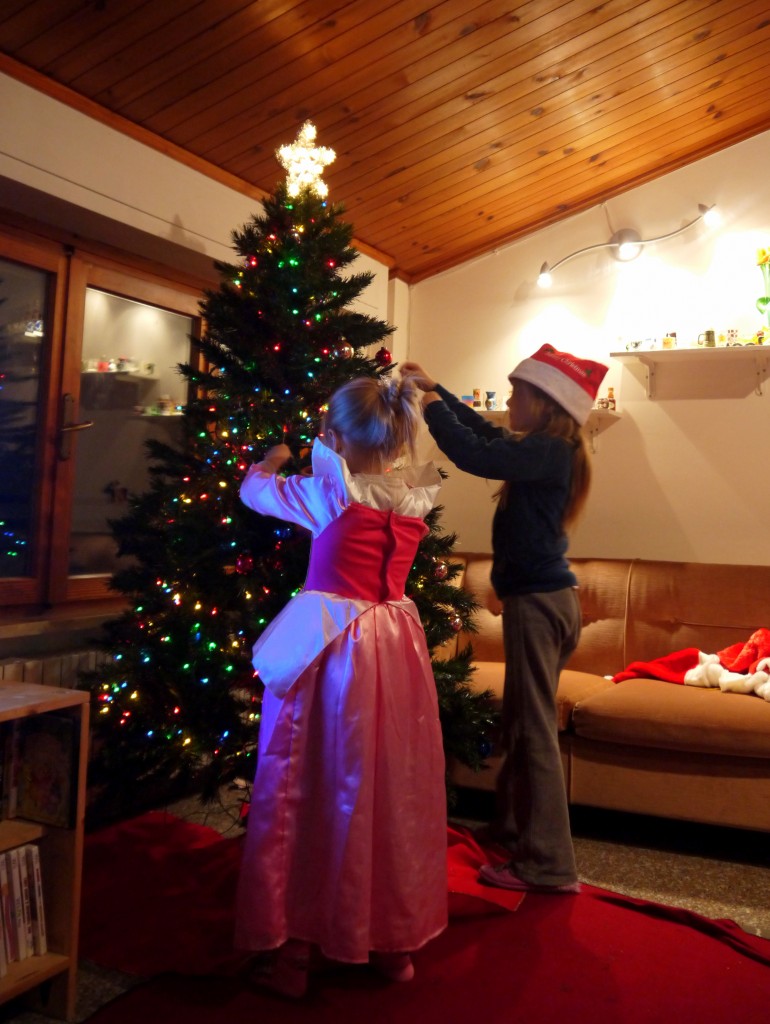 We bought this tree seven years ago for Natalie's first Christmas. At the time, the three of us were living on a single graduate school stipend, and fresh-cut pines were up there with cable TV and new shoes on the Hierarchy of Unnecessary Expenses. However, the Martha Stewart Holiday Collection went on sale at our local K-Mart, and our baby's squeals of joy right there on Aisle 5 decided for us. It was nothing fancy; we knew our tree would never evoke nostalgia for either Appalachia or Anthropologie, but the point was that it was ours.
And is it ever ours. Though our collection of ornaments has grown steadily over the years, only two of them—a set of crystal love birds from Dan's grandparents—actually match. Ours is a tree of keepsakes and fingerprints, cross-stitching and salt dough. We have a wooden bell that Dan colored with markers when he was in preschool and I blotched with melted candy canes a few years back. We hang it anyway. There are the two cartoonish and slightly disproportionate Loch Ness monsters I coaxed out of modeling clay for the girls to remember our summer in Scotland. Natalie hangs hers next to a pony she once made out of pegboard beads and strung up via a hair ribbon with an artist's pride. Meanwhile, Sophie chooses a single branch for a series of paper hearts displaying a four-year-old's scissor skills and enthusiastic joy.
These now-dusty limbs sport chocolate lips and jingle bells, felt daubed with formerly-hot glue, a couple of miniature storybooks shellacked into submission, and a rocking horse that may or may not have been through a war… and each year that goes by gives me greater satisfaction in declaring that what our tree lacks in fashion sense, it more than makes up for in memories.
Admittedly, I still pause every time I wander into the Christmas section of the party store. I can't help scanning the shelves of baubles and lights and blown-glass snack foods—seriously, why are those a thing? and why do I want them so badly?—and imagining our living room transformed into a magazine spread. It's easy, far too easy, to envision how a cartful of decorations would change our lives. Don't we want our holiday pictures to reflect perfection? Wouldn't our daughters' experience be improved with icicle lights or topiaries or at least an identifiable color scheme?
Last weekend, as the fog wrapped us tightly into the warmth and music of our living room, I remembered as I do every year why I always leave the Christmas aisle with an empty cart. This tree of ours, with its missing PVC needles and mismatched lights and homemade ornament parade, holds a magic all of its own—a magic all of our own. It glows with our family stories and preserves evidence of our personalities, our creativity, our thumbprints. The girls reminisced about each ornament as they chose the imperfectly perfect spot to hang it, and when we were done, it was like someone had hung a sun in the room; all we wanted to do was bask.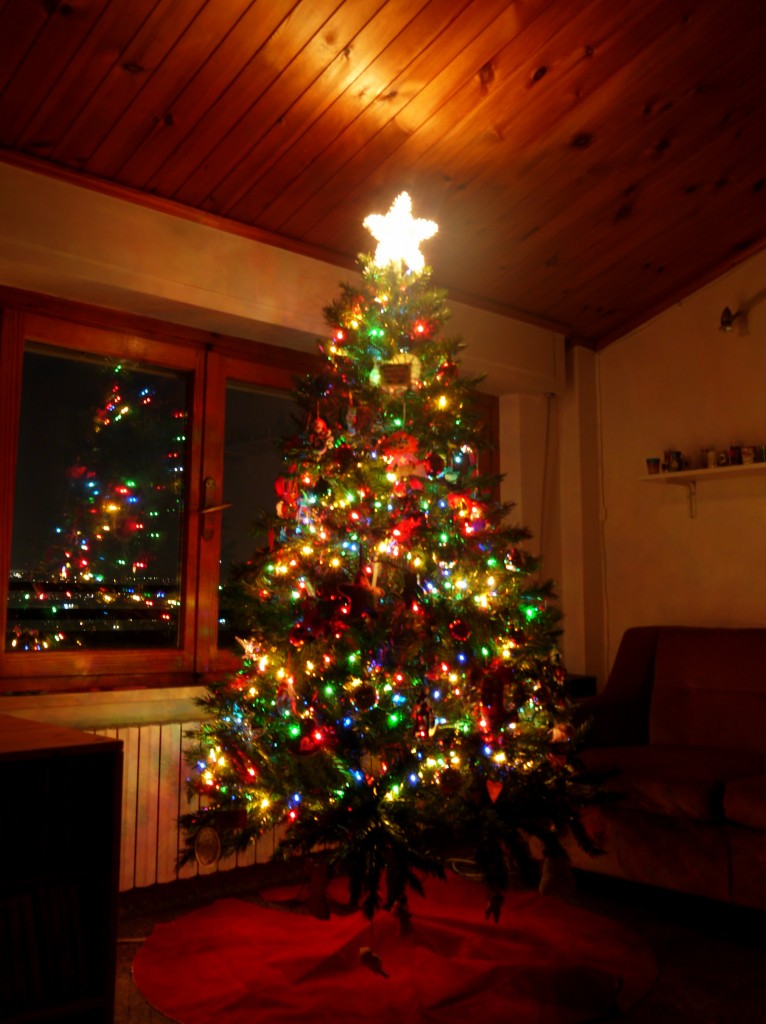 ~~~
Do you ever struggle with holiday-decoration-envy?