"Correct me if I am wrong," he said, "but am I right in supposing that it is a very Blusterous day outside?" ~ Owl (as transcribed by A.A. Milne)
Punxsutawney Phil doesn't do world tours yet (sadly), but if he were here today, his shadow would send him bolting to the underworld to slurp hot cocoa with Hades until April. The delicious gold-flecked weather we've had lately has come abruptly to an end, and next week's forecast is a jumble of rain, snow, and combinations thereof. Only the dark, soul-sucking clouds and riotous wind are supposed to be constant.
I think I've written before about my relationship to the weather… ah yes, here. Also here. And here and here and here. If you don't feel like doing any extracurricular reading right now, here's the gist: sun = cheery me, clouds = gloomy me, rain = sleepy me. I haven't lived around snow enough in my life to have an established reaction, but I suspect next week's wintry outburst is going to be less Christmas Village and more Pain In The Gluteus Max.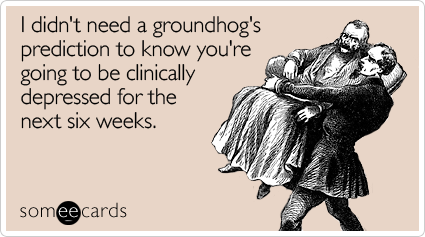 (I probably shouldn't find this as funny as I do. Feel free to admonish and/or crack up with me.)
What about you? How's the weather in your neck of the woods? Is your sense of wellbeing color-coded with the sky? What are your strategies for infusing a dismal day with energy and optimism? Would you consider it ethical to sue a marmot for false advertising? Is your taste in greeting cards less deplorable?
And they say you can't have a meaningful conversation about the weather.