I've never quite been able to forget that the first person to run a marathon, the Greek hero Pheidippides on whom the modern day race was founded, DIED FROM IT. This fact has concerned me on more than one occasion, but never did it seem more relevant to my life than last Sunday afternoon as I lurched over the final bridge of the Venice Marathon and stumble-sprinted toward the finish line. I was more than exhausted, my muscles already pushed a full hour beyond their former limits. All four limbs and the top of my head were tingling as if ice shavings had replaced the blood in my veins. My heart was beating so quickly that it finally achieved liftoff and flew ahead without me, and at a mere two hundred meters from the end, one thought crystalized in my mind: I was about to pull a Pheidippides.
They say that completing a marathon is largely a mental effort, and in retrospect, I think that my finish-line-death-sprint experience had more to do with the sensory overload of the day than it did with physical strain. You can only dig your nails into your mind with excitement and awareness for so long before reality starts to blur around the edges. I've already admitted that calm-and-collected isn't my jam when it comes to running, so I have no additional dignity to lose by confessing that the second our 5:55 wakeup call came on Sunday morning, I jumped into carpe diem hyperdrive. Let me tell you, no one has ever put on athletic socks as fervently as I did that day.
Every minute pre-race was duly seized and catalogued in my mind as wonder. The fog outside our hotel as we walked to the bus station primed my imagination so that even our cramped forty-minute ride to the starting line, during which I was repeatedly stepped on and elbowed in the face, felt like the beginning of some epic adventure. Once we arrived, the sense of camaraderie and shared purpose among all 8,000 runners made even standing in line for the porta-potties an engaging activity (and made the pee-gauntlet of men who didn't bother with the porta-potties an object of understanding laughter… though later, after I'd spent an hour waiting in the start canal guzzling Gatorade, my laughter had developed urgently jealous undertones). I paid attention to the pearly cast of the sky, the mismatched shoes of the guy stretching behind me, and the exact position of my armband; everything mattered in the larger context of Marathon Day, and I wasn't about to let any of it slip my notice.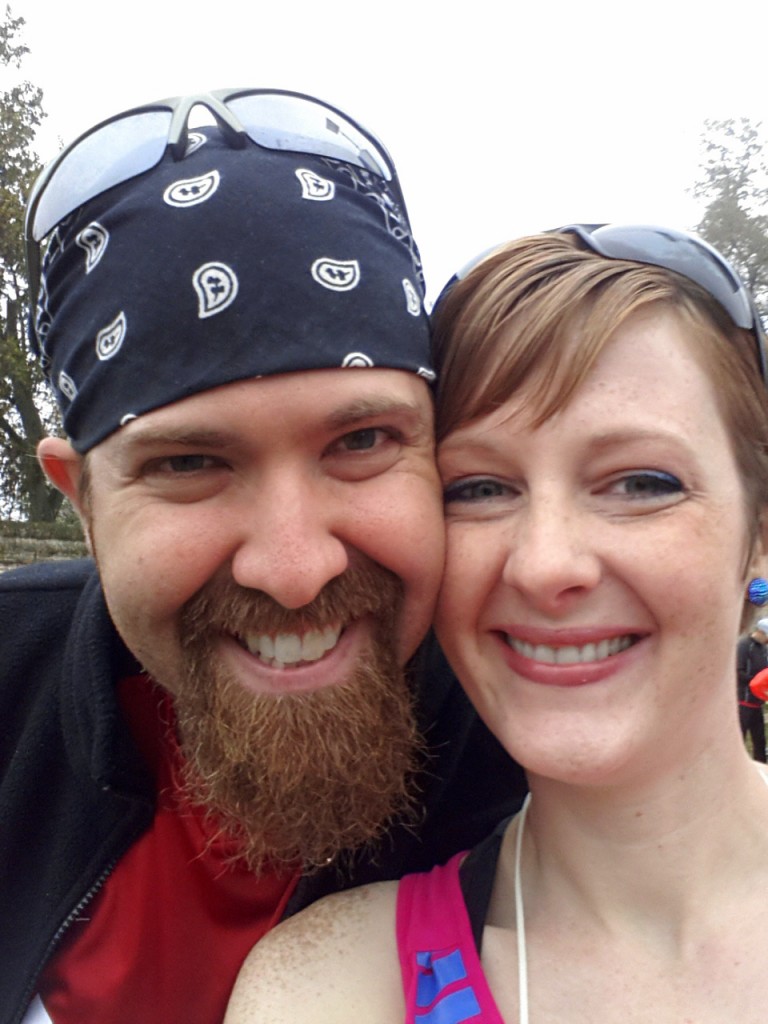 Getting one last marital hug in before the starting gun.
The race began around 9:30, though it took several minutes more for those of us in the nosebleed section to make our way up to the starting line. Once we were there, however, it was as if a tidal wave rolled up underneath our running shoes and lifted us all in a cresting rush of energy and direction onto the road. I've never felt anything quite like that communal forward momentum, and I didn't encounter it again during the race. Almost immediately, the marathon changed for me from a group exercise to an individual challenge. I found my stride within the first kilometer, and my focus narrowed to a small bubble around my own head. I concentrated on breathing evenly, navigating the road (which hugged the plentiful curves of the Brenta River for the first 17 kilometers/10½ miles or so), and maintaining appropriate levels of shock and awe that I WAS RUNNING A MARATHON.
Refreshment tables, many of them accompanied by live bands and cheering spectators, were set up every five kilometers, so the race naturally subdivided itself into half-hour increments for me. Just about the time my strength started to lag, I would round a bend into Partyville—cups upon cups of Gatorade, cookies and bananas given out by the handful, little kids waiting to give high fives, the occasional bystander adventurous enough to try pronouncing my name. The encouragement of strangers made more of a difference than I would ever have thought. Each new chorus of "Brava!" drew me out of the intensity of my own headspace and reminded me that I wasn't alone on the road. You could almost see the change in atmosphere where crowds gathered to cheer; every single runner on the road picked up speed. Weary athletes who I had seen slump into a walk only seconds earlier caught a second wind. Grimaces turned into smiles… or at least grimaces with a facelift. Even rubberneckers who had clearly shown up to watch out of curiosity with a generous side of WTH?! provided boosts of incentive to do what we had come to do and run.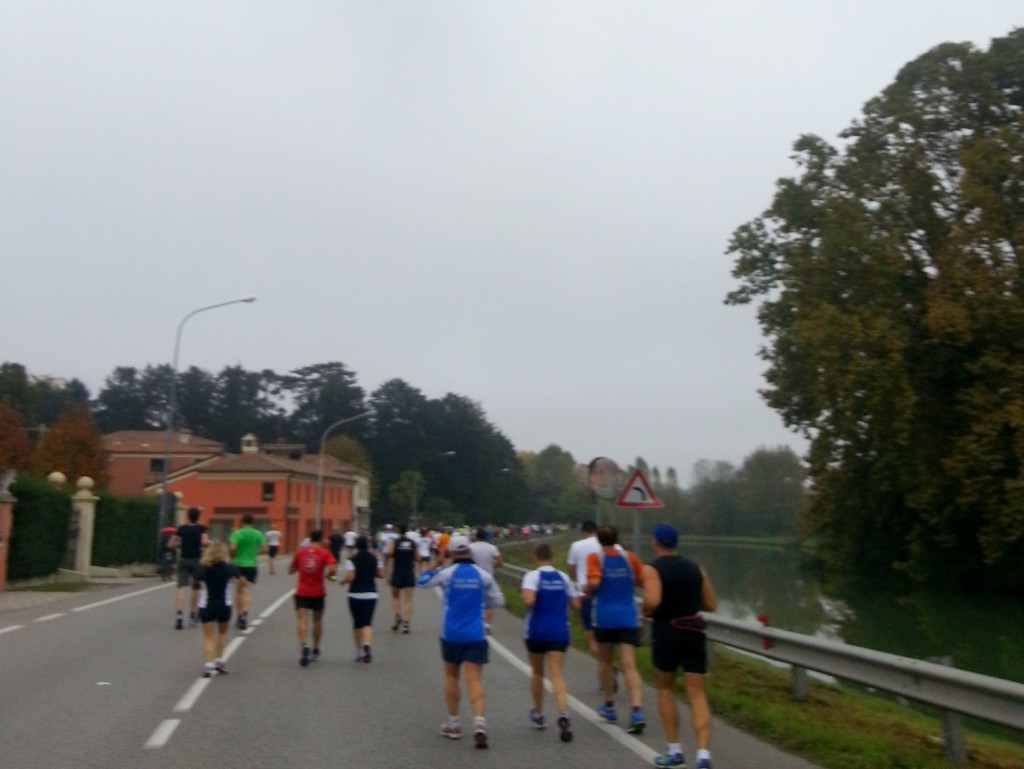 Stay tuned for my exciting new e-course on taking cell phone pictures through your armband while running AND looking like an off-balance penguin while doing it!
The race got very real for me around kilometer 32/mile 20. That was the farthest I had ever gone in my training runs, so I had no empirical evidence to suggest that I might be capable of doing more. Until that point in the marathon, my mind had been able to kick up its feet with the assurance that my body could handle its task. Now, however, with each new step marking the farthest I had ever run in my life, the race became as grueling psychologically as it was physically. And this was when the bridges started—17 of them, the second being the 2½-mile-long (read: interminable) Ponte della Libertà taking us over open water to the islands of Venice.
My carpe diem drive went into desperate mode once my feet reached the cobblestones alongside Venetian canals. This was it: the last stretch, the true test of my endurance, the magic of running through a floating Medieval city coupled with the pain of pushing my body beyond its limits. My focus shifted constantly with my mind scrambling behind trying to keep it in line. My mental dialogue during the final 5 kilometers/3 miles went something like this: Ow ow ow can't do this anymore CANNOT, hey look at that basilica! Wow, I'm in Venice, this is horrible, must remember all the encouraging comments and emails people have sent me; they think I can finish, so I must be able to. Oh God, another bridge. I can do this, I can't do this, I CAN do this, look at me passing three semi-ripped men in a row, I hate existence, no I don't, I'm carpe-ing the *expletive* out of this diem right now, I'm going to die. What a pretty canal!
My favorite thing about that last insane stretch was a fat old Venetian woman leaning out of her window and shouting, "Come on, what are you wimps slowing down for? You're basically at the end by now!" At that point in the race, I was in no mood for live music or high fives any more; the thought of lifting more limbs than absolutely necessary had become unthinkable, and I was pretty sure I hated everyone in the world who wasn't struggling up those bridges with me. However, that old lady's crusty pep talk was just the kick in the pants I needed to keep running. Plus, it got me smiling just long enough for the photography team to catch me looking [inaccurately] like a congenial and capable human being as I crossed the Canal Grande into the final kilometer of the race.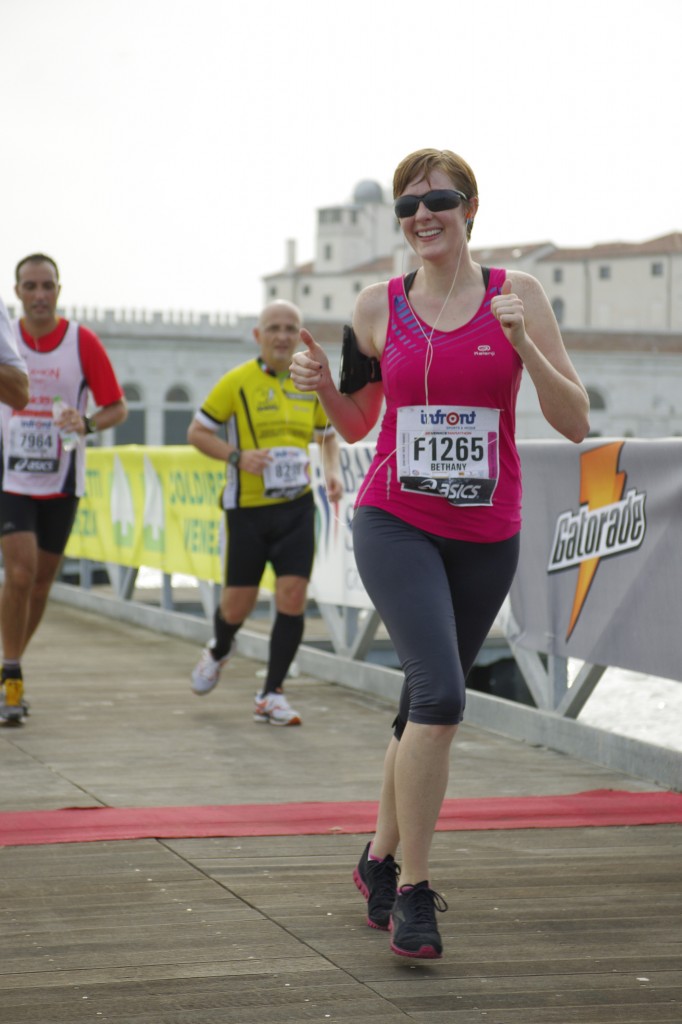 Yay! I hate you all!
It wasn't until I crested the seventeenth *double-expletive* bridge and saw the finish line straight ahead that I lost whatever psychological control I had been using to hold myself intact. My veins flooded with icy tingles, my heart left my body, my vision began swarming with tiny Disney bluebirds, and my mind shrugged helplessly and said, "I got nothin'." I couldn't remember what I was supposed to be thinking about. I definitely couldn't remember why I had signed up for this. I was about to faint and/or die right there in front of the Doge's Palace, but I didn't really mind too much because at least then I could stop running.
Something about this line of reasoning tugged at me though, and I slowly realized that I was so eager to stop running because… [and you might want to brace yourself for the profundity of this statement]… I was currently running. Without any conscious input from my brain, my legs were still moving forward. Some instinct had taken over when energy and intention had crashed and was keeping me in motion. Frivolities like discernible heartbeats and motor control were no longer part of the picture; there was only the pure, inexplicable reality of me, running.
Granted, the victory of crossing the finish line was tempered by the fact that I was basically a decapitated rooster at that point. However, my mental faculties returned once my legs stopped moving, and I realized what I had just accomplished about the time someone hung a medal around my neck. I had done something that, up until that very moment, I had never believed myself capable of doing. I had run 42.195 kilometers without stopping, giving up, or pulling a Pheidippides after all. My final time of 4 hours and 38 minutes wasn't too shabby either, especially for a new runner. I wasn't merely a runner anymore though; I was a marathoner.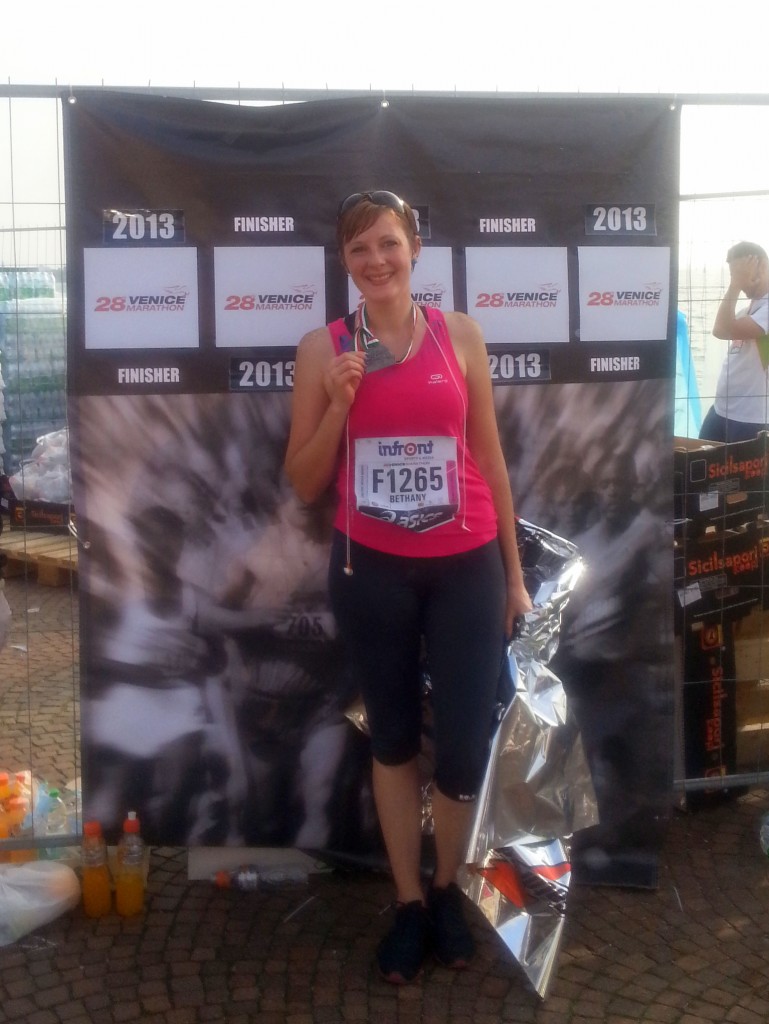 Yay! I love you all!
A friend asked me the following day to rank on a scale of 1 to 10 how inclined I was to run another marathon in the future. I had difficulty nailing down an answer. If you had asked me during the first hour and a half of the race, I would have ranked my willingness at a 10; during the final hour and a half of the race, I would probably have answered something like negative infinity. Even in the thrill and buzz immediately following the finish line, I don't think I would have given you more than a 2, and when my friend asked me the next day, I finally settled on an uncertain 4. A week later, however, my post-race aches and pains have dissipated, and the memory of accomplishment has far outstripped the memory of effort. For various reasons, I haven't been able to go running since the marathon, and I find myself antsy to lace up my shoes and hit the track again. I'm not planning any long runs for the immediate future, but there is a part of me that wants to see what I could do with this challenge in the future, knowing as I do now that I am strong enough. I'm not ready to stop surprising myself yet, and given how very much the marathon asked of me in the end, maybe the biggest surprise would be deciding to do it again.
We'll see. I'm only now at a 6 on the would-I-do-it-again scale, and other challenges have caught my attention for the time being. Still, the value this experience held for me seems only to be increasing with time, and if you asked me to rank from 1 to 10 how glad I am to have done this first marathon, I would have to go with something in the neighborhood of, oh, say, 42.195.