Easter 2012 Part 3 (Part 1 here, Part 2 here)
You should know up-front that I did not anticipate liking Naples. From all the stories I'd heard, I was imagining a giant trash heap teeming with mob bosses, and while I know better than to take stereotypes at their word, I was really only looking forward to the second half of our trip on the Amalfi Coast. Turquoise sea and lemon groves, they fill my soul… but now I'm getting ahead of myself. You see, Naples absolutely refused to let me leave uncharmed.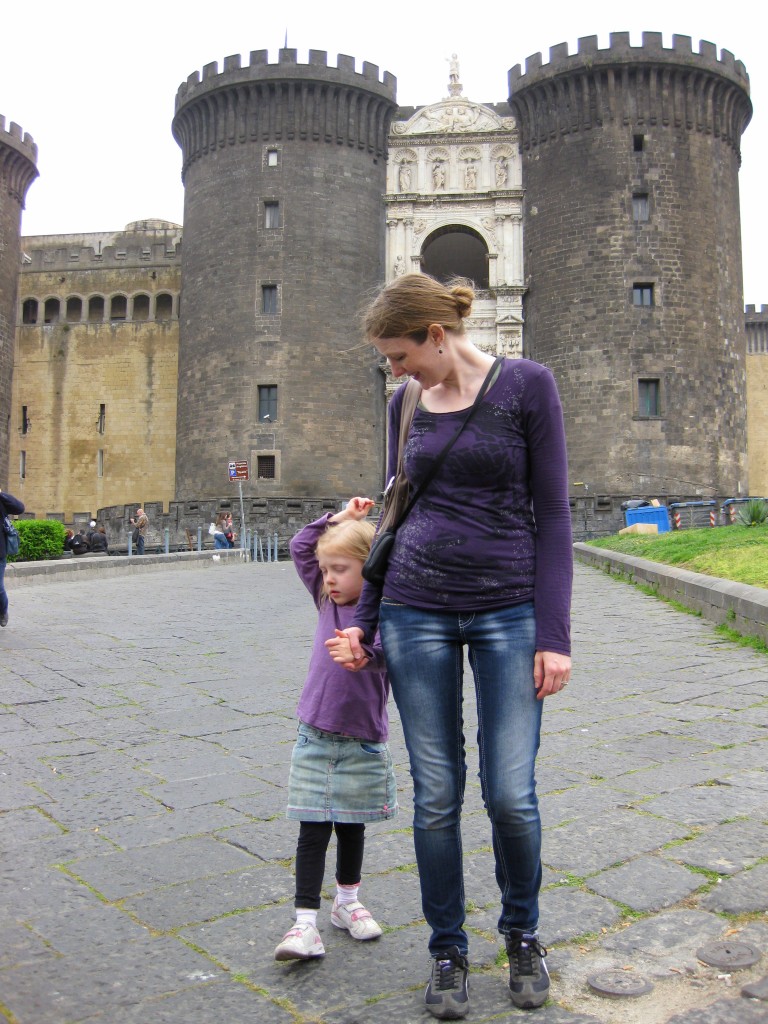 Sophie's holding up a plucked dandelion for a drink. Yes, we went in the drizzle. Yes, she is every kind of precious.
We spent the whole of last Thursday in the city with only one agenda: take the girls on the funicular. Perhaps you've heard the famous Neapolitan song Funiculì, Funiculà? It's in the girls' personal Top 5 of all time ever, so we couldn't miss taking them on the cable car which inspired the masterpiece. Okay, so the famous line going up Mount Vesuvius was destroyed in the 1944 eruption, but we pretended that the modern carriage swaying us up the city's underbelly was worthy of Pavarotti, and the girls treated us to their own rendition of the song for the rest of eternity.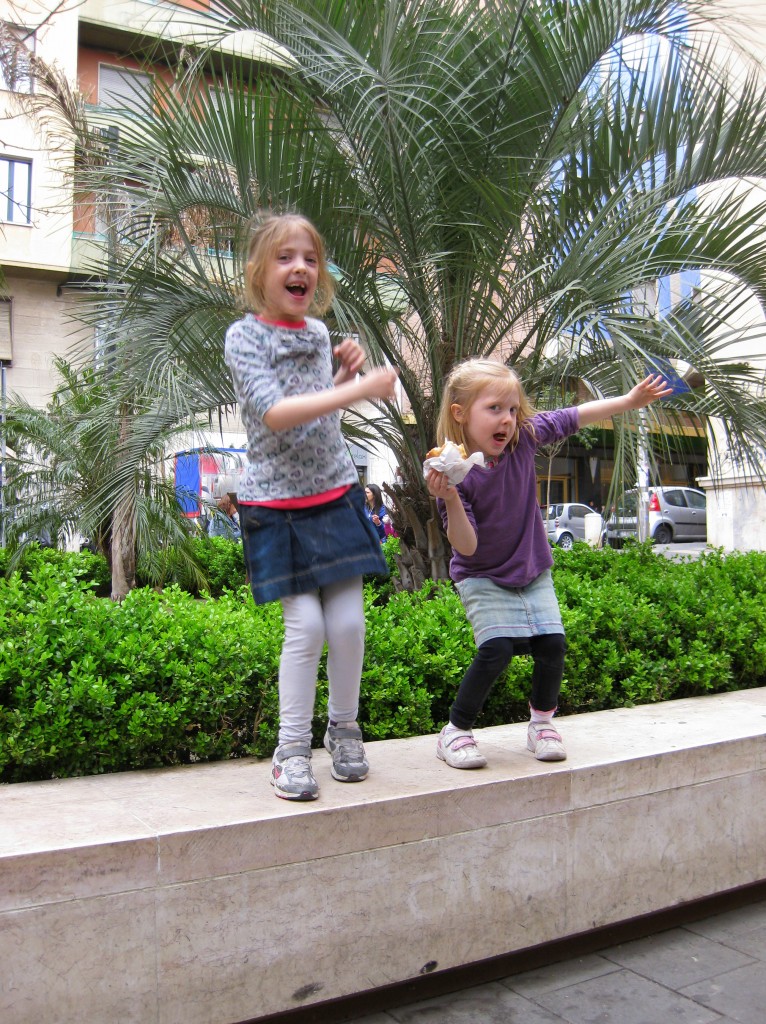 Their lyrics are as follows: "Yummy, yummy, yummy yummy yummmmmm! Yummy, yummy, yummy yummy yummmmmm! Funiculì, funiculà, funiculì, funiculààààààààààà! Yummy yummy yum funiculì, funiculà!"
Naples is its own brand of gorgeous chaos—tenement buildings piled against each other like favorite cousins, mozzarella vendors on Vespas weaving around double-parked cars while shouting hello, laundry and gelato in every color of the rainbow and then some. It was so free of inhibitions, so different from our own city where making a good impression is the highest social calling, that I had more fun than I usually do while sightseeing. I didn't feel the need to shush the girls ("YUMMY YUMMY YUMMY YUMMY YUMMMMM!"). I didn't grimace self-consciously at my walking shoes. (Women in our city wear high heels on hikes. Forget the language barrier; we have irreconcilable footwear differences.) I didn't fret over looking like a tourist; instead, I unabashedly snapped photos like this so you could hear the symphony of car horns and smell the pizza margherita and feel the vibrant camaraderie that is Naples. (Do you?)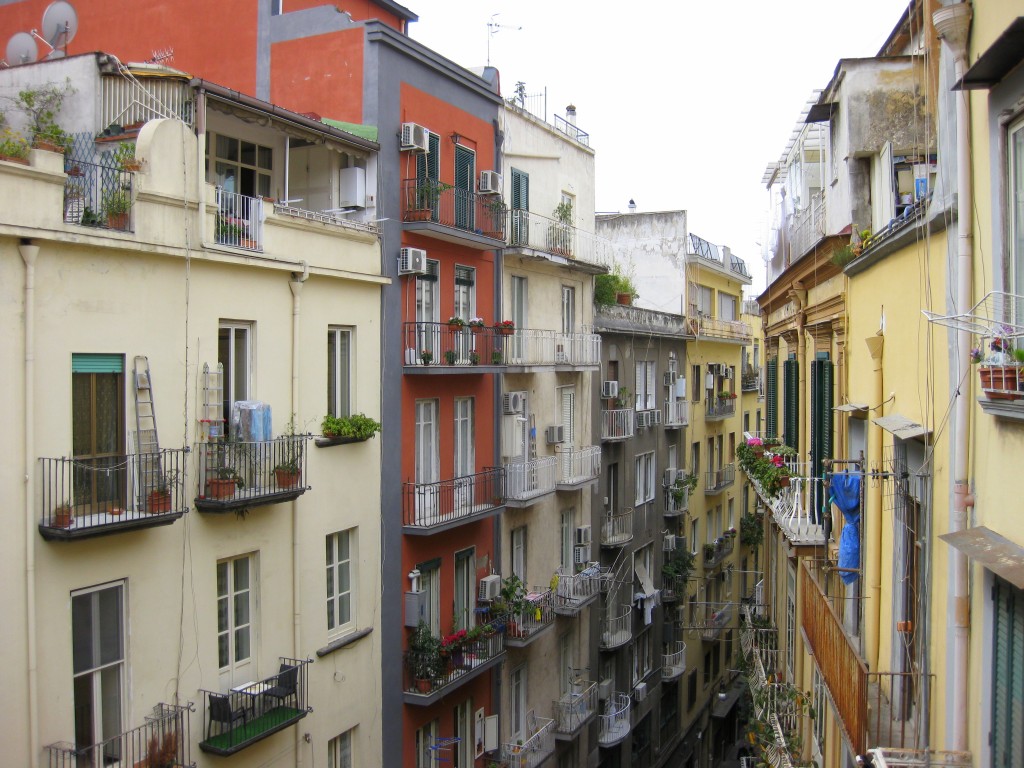 We stayed until dusk rolled over the bay, thick and brooding with rain. Even then, we had trouble tearing ourselves away from the seaside castle where the girls were climbing antique cannons and I was memorizing the cut of sailboat masts against water, volcano, sky. Local couples perched on the walls making out as if it were a competitive sport, and I harbored a fleeting wish that Dan and I could just sneak out after the girls were in bed. Then the clouds cracked open above our heads, and proper goodbyes were abandoned for umbrellas and take out. It's okay. Naples had already made her point, and I would have just asked for a rain check anyway.