A few weekends ago, we attended the opening of a friend's scooter rental shop. I had done a bit of editing for his promotional flyers, and he'd promised me an afternoon on a Vespa in return. "Sounds great!" I'd said, smiling wide and hoping no one would notice the muffled strains of panic issuing from the closet where I'd bound and gagged my common sense.
I don't do well with things that roll, see. Just about everyone I know could tell you a story of how I forgot to brake when my bicycle started down that one hill or how I did a perfect 90° flip my first (and only) time on a dirt bike or how I fell off and was subsequently run over by that mammoth handcar I'd agreed to joy-ride through our college campus. And we're not even going to mention my "experience" with skateboards. Much like dogs and Chuck Norris, things that roll can smell fear, and I've only become more afraid as the wisdom of passing years has confirmed that I really should stay as far from wheeled devices as possible.
My adventurous streak wouldn't let me pass up the chance to ride a Vespa through the Italian countryside though. Plus, the girls were practically levitating over the idea of a family scooter excursion. I could do it. Surely I could do it. Audrey Hepburn made it look so… well, possible… and I see fourteen-year-olds riding them through traffic every day. How hard could it be?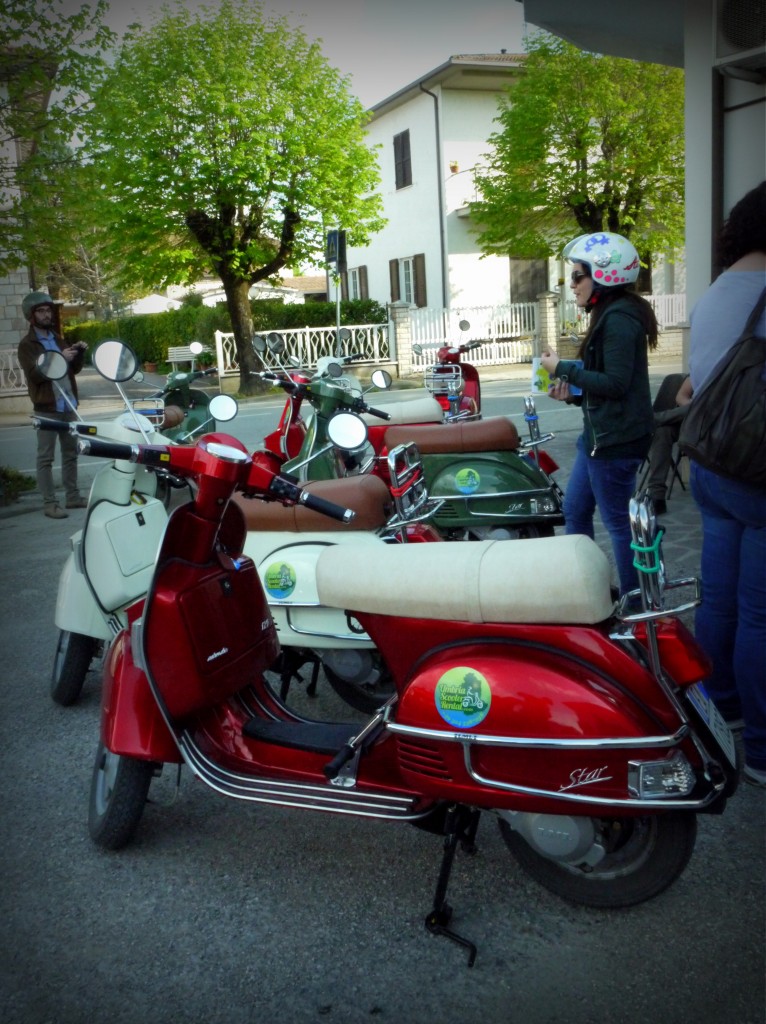 "Hello Bethany. Come and ride on us. Come and ride on us, Bethany. Forever… and ever… and ever."
Friends, you have no idea. I don't know which was worse: that I had Sophie on the back of my scooter or that a few dozen friends and acquaintances were watching when I made that first tentative twist to the throttle. We were still in the parking lot, and my scooter sprang—sprang, I tell you—toward a parked car. True to form, I completely forgot about the brakes and only just averted collision by skidding my feet against the pavement. Hoping that the onlookers would think I'd totally planned to do that, I gave myself a quick pep talk centered around the word "BRAKES" and turned my scooter toward the road. Another slight twist of the throttle, and we were lurching forward like a drunk cheetah. "BRAKES!" my brain told me, so I squeezed the brakes for dear life… and we promptly toppled over.
As women began shrieking and men began running over to help, I had a full second to contemplate the strong, capable, dignified image that none of those people would ever hold of me again. Neither Sophie nor I was hurt (and I avoided inspecting the scooter under the principle that ignorance is bliss), but every drop of my poise was now splattered on the pavement, a tragic afterthought. Our friends helped me pull the scooter upright, and one kind man told me not to let emotions overwhelm me, just to breathe, to keep breathing. So I did. I breathed and reminded myself that I had come here to take on a challenge. And what if it was more challenging than I'd hoped? Now that I'd already dispensed with dignity, I had nothing left to lose by trying again. (Well, other than life and/or limbs, but I was trying very earnestly not to think of that at the moment.)
Sophie, wise child that she is, declared that she would not be riding with me anymore, so I left her in the care of our friends and set out on a little practice run by myself. The scooter wobbled and weaved, but I was able to get the hang of it after a few blocks—how to pull on the throttle without giving myself whiplash, how to slow down without resorting to bodily contact with the pavement. By the time I made it back to the parking lot, Dan and Natalie had returned from their practice run, and it was time for the real deal, the family scooter excursion we'd been promising.
Sophie would only agree to go with Dan, so Natalie took one for the team and climbed up behind me. The four of us set off into the Umbrian countryside just as the afternoon began to mellow toward evening. The colors were glorious: fields of glossy green rippling to each side, pink and white buds in various state of undress on the neighboring trees, blue mountains in the distance, and a warm goldenrod sun nodding down on us all. Natalie kept a running commentary behind me as we rolled along, and I found myself in an odd state of in-between. Half of me was loving the afternoon—the beautiful setting, the rush of movement, and the fact that I was getting this experience with my precious little family. The other half of me was vibrating with tension though. I had trouble trusting that I was in control of my scooter; I was all too aware that the slightest wobble of the handlebars could send my daughter and I down a ditch, off a bridge, or into the path of an oncoming car. By the time we returned the scooters, my whole body was shaking from the discordant mix of fear and elation and self-respect and chagrin.
I wasn't planning to share this story in public, ever. In fact, I've been prepared to deny everything should any of the witnesses bring it up (mercifully, no one has). I found myself thinking about it this morning though in terms of our last few days of self-employment, and the analogy was so exact that I couldn't not share it with you. See, self-employment is squarely in the category of things that roll.
Just because you're running a business doesn't mean that you're in full control of it. These three years in the entrepreneurial game have included plenty of false starts and retries for us, and it often feels like we're gripping the handlebars more to hang on for dear life than to actually steer the thing. On this side, there's a ditch, and on that side, there's bankruptcy, and what if one of these wobbles turns into a full careen? What if we don't get any new clients this month? What if that quote is turned down? What if we're already caught in the helpless sideways momentum of a crash?
Tension is only half of the experience though. The other half incorporates and validates the whys of setting out on our own: to feel the wind full on our faces instead of through the seams of a cubicle, to follow the direction of our instincts rather than of someone else's protocols, and to experience the unfiltered joy when our bravery pays off. And it does. Over and over again, we've found ourselves the grateful recipients of enough, which likes to sweep through the door at the last minute to remind us that we are in the presence of miracles.
We would always have regretted not choosing this path.
I have to remind myself of that on repeat when the bank account dips dangerously low and I'm confronted by how very little control we ultimately have over our future. Weeks like this last one tend to find me white-knuckling my way through prayers and giving myself pep talks that do little to assure. I want onlookers to think that we're old pros at this, that we've totally got self-employment down, but the truth is sometimes as undignified as wiping out on your Vespa in front of a crowd of people you can't unfriend. Lord have mercy. And please also strike them all with amnesia.
But then days like today dawn, days in which a single phone call or email changes our outlook on the next few months from terror to delight. These are the days when we remember why we love the roller coaster thrill, when the adventure of it all makes us grin and clasp hands and lean into the movement as if embracing a friend. We are still shaky, you bet. Exhausted too. But despite our weariness and the worries that we know will merge back into focus soon, we're remembering how very much fun things that roll can be when you relax enough to roll with them.