In retrospect, I'm not sure whether to laugh or to cry.
I was young, maybe ten, when I saw the drama "Heaven's Gates, Hell's Flames" in a huge Southern Baptist auditorium. Gold tinsel was draped over one side of the stage, while the other side featured a black papier-mâché prison with tissue paper flames engulfing the roof. Heaven, hell.
The drama was very simple to follow. People would die during different circumstances and immediately be sent to the tinsel or to the prison. Two women were gossiping when a bus ran them over; a group of demon-thugs in ski masks dragged them straight to hell. A man passed out from drinking too much whiskey; off to hell. A broken-hearted woman cried at the loss of hope in her life and shot herself in the head; hell. A freshly-scrubbed family dressed in lace and bow-ties walked out of church where the youngest daughter had just invited Jesus into her heart—a fortunate coincidence, since their car crashed on the way home. Gold tinsel for the whole family!
When we got home that night, I asked my parents what happened to aborted babies or even little kids who die before they get a chance to say the all-important Sinner's Prayer™. No answer. Apparently hell-according-to-the-Southern-Baptists did not discriminate based on age. I lay awake half the night imagining tiny mangled infants being dragged off to burn with Satan. That, my friends, is horror.
I've done some thinking over the last few years, and some reading… but mostly thinking. Among other things, I've been trying to figure out why the self-proclaimed "good news" can lend itself to a theatrical horror show. Eternal torment for gossipers, alcoholics, depressed women, and babies = the worst possible news. Plus, it makes God unthinkably cruel and vindictive, sending demon-thugs after anyone who forgot to say his or her prayers.
Within the last two years, I decided to focus on the problem instead of repressing it. I tried reading the Bible, but that splintered my heart even more; I couldn't see anything beyond damnation. I put away the Bible, etched my too-heavy questions onto paper, and asked myself over and over how a deity could claim to be love, then doom his own creations—us, who he made imperfect. No answer. Just my honesty, tinted first by anger, then by dejection, then finally by tired acceptance of an era's end. Very simply, the doctrine of hell burned up every particle of trust I used to have in the goodness of God.
I am sharing this for two reasons: 1) I don't believe I am the only person to wrestle with the apparent inconsistencies in my religion, especially when the accepted theology is so unfathomably gruesome, and 2) What I took as abandonment these last few years was time. As a result of marinating in my questions for so long, I've learned what I'm willing to believe and what I cannot. I've let years' worth of pretenses slide, even writing about my journey some here (which, un-religious honesty about religion? strictly forbidden by the Association of Preachers Who Wear Ties). This has been a very new perspective for me—standing outside Christianity, looking in, wondering why some of those people look so happy—and only now are the answers coming.
A wonderful friend who's also sludged through this path introduced me to a book called Hope Beyond Hell that said (and I paraphrase):
Ready for a few perspective gymnastics? Good. What you've been taught about hell is based on centuries of tradition. In fact, the Bible has buckets and wheelbarrows and industrial-sized cargo boats full of promises that not a single person will be left to burn with Satan forever. Hard to believe, right? Well, take a look…
It wasn't hard to believe, actually. It was fairy dust, and my translucent wings were instantly unstuck from the swamp; for the first time in years, I'm flying, glad at long last to still be a fairy.
I am not going to list all the reasons or technicalities here—if you're interested, check out the book—but I am coming to genuinely believe these things:
That this: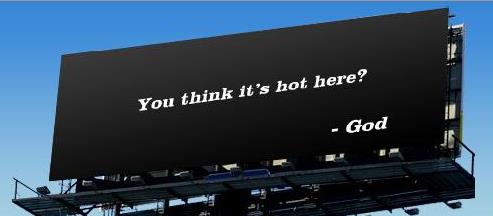 (besides "reducing holy mysteries to slogans,"* using fear tactics to force people into religion, and just plain being annoying) is misguided.
* Matthew 7:6, The Message. Jesus says not to do it, by the way.
That some parts of the Bible were never meant to be taken literally, and that some parts have been translated poorly due to the translators' perspective. That many people have formed dogmatic theologies without studying the original words within their original contexts.
That centuries of pulpit-pounders have done untold damage in spreading the idea that God is ready to throw us in a lake of fire when we die.
That God is a better parent than we are and that his kindness endures forever.
That the multitude of different beliefs, different approaches, and different spiritualities in this world will ultimately lead to the same beautiful new beginning.
That we will see all our loved ones again someday.
That there is hope.