Our rental contract is up in July, and we've been talking houses, cities, square meterage, our girls' childhood anchor. They're at that age now where location starts to send its root-tendrils into identity, and we're all too aware that the next place we choose as home will become capital-H Home to our children—its landscapes and idioms and styles wrapping them in a mantle of familiarity for the rest of their lives. We moved here six years ago for a job rather than for the city itself. That job has since receded into our family archives, and now that our work commute consists of walking from the espresso machine in our kitchen to the desks in our bedroom, the luxury of choice is open to us. Where in the world do we want to go? Where can we afford to go? Where and with whom do we want our girls to spend their formative years? Where do we, as a family, want to unpack our nomadic lifestyle and settle down on purpose?
Several months ago, Dan and I narrowed down a few possibilities, but we didn't reach a decision until earlier this week when everything started slipping into place like keys in unseen locks. We found the house—our­ house, our next installment of Home—and it's right here in our neighborhood. When we got the confirmation, I let out a huge breath I didn't realize I'd been holding. In fact, I was completely caught off guard by the depth of my relief. I've always been more attracted by fresh starts than by permanence, and if my heart was ever going to latch onto a spot on the map, it wouldn't be here.
Except that it is. Without consciously intending to, we've lived in this city more than half our married life, and it's gotten under our American skin all the way through to our minds and mannerisms. Our bodies have adapted to the weather, our schedules to the culture. We've made dear friends here and become part of communities that we couldn't leave without significant pain. More than ever before in my life, I understand the term "uprooting," and I'm unexpectedly, deeply grateful that we won't be doing it anytime soon.
Now that we're moving here on purpose, I think it's high time I introduced you to the city we've called home these last six years.
Friends? Meet Perugia: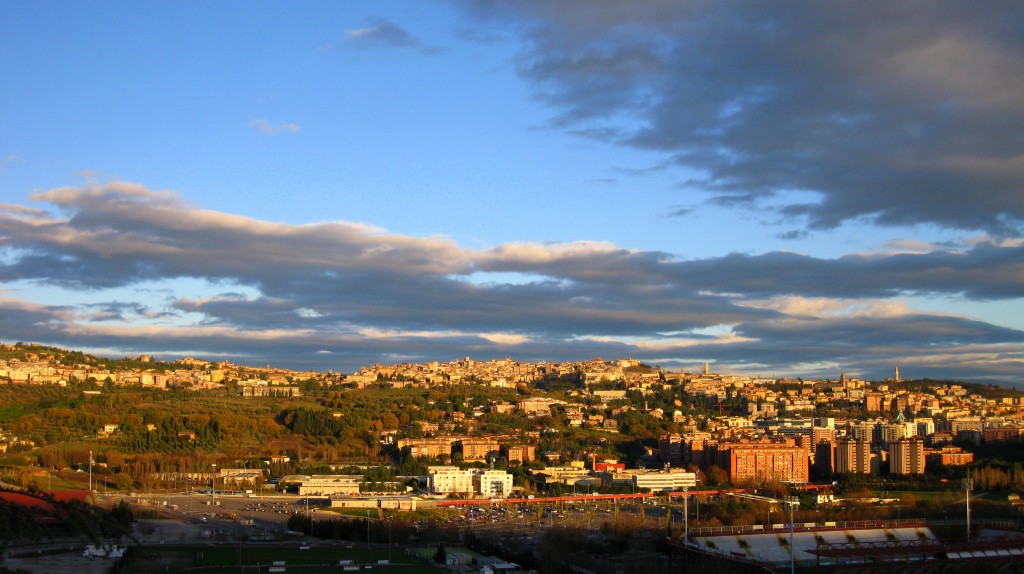 She's not the kind of Italy that frequently comes up in chick flicks or travel guides. In fact, her recalcitrant train schedule pretty well ensures that Perugia will never become a tourist hot spot. She doesn't sport the chic bustle of Milan, the gritty grandeur of Rome, or the romantic otherworldliness of Venice, and you would never end up here without meaning to. That's something I like about this place though; it's small and comfortable, and we can explore its Old World marvels without having to fight the crowds (or just give up and escape for the summer, as friends in more touristy cities often do). We have shopping malls and olive groves, roundabouts and medieval fountains. It suits us quite nicely.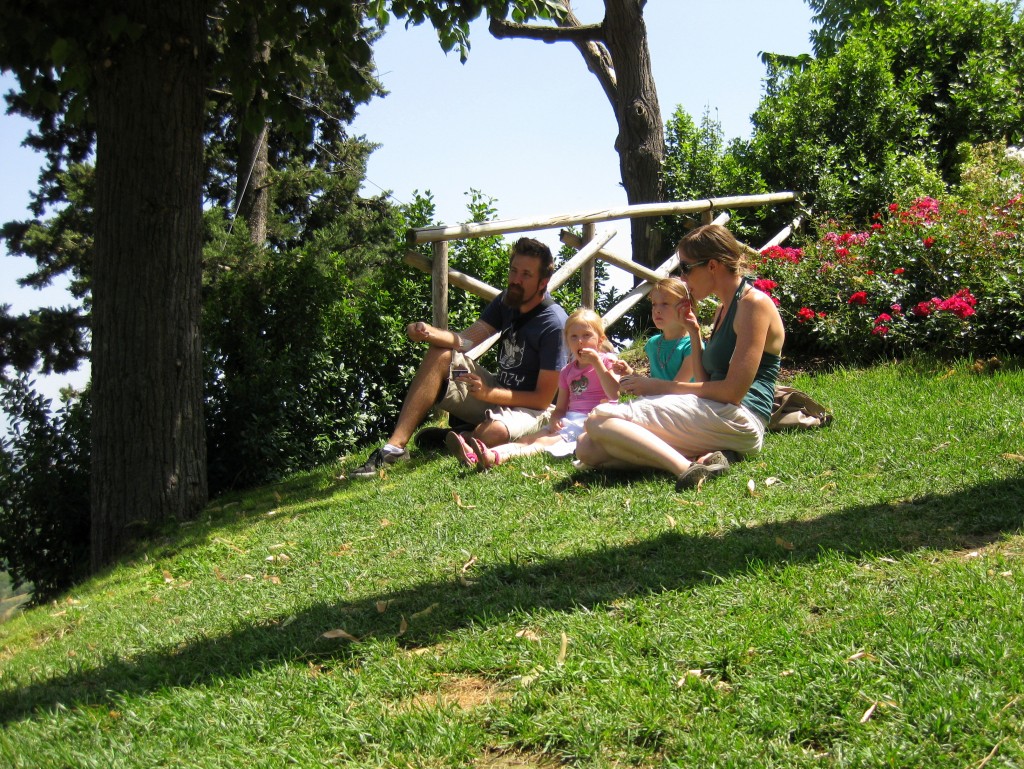 By way of introduction, here are some of my favorite things about Perugia—things that I would try to show you if you came to visit, things that make me glad inside and out that we're not bidding this place arrivederci after all:
The underground city. We didn't know about the Rocca Paolina before moving here (okay, so we didn't know anything about Perugia before moving here; 100 points for spontaneity, 0 for preparedness), so it was quite an experience that first day getting on an escalator headed up to the city center and stepping off inside an ancient fortress. I grew up in a country where everything of historical value is roped off as a museum exhibit—you can look, but don't touch, and no cameras allowed!—so discovering that those cobblestone streets and houses holding up the base of present-day Perugia are used regularly for artisan markets and children's festivals was like being set loose in the White House. Perhaps with another six years, I'll be able to take it all in stride, but I can't yet get over the thrill of sampling chocolate cheese or making origami kittens in some medieval family's living room.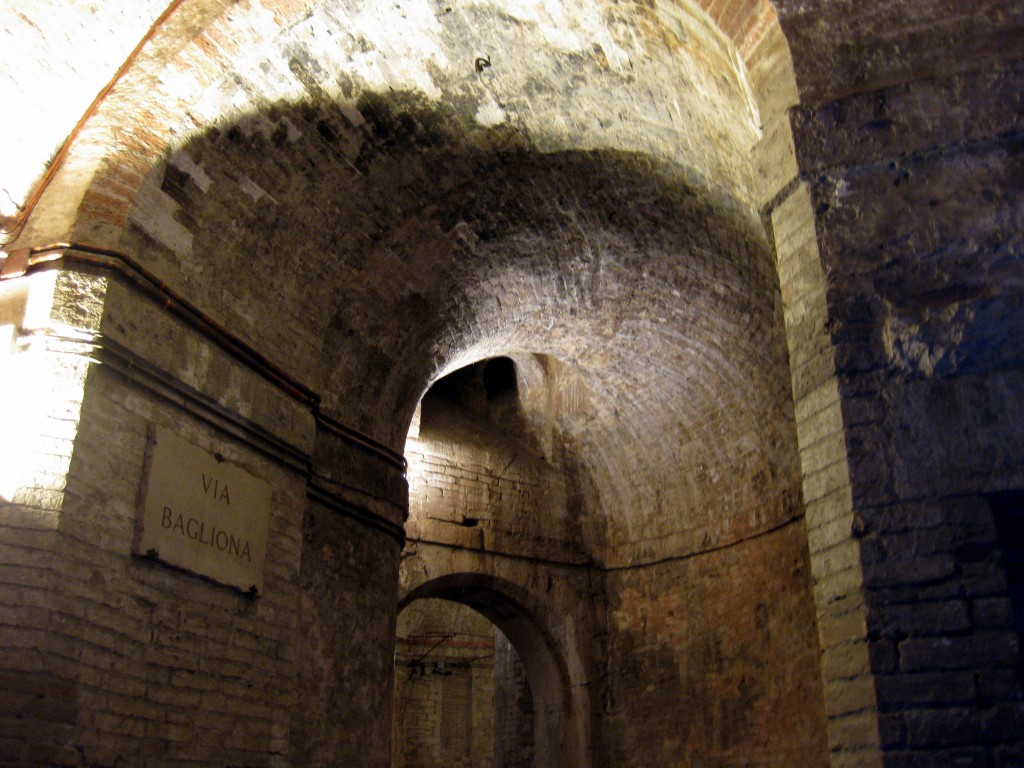 The above-ground city. We don't live in the city center itself (the panorama earlier in this post was taken from our balcony), but we often walk around it and gape and point and pose for photographs and act about as unlike local residents as humanly possible. It's just… where else can you take leisurely walks on an aqueduct built from the 13th century? Or drive through an archway built by the Etruscans? Or eat chocolate gyros on the steps of a medieval government building? The history in this town is simply, unobtrusively present, and it's so accessible that we're not likely to stop acting like tourists anytime soon.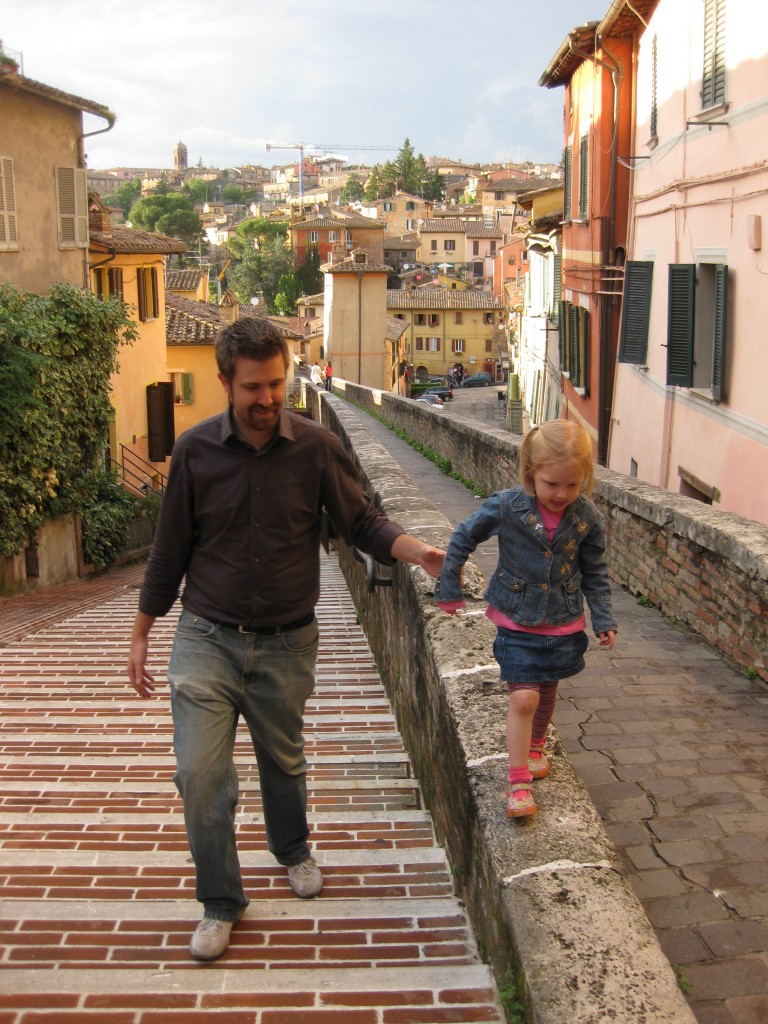 The festivals. So you might notice that chocolate has come up twice now in as many points. There's a reason for that; Perugia is the home of Perugina chocolate and hosts an annual Eurochocolate festival in which the samples alone are worth battling sudden crowds. (The Gianduja of 2011 will forever live on in my taste buds' memory.) However, it's hard to say whether or not it's my favorite of the local festivals. Umbria Jazz is hosted here every summer, and even though we're not the type to turn our wallets inside out for Dave Brubeck tickets, there are plenty of funkadelic marching bands and public reggae concerts to keep us swinging. In fact, most weekends of the year offer at least one free citywide event, and we've had a blast at everything from old-fashioned game days to specialty beer tastings to family races to dance parties in the piazza. Party on, Perugia!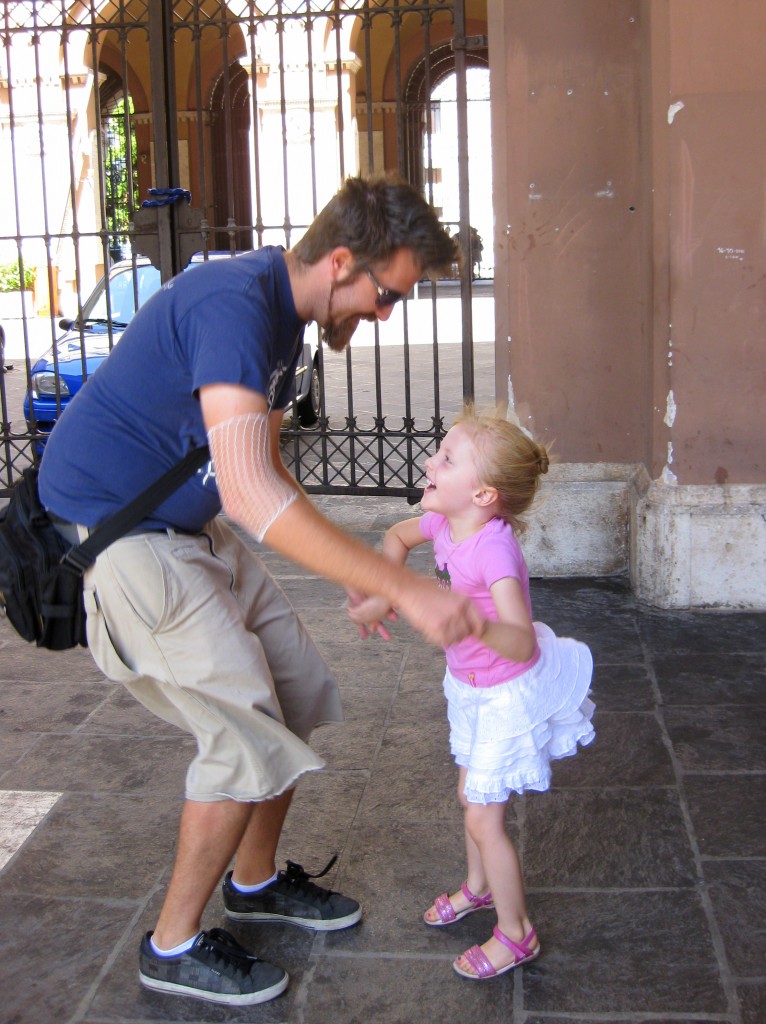 The familiarity. We were showing friends around downtown a few years ago when we spotted a character we immediately dubbed The Worst Undercover Cop Ever. He was wearing what looked for all the world like those fake eyeglass-nose-mustache disguises that have delighted children for decades, and he was darting from the police station to the newspaper stand where he ducked conspicuously behind a magazine while the newspaper vendor calmly went about his business. Watching from across the street, we were equally amused and perplexed. Who was this guy?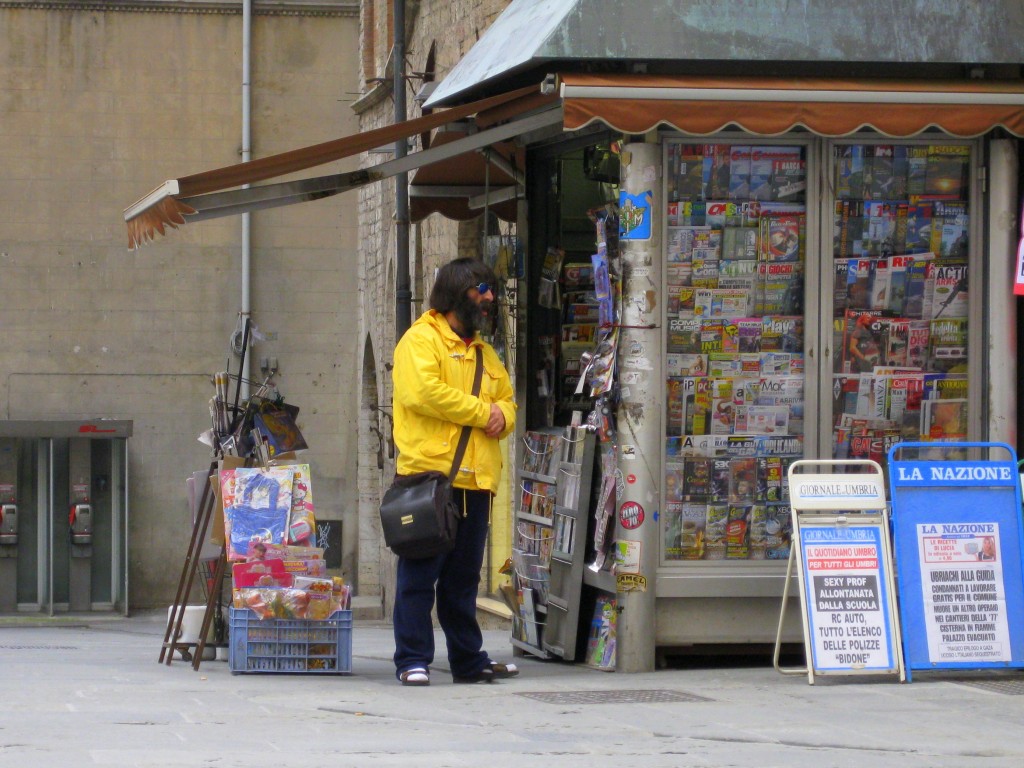 Later, with the help of a funny online guidebook, we found out his name (Mauro) and profession (prophet), along with those of a few other personalities we had encountered from time to time… such the ZZ Top Santa Claus who sings Jingle Bells with terrible pronunciation but great enthusiasm every December and the accordionist from Amelie who makes me feel like I'm walking into my favorite movie.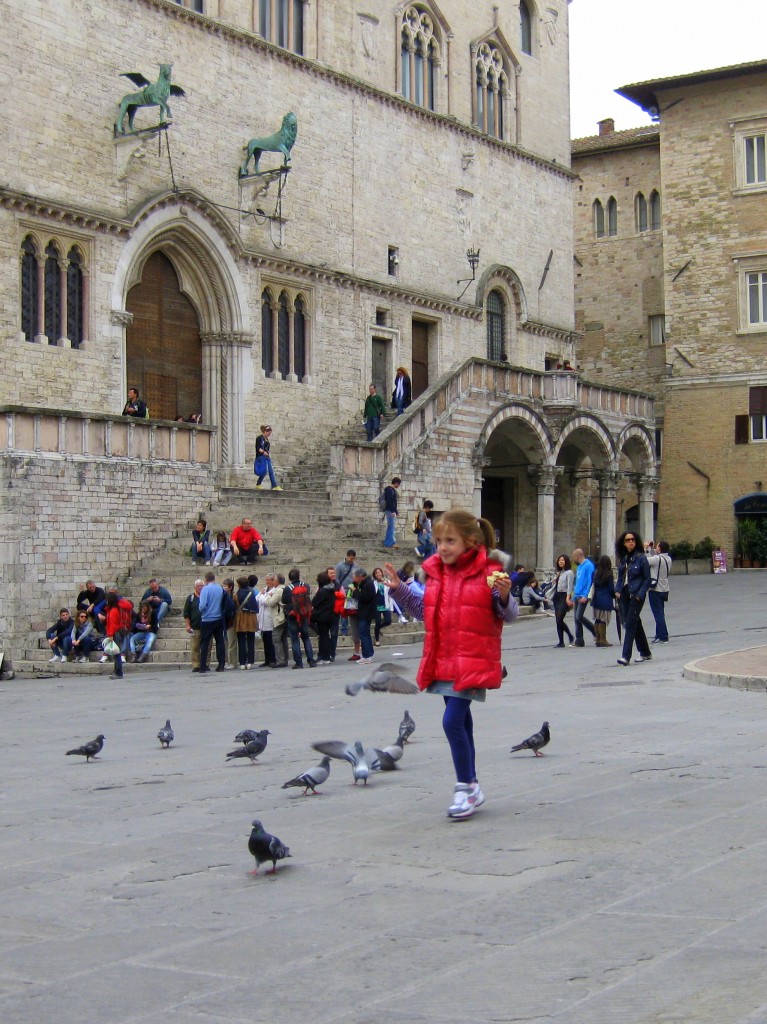 Perugia may technically be a city, but it has the soul of a small town, and we never go out without running into people we know. One of my favorite ways to spend sunny weekend afternoons is heading to the enormous park below our house where the Perugini congregate as if by some unspoken rule to kick soccer balls, push their children on the swings, and socialize with all the friends and neighbors who are sure to walk by. The close sense of community here means that we as outsiders have a harder time fitting in, but it also means that the time we put into our friendships is warmly reciprocated. We would never have hand-picked this place to be our home when we first moved to Italy, but we're picking it now. We're moving Home.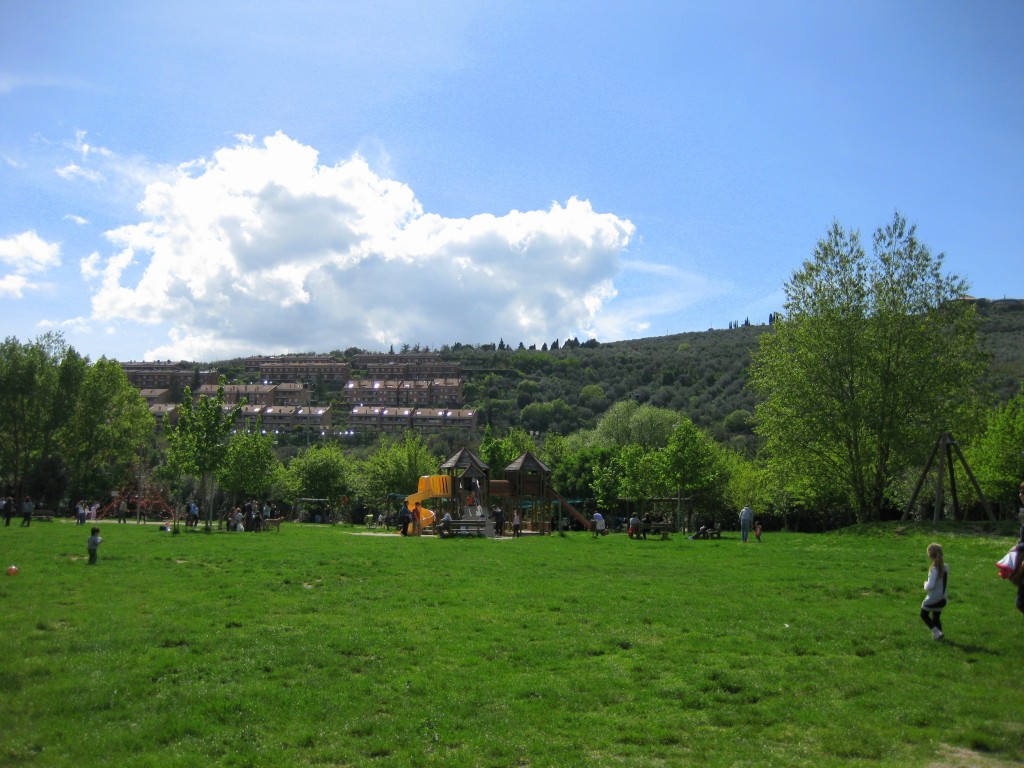 ~~~
What are some of the things you love about where you live? What would you want me to see or experience if I came to visit?