I'm fighting it hard today, the smothering despair simultaneously manufactured and feared by my own mind. Yesterday, I couldn't fight. With the slow approach of rain, my inner world drained of color, and I only knew how to mimic the motions of the living… vocalize polite response, bring fork to mouth, place one foot in front of the other. This morning, the sun rose again, a diluted but obvious yellow, and I'm breathing instinctually again—a mercy, this. But what if tomorrow dawns gray again? What if the next wave of this infernal springtime virus is already gathering speed? There are so many unknown days ahead, and I've rarely felt so utterly tapped out of resources.
We've been doing a lot of brainstorming around here lately, sketching out possible paths down which to channel our energy. This freedom to chart our own course is one of the luxuries we have as a freelancing family (other "luxuries" include paying a million percent in self-employment taxes, just in case you were toying with jealousy), but it also scares me into an off-kilter pendulum swing between hope and despondence. On the hopeful upswing, I start to catch some of my husband's optimism and see the intersection between creativity and success. I fill notebook pages with ideas that energize me. I put days on end into researching how I can best use this word-besotted brain of mine to benefit both the world and our bank account.
The downswing seems inevitable though. At some point in my reading, I suddenly start to see others' successes as intimidation rather than inspiration. It occurs to me that everything worth writing has already been written and that pursuing any of my projects would be like trying to nose my way into an already-overcrowded party. My old friends Self-Doubt and Shame see their opportunity here and jump in to convince me that not only do I have nothing special to offer the world, I'm a burden to it. Dead weight. Dan offers to make me an iced coffee, and I have a minor crisis because what have I ever done that makes me worthy of a coffee? That's at least ten cents in ingredients right there, not to mention preparation time, and what about the labor that went into picking the coffee beans, what about the sun or rain or slow seasonal whisperings that coaxed them into growth? What about the electricity it takes to freeze the ice? How can Dead Weight Me warrant even a single drop?
This kind of thought degeneration would be comical if it weren't so devastating to live through. I would never in a million years tell a fellow stay-at-home mom that she didn't deserve the roof over her head just because she wasn't bringing in as much income as her husband. I would never tell her that her significance and value were tied to her career, much less that only a self-made, wholly unique, preferably award-winning career would count. I would never expect her to view a cup of coffee as unjustified.
Instead, I would bust out the metaphorical pompoms and deliver one of my favorite Oscar Wilde quotes with a few high kicks and some glitter paint: "Be yourself; everyone else is already taken." I would assure her that her interests and ideas do matter and that, unless her life goal is plagiarism, she absolutely does have something unique to offer the world. The way she talks, creates, and thinks are a gift—unless, of course, the way she thinks leads to a biannual spiral of self-loathing, in which case she really might want to get that checked out.
I hold myself to a different standard than I hold anyone else though, and in my own cramped construct, sick days are failure, brain fog is failure, clutter is failure, mood swings are failure. It's all failure, all the time on the mental channel that's been blaring on and off for the last few weeks, and oh lord, what I wouldn't give for silence. I'm in honest-to-goodness awe of those of you who know how to quiet your minds; I only get about five seconds in to a meditation exercise before my failure alarm starts screeching about how laughably bad I am at achieving inner peace, and then a second alarm joins in to berate me for letting that first one disrupt my serenity, and by the thirty second mark, I can't hear myself think a single distinguishable thought.
If you're nodding your head in commiseration right now… I'm so sorry. I have nothing in the form of advice and only the faintest inklings of how to steady my own incomprehensible self against the pendulum. So far, I've ruled out chewing tobacco and daytime TV, but only just. In fact, I only have one idea right now that strikes a chord with both mind and heart, and it's this: over on Instagram and Twitter, I'm going to revive my outdated experiment in capturing a #dailydoseofbeauty. Snapping pictures with my phone is the kind of meditation I can rock right now, and my hope is that even this fragmented focus on gratitude and grace will grow into something larger than myself with its own steady pulse of joy, something that can slip me silent past the alarms and the fight and back into this beautiful land of the living where I belong.
Starting… now: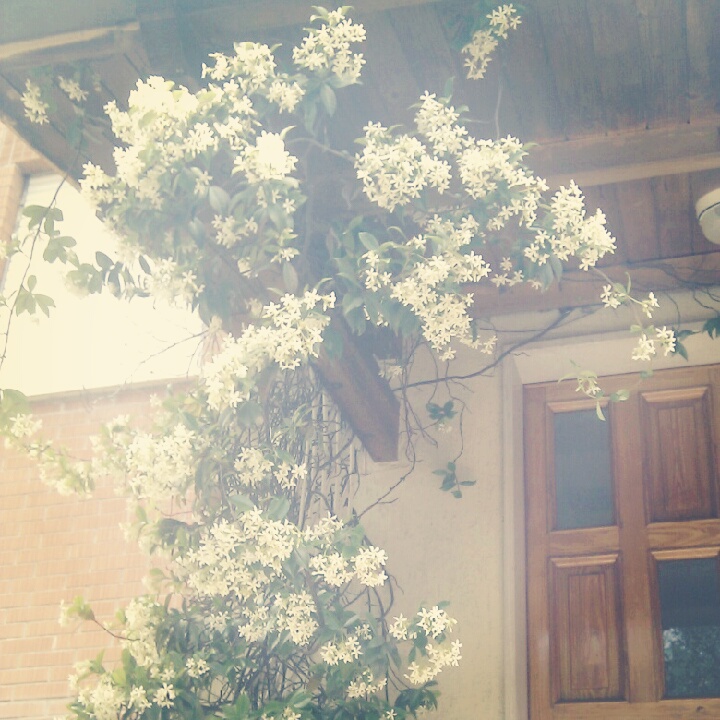 Opening our front door is so sweet this time of year. #dailydoseofbeauty
~~~
What do you think? Would you care to join me? (Please do!)