One sleepy Sunday morning two summers ago, we were driving through central Italy with friends when one of them asked to stop by a pharmacy. We pulled into the nearest town, though we weren't sure if we would find any pharmacies open on a Sunday. What we certainly didn't expect to find were barricades across every road leading to the town center. Our curiosity up, we parked on the outskirts and walked the five minutes to the city center (this is central Italy, after all) where we found an open pharmacy after all, plus seven hundred more barricades and a chatty barista who filled us in on what was happening.
We learned that we'd just happened to pull into Bettolle ("Bay-TOLL-ay") on the one day each year when they commemorate the burning of their castle by a rival town and their subsequent reconstruction in the 16th century. Following lunch, the town would be gathering in the main square for a medieval parade, after which teams from the five town districts would compete in a Race of Revenge. In this race, teams of two must run laps around the historic town center balancing huge wooden urns on stretchers. Then, competitors dressed in man-tights must race to climb greased 5-meter-high poles and put out the fires burning on top.
We didn't stick around for the festivities, but I later read the day's results in a local magazine:
"There was a winner. Maybe two. In fact there are some who say there were three winning districts. Others say nobody won. Others, instead, insist that to be beaten is now a dried-up technicality of the rules which are too intricate and groundless and which don't take into account the possible uncertain results that are inevitable in such a complicated race."
A more Italian summary there never was.
Our region of Umbria is full of ancient hillside towns that celebrate their heritage with similar events, and the four of us finally got to attend one this last weekend. Friends from the nearby town of Gualdo invited us to their Giochi de le Porte on the condition that we cheer for their district and that Dan wear tights for the opening parade. (Sadly, I could not be there on Friday to see this magnificence.)
As charmed and delighted as I am by the idea of these events, I was wary going into the weekend. You may recall from previous stories such as that time the number machine at the health center broke and that time the national soccer team played in our neighborhood that crowd mentality in Italy causes a particular strain of strain for me. I am an introvert and an American; my personal space bubble is dear to me. I wasn't particularly looking forward to spending my Saturday and Sunday getting up close and personal with strangers' elbows, and had I known that a passerby would additionally lock me in a full-on boob grab, I might not have had the will to show up. (I'm still shuddering.) However, if I hadn't braved the crowds, then I would have missed out on one of the most colorful and captivating experiences of our eight years in Italy.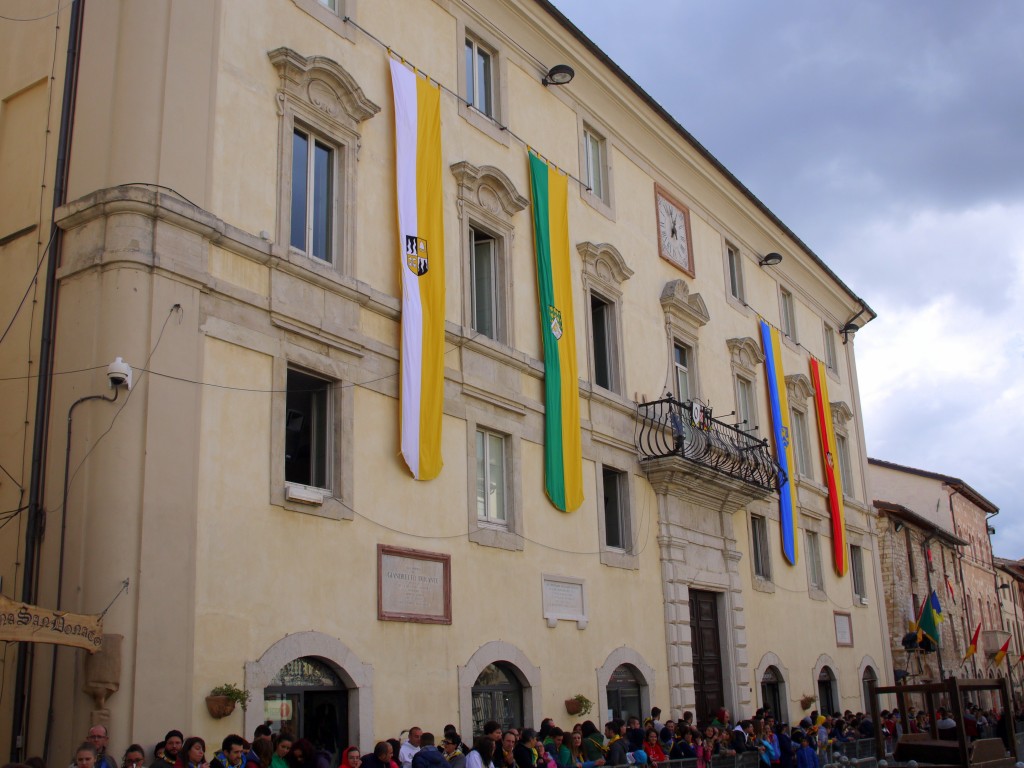 Read More »