I encountered my first personal miracle on a crystalline December afternoon nearly five years ago. It snuck like whispered lightning into the suitcase-sized booth at Coney Island Hot Dogs where I was sitting with my boyfriend of one month, our knees kissing quietly under the table. We had reached the silent place in conversations where eyes start filling in the unsaid words, and I was thinking despite my best intentions…
Dating was not new territory for me, even though only one of my previous boyfriends could stomach the meager commitment of being called such, and then I was the one saying, "Oh, let's not use labels." In fact, the dating mantra was simple: Girlfriends are to be touched and not heard. I eventually clued into the fact that the guys in my life so far had been… well, something impolite to say (hint: starts with "jack" and ends with "asses"), and decided to become a nun.
Then I met Dan. Technically, we met the first day of Stupid English when he started whispering to me without realizing I was the tutor… and I oh-so-graciously shushed him. But I blocked don't remember that particular incident. I do remember him coming over to see my roommate, me telling him she wasn't in, and us suddenly realizing we had been talking for three hours. And then realizing we still had more to say.
I suppose that a relationship between two people who are preemptively opposed to the idea can only start as a series of small accidents, like falling deep into a conversation without realizing how. Like ending up on a movie date after all your other friends back out. Like listening to your own thoughts grown from a different soul. Oh, we convinced ourselves that we weren't attracted, that our conversations were like Scotch tape that could be pulled off in an instant. Even after the awkwardness of knowing set in, we played it off as the stress of school.
After our third date (thought I was kidding about the denial factor?) and two solid hours of whispering, Dan finally admitted–as much to himself as to me–that he was falling for me. You would think after three dates, I would have come to the same conclusion, but my ego was clinging tenaciously to the idea that I. did. not. like. him. Even though it was already 3 a.m., I stayed up with my journal, trying to untangle a barrage of sticky emotions from the crevices in my brain. However, all I could come up with were two words: "It's him." I wrote them on a sticky-note and then threw the sticky-note away.
A week later, after I decided from a purely-intellectual standpoint to "officialize" our relationship, I very intellectually started freaking out. Nothing in my entire life has ever scared me as profoundly as holding Dan's hand for the first time. I still don't know why. After all, I adored our times together–how he challenged me, how he encouraged me, how he made me laugh. He emanated the kind of unassuming strength that I could lay the fragile bits of my heart open on. Plus, he had the cutest butt I'd ever ogled seen.
I guess I fell squarely within the cliché of women scared senseless by the prospect of true love. I wanted to keep emotion out of the picture. I wanted the safety of distance. I wanted desperately to break up before our hearts had a chance to intertwine. I knew I was hinging each day on irrationality, and I'm sure that Dan knew it too, but his endless patience provided just enough of a tether to keep my irrational, confused, terrified heart from tearing away.
So, despite my efforts to remain unattached, I wound up in a tiny Maryland town for Christmas break, meeting The Parents, putting up Christmas decorations, and walking through the snow with my fingers contentedly tangled in Dan's. And, of course, sitting in a tiny restaurant booth trying to process the short history of our relationship. I looked up from my thoughts, straight into Dan's smiling eyes…
…and in that instant, I fell in love.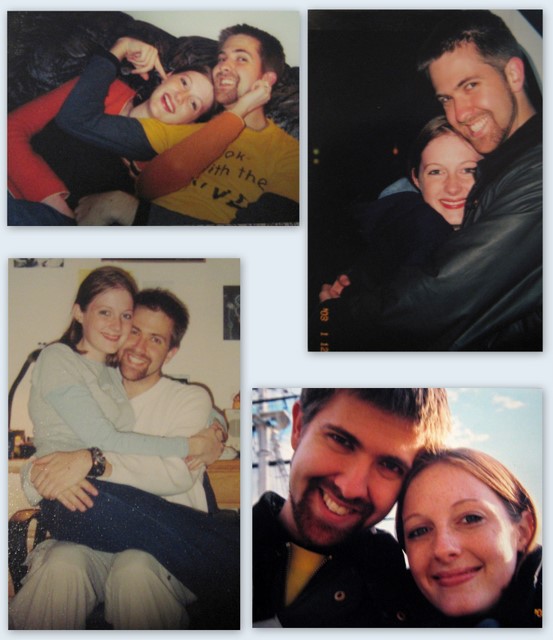 One month later, I was dizzy from the sparkling significance of a new diamond ring. Six months after that, I was falling asleep curled in my new husband's arms. And 4-1/2 years after that, I'm missing him ridiculously after only a few days apart. Of course we don't always feel romantic–sometimes, we don't even feel much like friends–and it's easy to let familiarity dull our appreciation for each other. But love has a knack for expanding the treasures of memory, like money temporarily forgotten in a bank, and every time I revisit them, I realize I am richer than I ever thought.