As my last post made abundantly clear, courage is not something I come by easily. I assume God kept this in mind when he nudged single me toward single Dan seven years ago and then hid conspicuously behind a potted plant singing "Getting' Jiggy Wit It" just loud enough for us to hear. At least, I fervently hope so. A girl could use a bit of divine reassurance upon realizing her husband considers mountain biking, racing through airports, and eating fist-sized octopi to be marital bonding activities.
Dan's sense of adventure and gift for tenacity (sounds better than stubbornness, right?) have formed the perfect antidote to my sense of being a delicate flower and my gift for hanging out safely indoors for weeks on end. He brings out the latent swashbuckler in me, and I recognize this as a good thing. Usually.
A little less so two Sundays ago. It was the first full day of our settimana bianca—a week in the mountains nearly as important to Italian culture as a week at the beach in August (and involving nearly as much sunbathing). Some dear friends were chaperoning the girls' naps, so Dan and I grabbed our snowboards and headed up the lift… straight into a cloudbank. Notably, we had forgotten a map.
"No problem," said my undaunted husband. "We'll just had straight across until we find an obvious trail."
"Straight across the mountain?" squeaked his rather daunted wife. "Without a map? Inside a cloud that fancies itself opaque?"
"Sure. Why not?"
Because I am a gutless invertebrate, I didn't say.
Twenty minutes later found me clinging to the snowy mountainside with the tips of my boots while trying to keep a grip on my board. Above and below me were sheer nothingness—emphasis on the sheer. In fact, the only things I could see were the perpendicular slope directly beneath my feet and Dan's vague outline ahead. The rest of my vision had been smothered in whiteout. I hadn't heard anything for a quarter of an hour besides my own footsteps and that landlocked fish flopping around inside my chest, and panic was turning my tired muscles to jelly. Granted, the circumstances didn't really warrant panic… but I was raised on Laura Ingalls Wilder stories, and my imagination is nothing if not skilled.
We inched along the mountainside twenty minutes more, then another twenty minutes, then yet another twenty, and I really have no idea what I'm saying because time was swallowed up in fog along with the rest of the world. All I know is that each step was an exercise in panic-squashing bravery. And we took a lot of steps.
Want to see?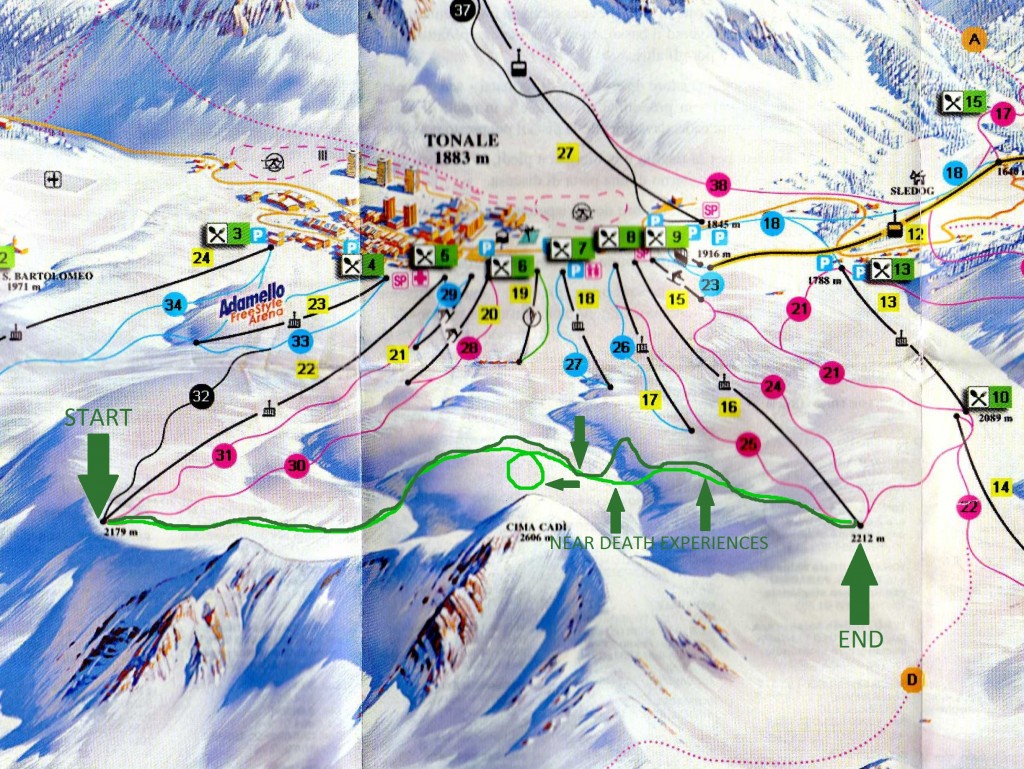 Why yes, we did cross the width of an entire mountain. In steep snow. Through blinding fog. Carrying our boards. Terrified of losing civilization forevermore and/or tumbling down a precipice onto razor-sharp rocks (this one might have been just me). With no idea that at pretty much any point, we could have snowboarded down easily.
Once we finally got a feel for our surroundings and made it to the bottom, my floppety heart decided it had racked up enough [imaginary] near-death experiences for the week. I was ready to race Dan to the cable car and spend the rest of our vacation communing with our hotel room. But then he got me laughing about our ridiculous mountain trek, and then he got me on my board again, and before I knew it, we were wrapping up a fantastic week on the slopes.
Our last morning, we found ourselves at the same starting point staring into yet another cloud.
"We have to get to the opposite side one way or another," he said.
"Mmm."
"And it would be so much easier to just snowboard across the top than to walk with our boards at the bottom."
"Mmm."
"And even if it is foggy, we at least know what we're doing this time."
"Sort of."
"Just as long as we don't lose momentum."
"Or look down." Or think about Little House on the Prairie. Or use my memory in any capacity whatsoever.
"So, you up for it?" asked that irrepressible husband of mine.
From behind a ski lift pole drifted an unmistakable "Na na na na na na na."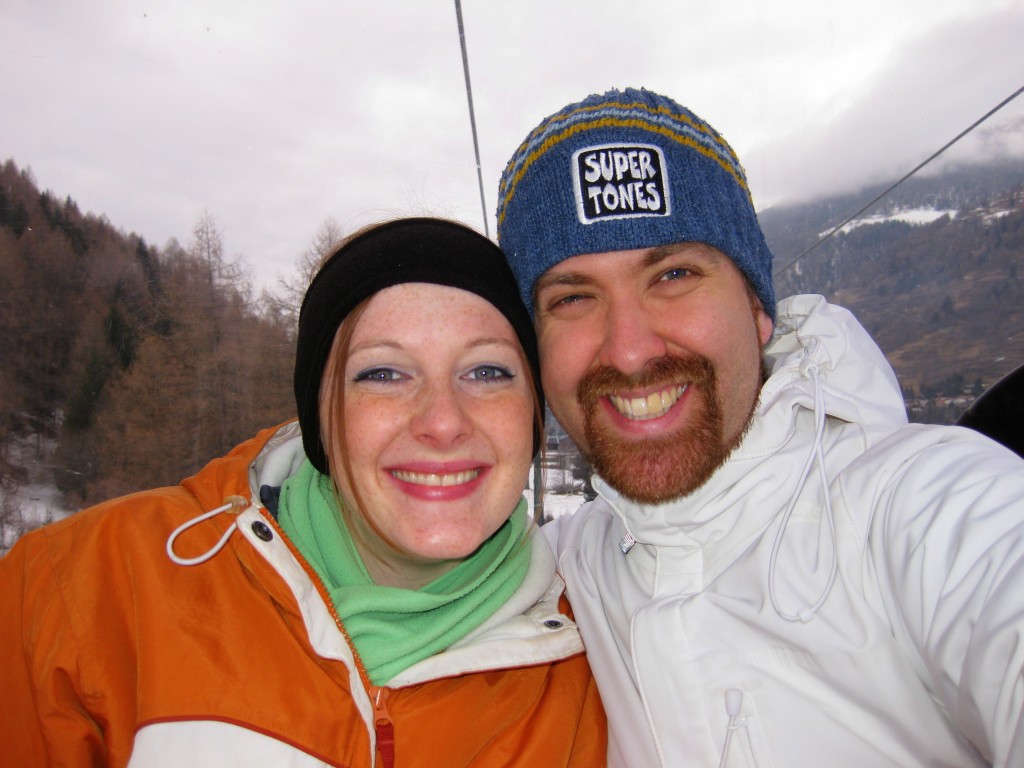 "Sure," I answered. "Why not?"