I had the singular pleasure of getting to know Adriel Booker this summer over ravioli and wine in a medieval village overlooking the fields of Tuscany at sunset. (It did not suck.) She's a stunning lady, inside and out, whose own stories of unconventional faith and expat living could have fueled a month's worth of "Me too!" style dinner conversations if only we'd had the time. She's hosting a beautiful series on her blog about the nurturing, female aspects of God's character—something that tends to be overlooked, dismissed, or even denounced as heresy in mainstream Christian circles—and I'm honored to be sharing my story as part of it today:
~~~
I was nine or ten, around the age that my own wide-eyed, freckle-nosed daughter is now, when the Children's Director at my church picked The Ten Commandments for movie night. My friends and I were not overly enthusiastic about the choice; we would rather have given our church's bedraggled McGee and Me VHS collection another spin than watched a Bible drama from our grandparents' generation. Nevertheless, two scenes from the movie caught my full attention. One was the Halloween-worthy arrival of the Angel of Death, portrayed by a creeping vapor that poisoned firstborn sons on the spot. (It still gives me the shivers.) The other was the moment that Moses raised his arms under a roiling black sky in order to part the Red Sea. That image snapped into my mind like a missing puzzle piece. It was the exact visual representation of everything my young heart believed about God.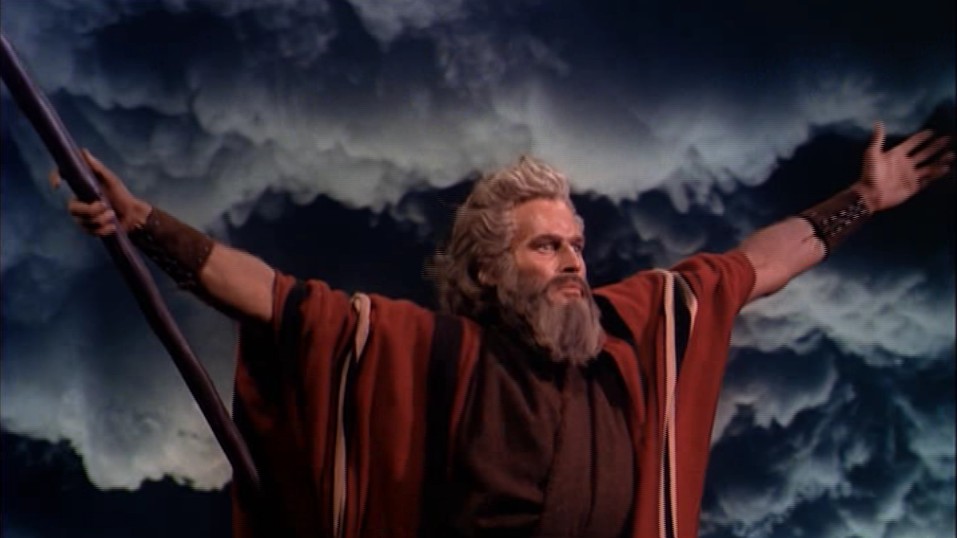 The fierce intensity in Charlton Heston's eyes, his dominating stance, the power symbolized by his arm-cuffs, even his thickly silvered beard—all of it filled in my mental image of God as neatly as if Charlton himself had graced the pages of my Bible. That God was a muscly Caucasian man in his sixties, I had no doubt. Perhaps that had already been suggested to me through Bible cartoons or maybe it was a projection of my own small worldview, but I knew exactly what I was seeing when Moses spread his arms across our church's TV screen: Father. Judge. Ruler. Smiter. The Divine Patriarch. The All-Powerful Begetter. God.
This visual cemented itself onto my mind's eye and didn't budge for many, many years. When I had my heart broken as a teen and tried to find comfort in prayer, I couldn't get past the image of God's penetrating glare. When I got engaged to my husband and found myself yo-yoing between hopes and fears about our upcoming marriage, I felt sure that the God who waged wars and parted seas couldn't care less about my emotional upheaval. When I entered the misty and profoundly tender world of motherhood, I felt more removed than ever from this deity with his big beard, big stick, and wild eyes. I could no more imagine him nurturing than I could imagine him putting on a pink uniform and dishing up ice cream at the mall.
Aside from deliberate sin, womanhood felt like the furthest possible point one could be from God on the spectrum of humanity.
Five years ago, however, Charlton-Heston God was chipped out of my perspective over the course of a single Sunday morning.
…
{Continue reading over at Adriel's place}